Guess how long it's taken Time Out to get an interview with Skepta? Eight months. In that time it's been easier to get Leonardo DiCaprio to fly to the UK for a chat, to go for breakfast with James Bond and to make The Rolling Stones reminisce about a friend who liked wearing underpants on his head (it was the '60s). Before last week, we'd twice offered Skepta the cover, including an idea for a Christmas issue called 'Mistletoe and grime' (it's what Jesus would have wanted).
We kept trying for one reason: Skepta is one of the most exciting musicians on the planet right now. Thanks to him, even American megastars are desperate to listen to grime. With his new album out this week, we tried one last time to talk to this fiercely independent MC. Suddenly, with just a few hours' notice, we're summoned to Winchmore Hill. And, as we walk up the garden path of an anonymous semi-detached house, Skepta opens the front door and greets us. It's a big, big moment. Or maybe not…
'Wait out there,' he says, shutting the door and leaving us in an overgrown suburban garden.
This is not the kind of thing that usually happens when you try to put someone on Time Out's cover. But Skepta isn't your usual someone. Born Joseph Junior Adenuga, when he was three his family moved from Old Street to Tottenham's Meridian Estate after he burned down the house with a teddy bear ('I don't know how the flip I did it,' he shrugs). Raised by strict Nigerian parents, who instilled 'old-school moral teachings in my mind, like there's a 90-year-old Nigerian grandad inside me', he became a pirate radio DJ, inspired by his disc jockey dad's habit of throwing house parties ('I'd wake up at 8am and there'd be one or two aunties and uncles still dancing'). After a brief stint as a grime producer, he became an MC and set up his own label/crew/astonishingly successful T-shirt business, Boy Better Know, with his MC brother Jme (real name Jamie). For a decade, he's been one of the most respected names in London's grime scene.
But in the last couple of years, the Tottenham MC has managed to take grime and turn it into a phenomenon that's respected worldwide. Drake is such a fan that he recently got a Boy Better Know tattoo. When Kanye appeared at the Brits in 2015, he thought grime was so trendy that he brought 40 MCs on stage (it was Skepta he called to make it all happen). And this is a man who has no label and no corporate affiliation: he's done it all himself. Such is his influence that in April 2015, he put out one Instagram post and ended up with 1,000 people at an impromptu rave in a Shoreditch car park.
'With Pharrell there was no ego. I was in the studio in my socks'
'Sorry about that: there is no room in there,' says Skepta as he reappears from the house, past a queue of men with boxes and piles of hoodies. CDs of his new album 'Konnichiwa' turned up an hour ago, which means that there is literally no space indoors for anything that isn't part of a mail-order shipment. 'Let's sit in my car. I've got my new CD to play you – you're the first person to hear it!' We duly settle down inside a black estate car, he cranks up the stereo, stuffs a bottle of champagne between his legs and sparks up a spliff. The bass judders. And Pharrell Williams kicks in.
'Man, Pharrell was so easy to work with,' he laughs. 'It's an ego-less room. I was in the studio in my SOCKS.' Their collaboration came about after Pharrell asked him to appear on his Beats1 radio show. Skepta asked – expecting nothing – about the possibility of maybe, one day, going into the studio together. But only if it wasn't too much trouble. 'He just exclaims: "Studio! Dude! There's a studio next door! Let's go!"'
As we listen to the album, Skepta talks about the other North American in his life: Drake. They met when the Canadian rapper threw a party at a Miami mansion where Skepta was staying. Drake requested his attendance, prompting a friend to go and wake Skepta up, much to his displeasure : 'I was like, "Why the fuck would you open my door and tell me to wake up?" ' he says. 'She just goes: "Would I wake you for a joke? I know you're cranky!"' Now they're so tight that Drake half-inched some of Skepta's lyrics for an appearance on Lil Wayne track 'Used To'. And, in an announcement that nigh-on melted the internet last February, Drake said that he'd 'signed' to Boy Better Know. Which, despite the obvious potential contractual difficulties this presents with Drake already being signed to Lil Wayne's Young Money Entertainment, Skepta claims is actually true. 'We're putting together an official worldwide BBK label,' he reveals, 'but we haven't talked about how it'll work yet. It'll be separate to his existing contracts. Trust me, I am not gonna sue Lil Wayne.'
Fifteen years ago, all this seemed impossible. Before grime erupted from London's pirate radio stations at the start of the century, you could turn on urban music TV station Channel U, and hear Londoners rapping in US accents. Then Dizzee Rascal won the Mercury Prize and album deals started being handed out to MCs. Suddenly, there was a distinctive London musical voice, explaining what it was like growing up in our grubby urban sprawl. But after media interest stalled, artists like Dizzee started selling their souls to Robbie Williams for airplay.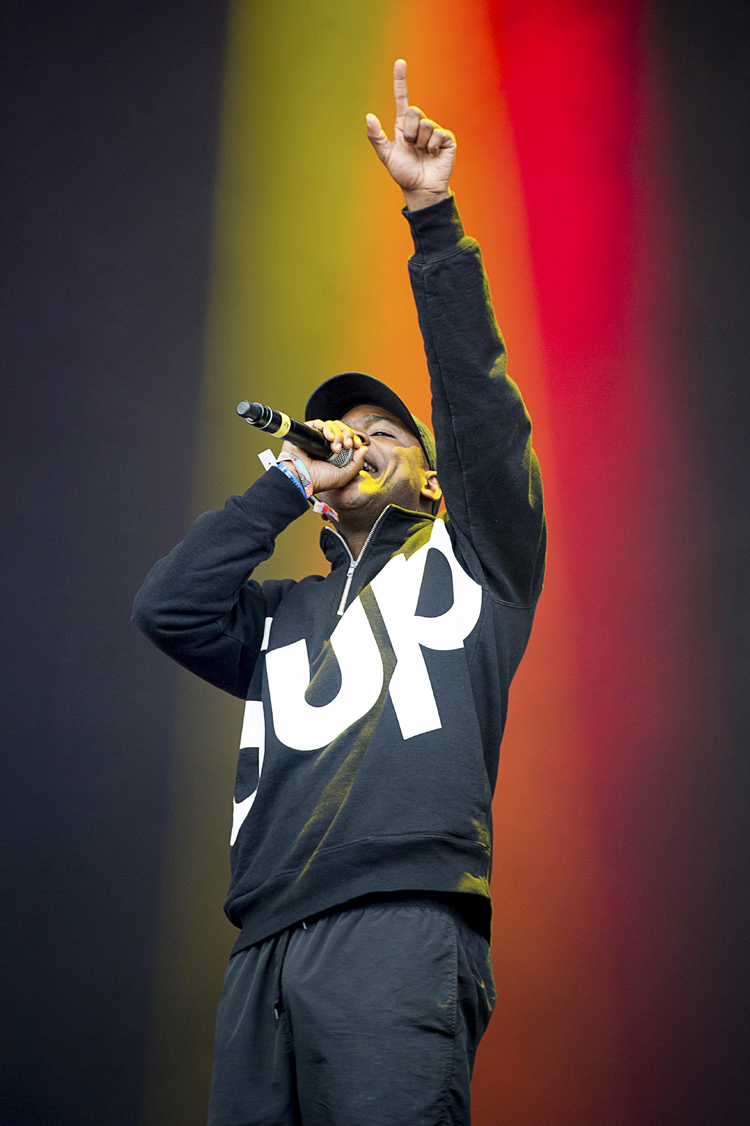 Skepta live at Bestival 2015 © Ollie Millington/Redferns
'I removed myself from the music industry. I just thought about what I wanted to say'
'1Xtra took the power away from us,' says Skepta. 'Our pirate shows used to influence what records grime fans would buy. But suddenly it was in [the BBC's] hands and they went: "Bang! We've got you now! Make pop or we won't play you!" ' By the time of his second album, he says, he was waking up, thinking: 'This is bullshit, man. I'm not even enjoying this.' Then a close friend died, he 'ended up on the edge' and put out a Youtube video called 'Underdog Psychosis': just him talking into a camera for 25 minutes, railing against a media that made people like him 'feel like you're not worth anything', before repeatedly telling his followers: 'You can be something.' He finished by announcing that from now on he'd only make 'music with meaning'. The video ended up being screened as an installation at Tate Modern.
'After that, I removed myself from the music industry,' he says. 'I just thought about what I wanted to say.' He cues up another track and prepares to play me what he 'wanted to say' via his teeth-rattlingly loud car stereo. 'Konnichiwa' is 12 songs of ferocious, bassy brilliance, some of which are so good that we end up rewinding them to the start after just 30 seconds (notably the scorching 'Lyrics' and 'Crime Riddim'). But it's the singles that really leap out. There's 'Shutdown', which urges people to 'listen to no politician' ('The government is a gang and they're bullying us,' says Skepta in the car). There's new single 'Man', in which he happily announces that London's 'come a long way from the days when whites never used to mix with blacks' ('We're all together at the raves now, it ain't like when we couldn't go to Enfield because of racist skinheads'). And there's an appearance from 'That's Not Me', the slice of retro grime in which Skepta – a man who appeared at number 36 in GQ's Best Dressed 2015 list – announces that he has destroyed all his Gucci in favour of sportswear (a decision which has seen him leap 29 places to number seven in this year's GQ Best Dressed list).
'I've realised that there's art in everything we do in London,' he says, as a couple of guys in tracksuits wander past and nod to him. 'Suddenly a photo of two boys sitting on a wall in tracksuits with a dog can go online and be considered a sick photo. That's what we've done to London.' But it's more than just street style: grime's given London a musical identity. 'You have to understand,' he says, 'that's all I've ever wanted: for London to have a credible musical voice. I will honestly, honestly die happy knowing that I saw it happen.'
And with that, Skepta hops out of the car and offers to get us some merch. Himself. This is, after all, an independent operation. 'Yeah, I won't lie,' he laughs. 'I did nearly crack and take a deal at one point.' He runs into the house; it used to belong to his parents before he turned it into a recording studio, creative design HQ and garment warehouse. Ten minutes later, he emerges with some T-shirts. 'Jesus, I feel like I work in Argos.'
Ah, well. It took eight months, but we got an exclusive album listen and T-shirts, too. 'You know what?' Skepta says. 'That was actually a good interview! Sorry about that. I just don't like talking to the press.' No worries. Though we pity the next interviewer trying to get access to this elusive genius. 'Hmm. Don't worry. I won't be talking to anyone else!'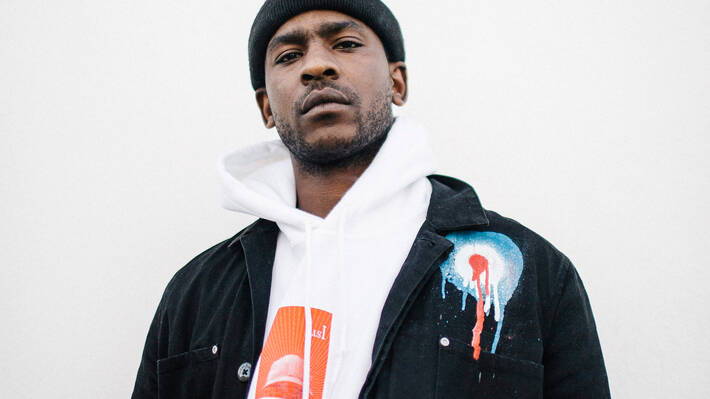 More Skepta-cisms
His interviews are so rare, we couldn't let these extra nuggets of Skepta knowledge slip by…
On bringing back Channel 4's 'Top Boy':
'No! Despite all the articles online, I am not working on bringing back "Top Boy"! They – Ashley Walters and Drake – are working on bringing it back. I've proper learned about the internet now. People say something and then everyone just believes it. I just laugh at it now.'
On using his semi-detached house as a studio:
'It's mad. My bed used to be in there and now we've had all the legends in. Drake. Dizzee Rascal showed up in his red Ferrari. All my Boy Better Know crew. There's something sick to me about that.'
On other MCs:
'All the other rappers around me aren't saying anything worthwhile. They're lost in rap: all they do is tell you they're a sick MC and they're better than you. I don't want to look like all these other little punk, dress-up, fake, manufactured artists. I'm not a rapper. I'm an activist.'
On the riots:
'They could happen again, you know. I think about this every day. I wonder: "Is today the day where everybody stops lying to themselves and realises that the government is the enemy?" But I hope that instead of riots, we have controlled gatherings, like my Shoreditch car-park gig, where we can say our message as a movement.'
On the Brits not featuring grime artists:
'The Brits don't exist to me. If they come knocking, then I'll think about them. But big up the Ivor Novello Awards, though: got nominated for one for "Shutdown".'
On grime's so-called comeback:
'People who think grime is back are sheep that follow the media. People who aren't sheep know grime never went away. There were still raves. Even when I was doing poppier tunes, I'd still take the same lyrics and spit them on a grime beat for the real fans.'
On growing up in a Nigerian family in London:
'As a Nigerian growing up in London, going out of the house was like visiting another planet. I'd see people tell their mums to "shut up" or to "fuck off". If I ever even said "no" to my mum – just "no" – I'd be finished!'
On Radio One not being relevant:
'When I was a kid, I was a huge music fan, but the music I was listening to never came from Radio One. I honestly thought they just played repeats of TV programmes on the radio. I thought I could tune in if I'd missed "Eastenders" and they'd be playing it on there. The BBC? That's like the Queen's music channel, bro!'
On working with Diddy in 2011:
'Me and Diddy went to a pool party. I tried pushing this girl into the water and this guy comes over: "Don't touch my girl!" I end jumping out of the pool to fight him. Diddy was like: "Skepta, man, just chill!" But I go: "Nah! Who does this guy think he is?" He's probably thinking: "I've seen this crazy shit before [with Biggie]. People die from this shit." He didn't stay in touch. I've changed a lot since then.'
On nearly signing to a label:
'They were like: "We understand you've done this all yourself, Skepta. You can have a deal like no-one else has got! You can have this, Skepta! You can have that, Skepta!" And I nearly broke. But I just wanted to know, if all else fails musically, could I make a CD and take it worldwide by myself. Like do you actually have to do this record label thing? And then I found out it was all a mirage. They just didn't have anything for me.'
Skepta's new album 'Konnichiwa' is out now. Get it (and other merchandise currently blocking his hallway) from www.helloskepta.com. Skepta plays Field Day and Wireless (with Boy Better Know) this summer.
Portraits by Vicky Grout.