Founded as a Ukranian Village dive bar in 1992 before moving a couple blocks up Western Avenue to its current location in 1993, the Empty Bottle has been a pillar of the Chicago music scene for 25 years. The rock club's longevity is well-deserved—it remains a place where you can reliably enjoy a varied lineup of exciting music, a cheap can of beer and some conversation with like-minded individuals.
From the outset, Empty Bottle owner Bruce Finkelman has set a clear course for the music venue, espousing the simple premise: "you build a place for yourself with the hope that there's some other people who would like to join it as well." Plenty of fans, musicians and employees have embraced his vision, turning the off-the-beaten path building with an unconventional floorplan into a Chicago institution.
Ahead of a string of 25th anniversary concerts that will invite some old friends back to the Bottle's stage, Finkelman recounted some of the strangest, loudest and most impactful moments in the club's two-and-a-half decade history.
The most crowded show
"I remember a Fourth of July show, it was Tortoise, and the Sea and Cake. It was sold out, nuts to butts. A lightning bolt hit a transformer outside, which blew up our air conditioning. I remember looking out at the crowd and seeing steam coming from people's heads, it was so hot in there. A crowded show now is so different from a crowded show in the '90s. Back then, you couldn't go past the [front] game room. People were standing on each other's shoulders—it was a whole different world back then. Now there's a lot more focus on making sure that safety is job one."
The most woefully under-attended shows
"Yeah Yeah Yeahs played their first show here—I think there were probably 15 or 20 people here, and I remember sitting in the front row going, 'Holy shit.' Their tour manager turned out to be Dave Sitek from TV on the Radio, and he handed me their first tape. Then TV on the Radio played its first show here, also to almost nobody. Built to Spill was another one. We had heard the first record [Ultimate Alternative Wavers] and it was one of those things where you hear the music and think 'this is the greatest thing ever,' and you expect people to be there, but nobody knows who it was. So it was just me and five other guys."
The loudest shows
"Kyuss, High on Fire, Sunn O))), Boris, Wand, Lightning Bolt and the Ponys. This is an old building, so when there's dust falling on you that's 1890 Ukrainian dust—you just cover your drinks and move on."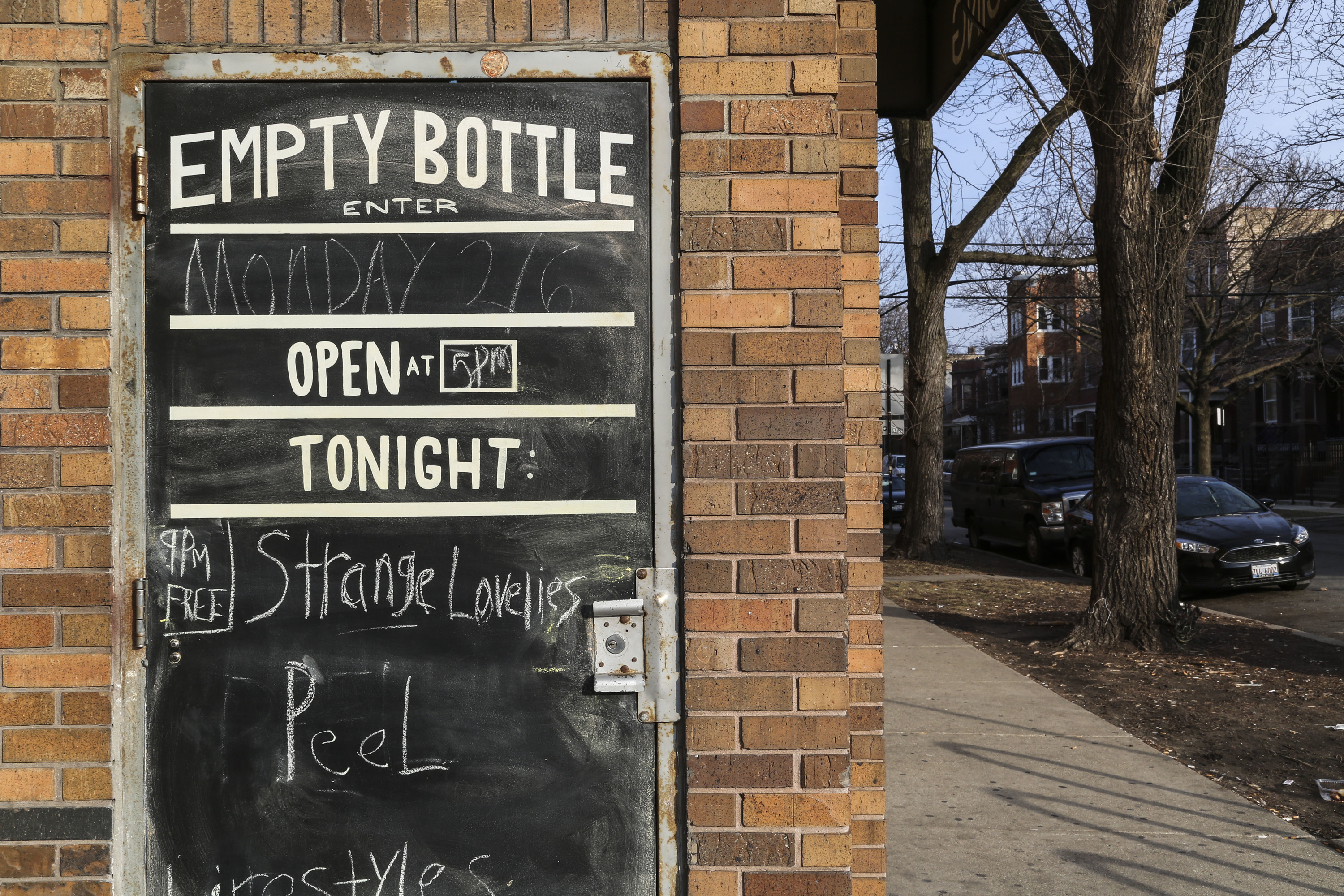 The most legendary acts
"Flaming Lips, Elliot Smith, The Strokes, The White Stripes, Arcade Fire, the Black Keys, Yeah Yeah Yeahs, Interpol and Led Zeppelin 2, of course. The Flaming Lips were playing around with stereo sound, so they put speakers in all different parts of the room. Steven [Drozd] and Wayne [Coyne] jumped off stage in the middle of the set, came over to the piano by the bar and did two acoustic songs at a sold out show. People were trying to figure out where they were going—some people thought they were leaving."
The biggest mess
"There was a band called Trailer Hitch that brought a bucket of cow hearts onstage, broke them apart for the rest of the night and embedded them in the stage. I think we ended up having to rip up the stage just to get [the mess] out. Impotent Sea Snakes actually lit the ceiling of the stage on fire and the girls who lived in the apartment upstairs got smoked out. Also, anything with glitter. Greg Gillis from Girl Talk promised me there wouldn't be any glitter on New Year's Eve and he got it everywhere."
The most crowded stage
"Polyphonic Spree and Mucca Pazza filled up the stage, but the one that I really remember is Helmet. They made us put road cabinets in front of the stage. [Frontman] Page Hamilton was such a great guy—he sat in the office the whole day answering phone calls because the show was sold out. People would call up to see if there were any tickets left and he would go, 'No sorry, I wish you could come see me play,' and they'd say 'who is this,' and he'd go 'this is Page Hamilton.' He was giving away guest spots."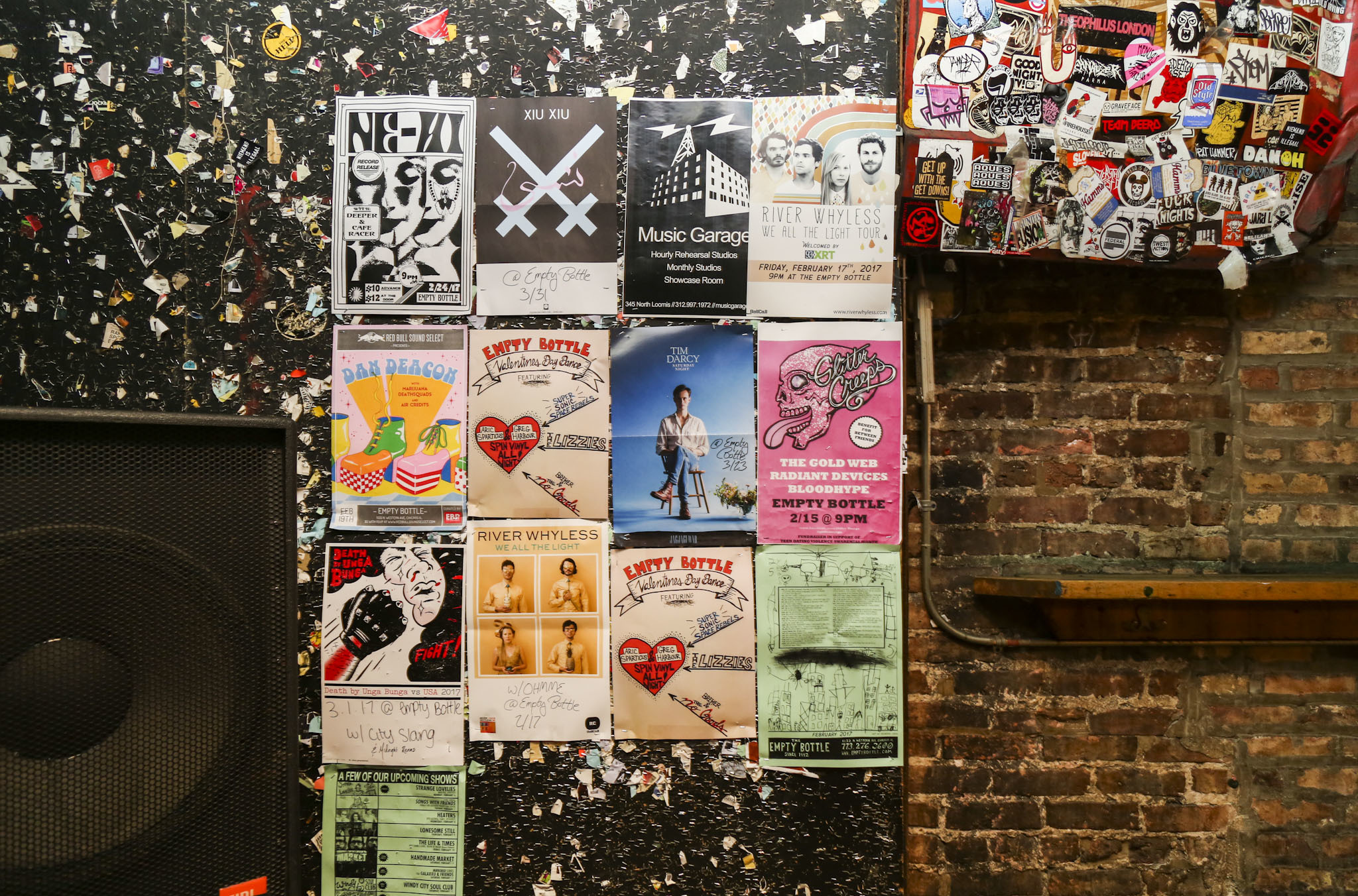 The best party
"The Chili Synth Cook Off is still one of my favorite parties that we do here. We used to do proms all the time, I thought those were a lot of fun. It's really hard to do and it feels like sometimes bands are a little less willing to take the time that's necessary to learn Flock of Seagulls covers."
The person who has seen the most shows
"Bob Johnson who was a doorman here for about five million years. There is a gentleman who sees more shows than anyone else I know, his name is Sei Jin Lee. He's been a Friends of the Bottle passholder for years."
The show you regret missing
"Arcade Fire did three Thanksgiving shows here. I was always bummed to miss those, but when I got married my wife said 'you can have all the other holidays, but Thanksgiving is mine.'"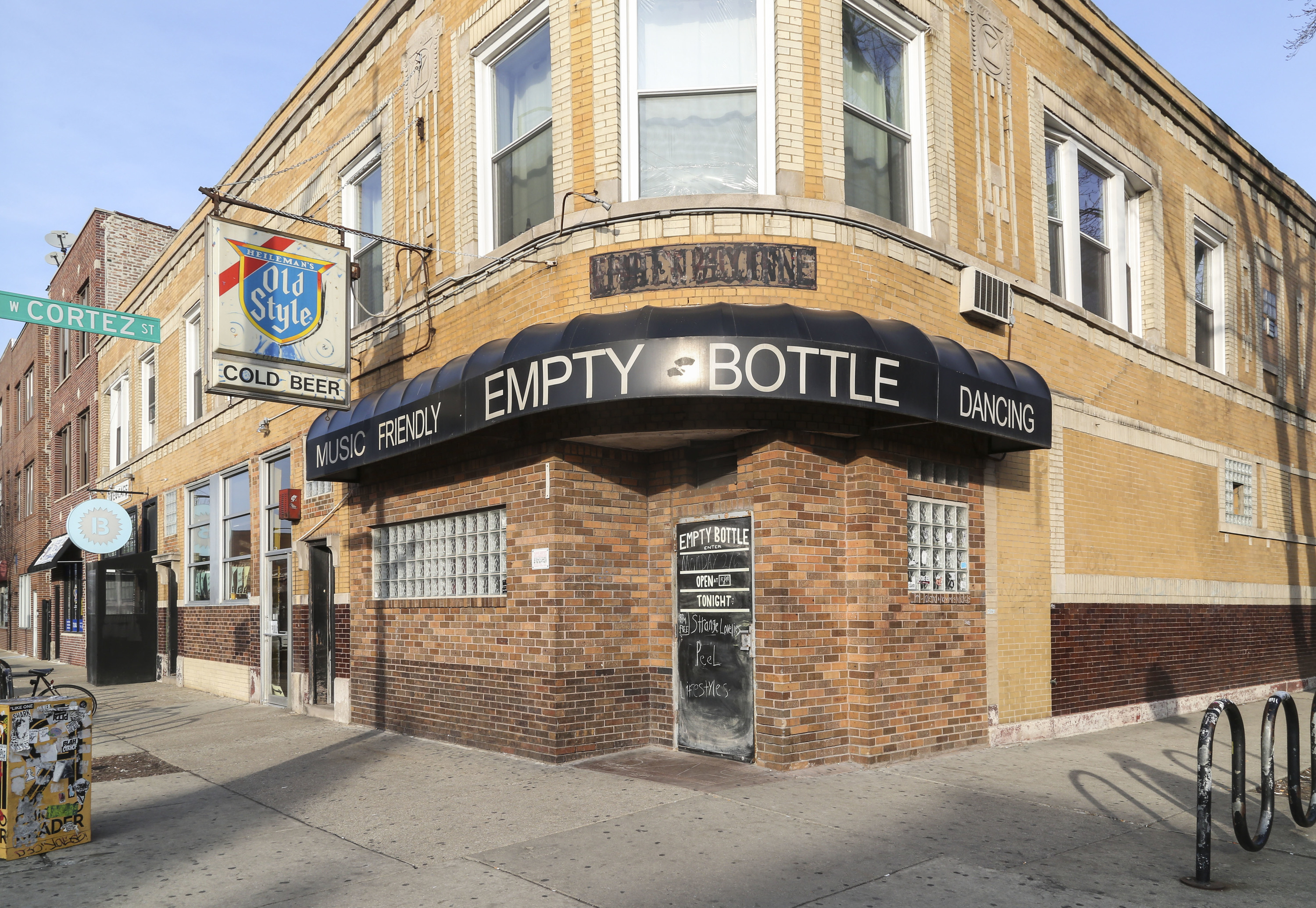 The strangest event that wasn't a concert
"On Valentine's Day in 1998, we did a show that consisted of [This American Life's] Ira Glass, [sex columnist] Dan Savage and their mothers answering the crowd's love questions."
The biggest celebrities who have walked in
"[Former Chicago Bears quarterback] Kyle Orton, because I'm a Bears fan. John Malkovich was here once and Jack Black showed up a number of times. David Schwimmer likes to come here."
The strangest thing that someone stole
"One day, a gentleman decided he was going to hold our cat Boo hostage, and we never got Boo back. It was a sad day. The man said he was a regular [at the bar], and he called us up using a vocoder, so we couldn't tell who it was. Krist Novoselic stole a picture from the old Empty Bottle and wouldn't give it back. We asked for it back and he didn't think it was funny. But I think someday he should bring back that picture if he knows where it is. No questions asked."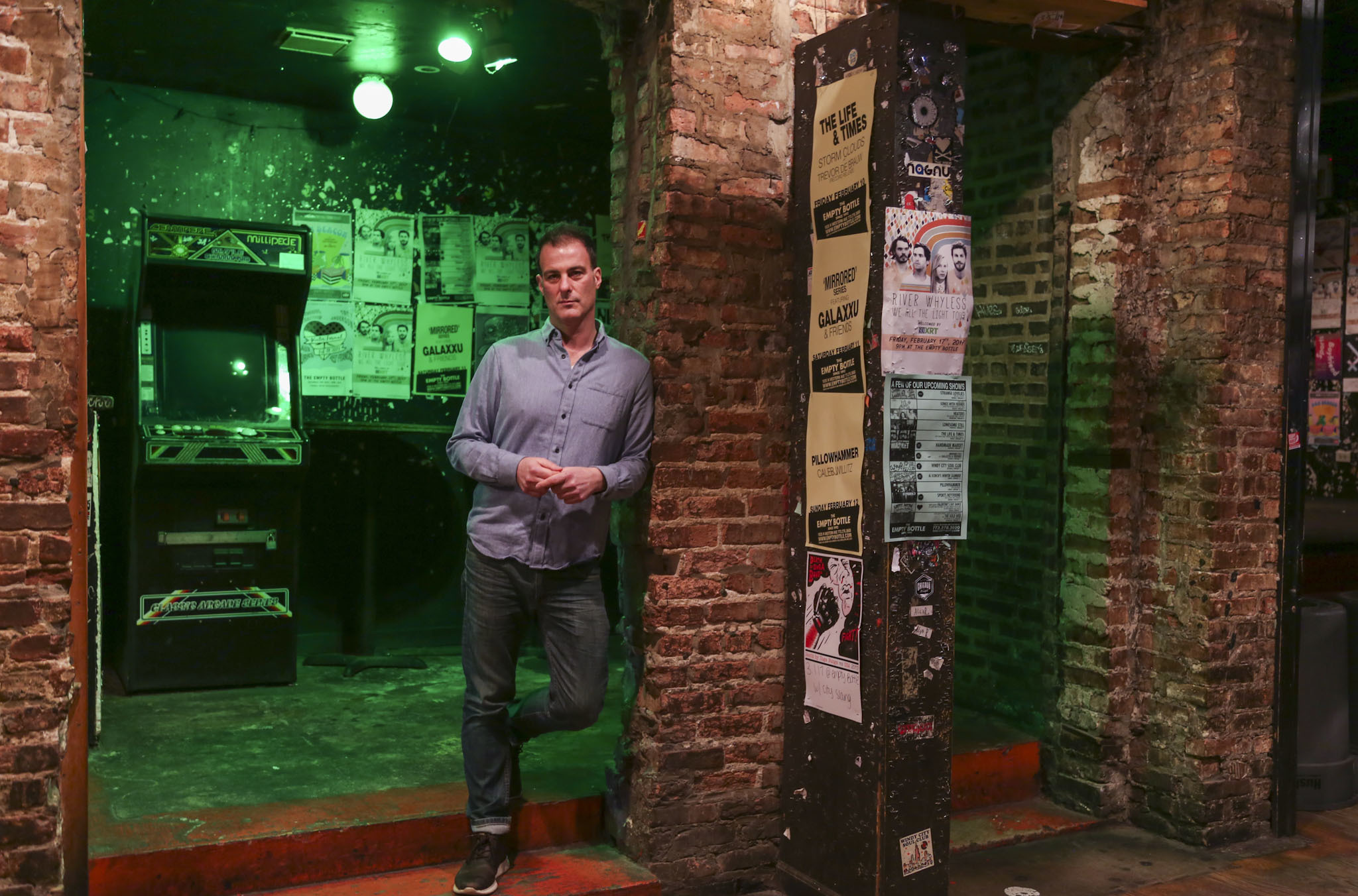 The most painful hangover
"I don't drink. But if I had to answer, the '90s gave me a huge hangover."
The ideal amount of time to wait before taking the stage
"On time. We run a tight ship!"
The most valuable lesson you've learned over the past 25 years
"These are all the things that my people get tired of hearing me say: Swing hard, take chances. Teamwork makes the dream work. We push the rock up together. We're all in this together. Community is job one. Vent up. Don't get into this business."
All photos by Jaclyn Rivas