Heads up! We're working hard to be accurate – but these are unusual times, so please always check before heading out.
The 9 best things to do in Mykonos
Whether you're into all-night clubbing or hidden swimming holes, you're sure to enjoy the best things to do in Mykonos
Greece's equivalent to Ibiza or St. Tropez, the best things to do in Mykonos are guarateed fun. Here, you'll find world-famous DJs headlining nights at superclubs. A jet-set crowd head into town on yachts and private jets and celebrities lounge at the beach clubs and dine at the gourmet restaurants. Still, it's not all bling. There are loads of backroads, cute hotels and quiet corners to explore on this little Cycladic island—and, of course, idyllic beaches to get to know, too.
Done something on this list and loved it? Share it with the hashtag #TimeOutDoList and tag @TimeOutEverywhere.
Find out more about how Time Out selects the very best things to do all over the world.
Best things to do in Mykonos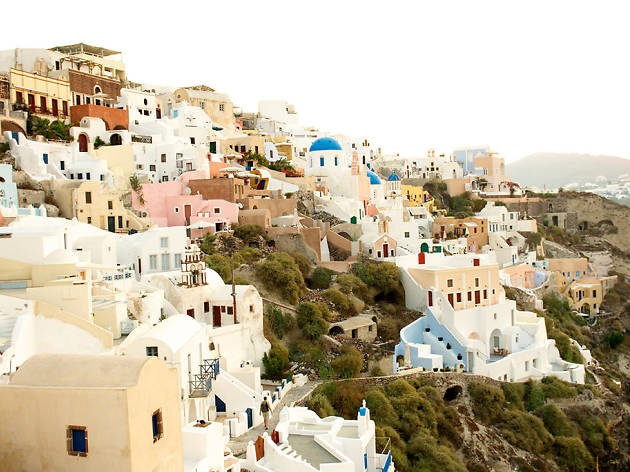 Photograph: Courtesy CC/Flickr/ohhenry415
What is it? Mykonos Town is one of the best-preserved historic towns in Greece. It's the perfect destination to lost wandering about in.
Why go? Known as Chora (which means 'main town') by locals, Mykonos Town has a photo opportunity at every corner. Here, whitewashed cube-like homes contrast beautifully with brightly-painted wooden doors to make the simplest yet most stunning contrasts. Expect to see pastel bougainvillaea draped fences set in front of tiny Greek churches, stylish shops, and restaurants and bars lining the town's labyrinth of powder-white, walled lanes.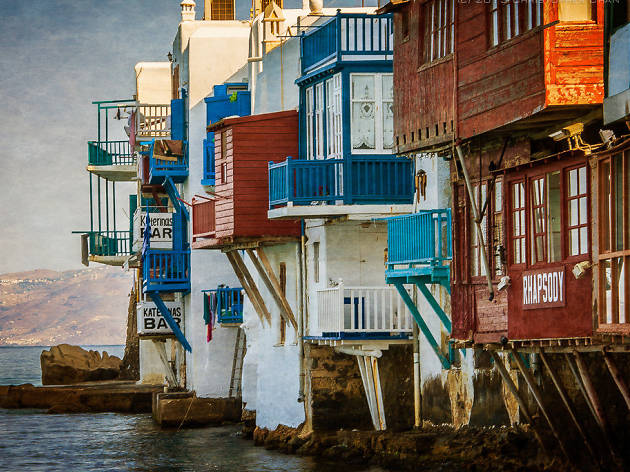 Photograph: Courtesy CC/Flickr/Christopher Chan
What is it? Little Venice is one of the most scenic areas of Mykonos. Here, whitewashed buildings dangle over the edge of the island, seemingly built on sea rocks, right above the sea.
Why go? The sunset views here will take your goddamn breath away. Be sure to secure a sea facing spot at a cocktail bar to soak them in. For those wondering how such a place came to be, Little Venice's history harks back to a simpler time on the island. It was built in the sixteenth century out of convenience. Pirates were a real threat then. Residents built balconies overhanging the water as an easy way to quickly load goods on and off ships without them getting stolen.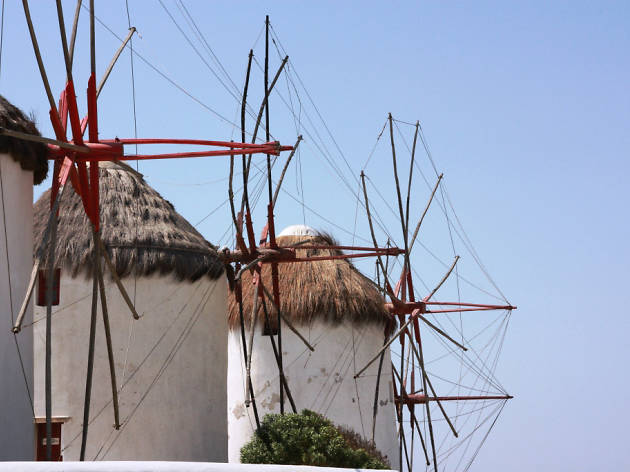 Photograph: Courtesy CC/Flickr/i_live.gr
What is it? One of the most iconic sights on the island stands on a hill on the border of Mykonos Town: the Mykonos Windmills.
Why go? Walk here for a panoramic view of Mykonos Town and to get an Insta with Mykonian history. These windmills hark back to an era when wind power was used to grind grain and feed locals. This area was named Alefkandra then, which means whitening because it was where locals once hung their laundry. Stop by the small beach at the foot of the hill for another picturesque spot where the sea surf splashes wildly onto the shore. It's the perfect place for a picnic – maybe with those some great local bread.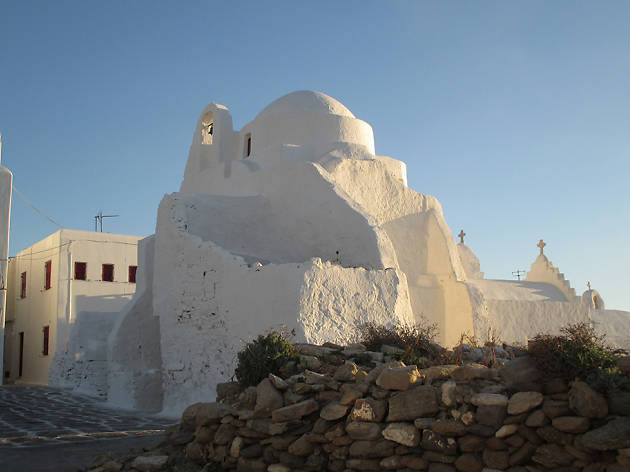 Photograph: Courtesy CC/Flickr/Gerry Labrijn
What is it? This church is one of the most photographed in the world and it stands in Mykonos Town.
Why go? The Greek Cycladic islands are full of churches and chapels. There are 365 whitewashed churches on Mykonos island alone – one built for every day of the year. However, Paraportiani is the most famous. That's thanks to its architecture. The unique building is actually made up of four chapels, each built at a different point in history. The mix of buildings, all under a coat of white paint, is a sight to behold.
What is it? Mykonos lives up to its glamorous party rep and has every taste covered, but this open-air venue is a particularly great out of town spot for the early hours.
Why go? Whether you want a dive bar, a Greek music club, a cocktail lounge, an all-night dance club, a gay club or a beach club where you can dance on the sand (or on top of tables), the Mykonos summer party scene is packed with options. The dancing and drinking starts in the afternoon and does not end until the sun comes up. Cavo Paradiso will take you till dawn, with heavy hitters like Steve Aoki and Armin van Buuren on the decks.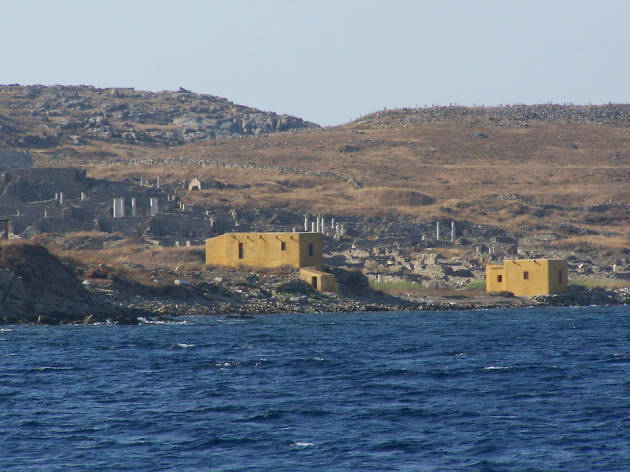 Photograph: Courtesy CC/Flickr/bighornplateau1
What is it? Fancy an excursion? One of Greece's most fascinating archaeological sites can be found on the nearby island of Delos.
Why go? On this tiny, sacred island – which is the mythical birthplace of the Greek god Apollo – you'll find yourself among ancient ruins, including remnants of temples, theatres and villas. Although Delos is unpopulated now, the ruins prove it was considered a grand city of the Cyclades. Pop into the small museum here that houses mosaics and artefacts found on this Unesco World Heritage Site.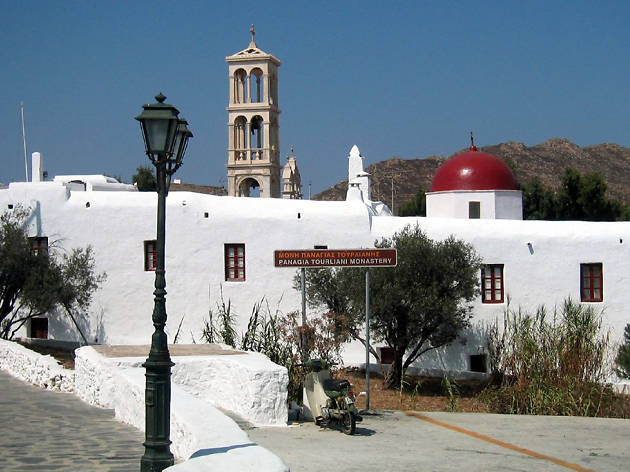 Photograph: Courtesy CC/Flickr/Wally Gobetz
What is it? The little inland town of Ano Mera is worth exploring for an authentic look at quiet island life. It shows a quiet side to this party island.
Why go? A highlight of a visit to Ano Mera is the sixteenth-century Panagia Tourliani Monastery which stands in the central square. Visit this sacred spot to admire embroideries and wood carvings. If you're lucky enough to visit on August 1,5 you are in for the biggest action this town gets: the church festival where hundreds attend for traditional dancing and food.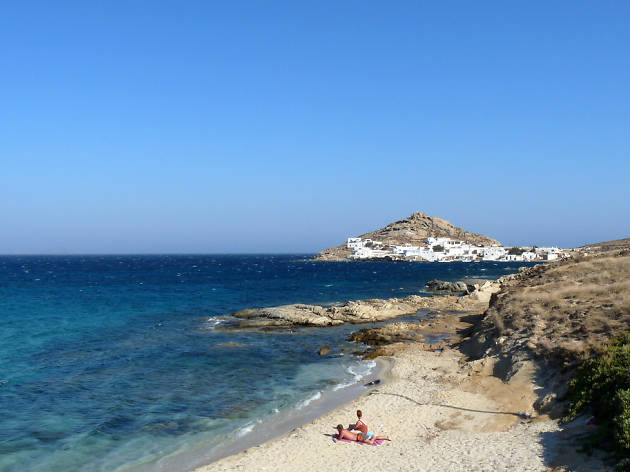 Photograph: Courtesy CC/Flickr/lo.tangelini
What is it? When Greece's Meltemi summer winds blow – and they blow hard - the beaches on Mykonos are the perfect windy escape for windsurfing enthusiasts. Kalafatis is one of the best.
Why go? Mykonos is blessed with idyllic beaches of turquoise waters that meet fine powder sand. Many of them are also idyllic for windsurfers. Head to Kalafatis, Platis Gialos or Ftelia to see how these annual summer winds become a challenging but fun natural force for surfers.
9. Archeological Museum of Mykonos
What is it? History buffs can learn a bit of Mykonian history at this small-but-quaint museum in Mykonos Town.
Why go? Go to the Archeological Museum of Mykonos for a look at ancient artefacts and marble statues. While you're in town, pop into Lena's House – a unique folk museum in the form of a middle-class, nineteenth-century Mykonos house. The Aegean Maritime Museum tells the story of Greece's maritime history and traditions including the importance of the merchant ship.
Looking for a place to stay on Mykonos?
Whether you seek champagne on arrival, kite-surfing lessons or a yacht to (almost) call your own, our pick of the best hotels on the island should provide somewhere you'll want to come back to again and again.