The 15 best beaches in Europe
Forget the Caribbean. For warm waters, soft sand and dreamy scenes, check out the best beaches in Europe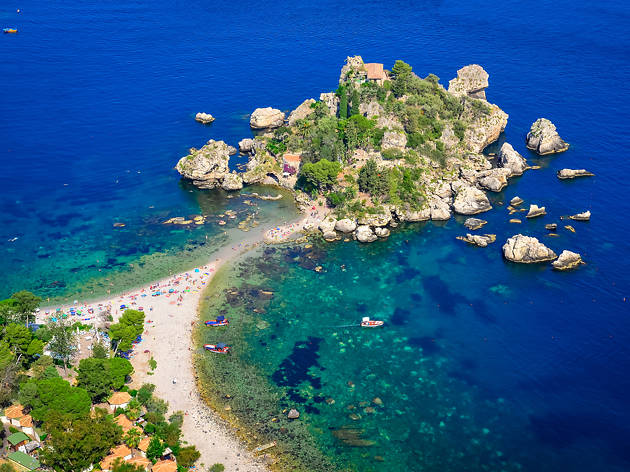 Grab your bucket and spade – we've picked the 15 best beaches in Europe where you can dive deep into limpid waters, kick back on sand white as sugar or simply soak up the sun. We've included family favourites perfect for littler swimmers, secret coves and dreamy islands worth discovering on a grown-up adventure, and incredible coastal landscapes perfect for exploring year-round. From a mermaid's cove in Cornwall to a beach watched over by Batman in Iceland, and even a lagoon in Greece where the sand is a rosy pink – these uniquely beautiful beaches are the very best in Europe.
Best beaches in Europe
1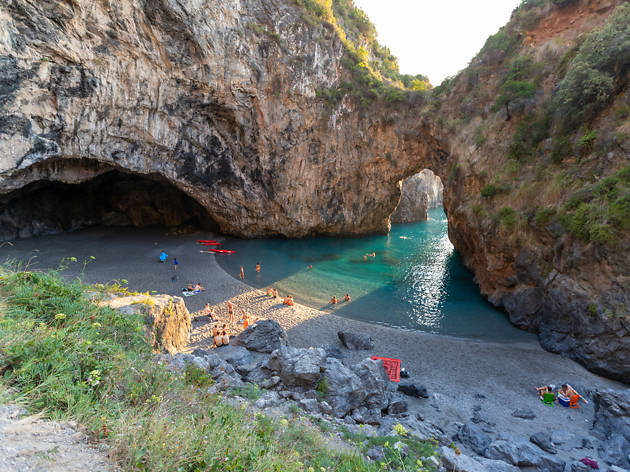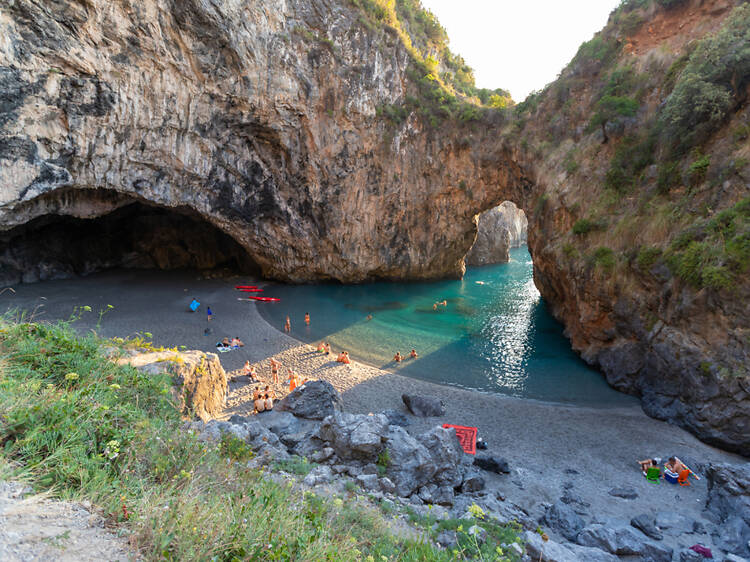 Photograph: Shutterstock
Arco Magno, Calabria, Italy
The tiniest beach on our list is also one of the most inviting. Picture the perfect cove from a classic, sun-drenched Italian film from the 1960s – it would look exactly like this delightful little spot, where glimmering clear waters lead to a small stone arch that opens up invitingly to the Mediterranean. Surely one of the most tempting places to swim on earth?
Discover the best things to do in Italy
2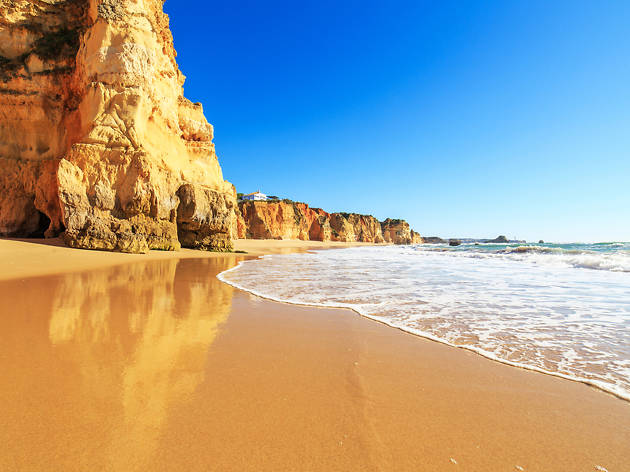 Photograph: Shutterstock
Praia da Rocha Beach, Algarve, Portugal
Do you want to party hard or take it easy on your next beach escape? Well actually, both are on offer at Praia da Rocha, a gorgeously golden beach on Portugal's Algarve that's dotted with dramatic red limestone pinnacles. Here, you'll find water sports aplenty by day and buzzing restaurants, nightclubs and beach parties by night. And yet the more untouched western end of the beach still feels quiet and wild.
Discover the best things to do in Portugal
3
Elafonisi Beach, Crete, Greece
The famed 'pink' sand of Elafonisi lagoon in southwest Crete has graced many Instagram accounts due to its delicate rosy hue, caused by the local coral. It's just as lovely in real life, lapped by warm, shallow waters that are perfect for children to paddle in and ringed by dunes to explore on foot. Keep an eye out for the white sea daffodils that grow here, too.
Discover the best things to do in Crete and the best things to do in Greece
4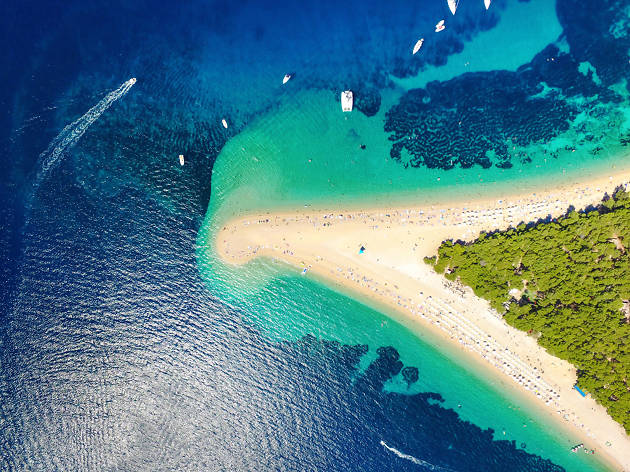 Photograph: Shutterstock
Zlatni Rat, Brač, Croatia
Known to locals as the 'Golden Horn', this beach is one of the most famed in Croatia thanks to its shapeshifting ability; the size and length of the sandbar changes with every tide. This pebbly spit of land makes the perfect walk from the nearby town of Bol. Once you reach the water you can watch the wind- and kite-surfers riding the waves of the Adriatic Sea or simply take a nap in the shade of the pine trees.
Discover the best things to do on Brač and the best things to do in Croatia
5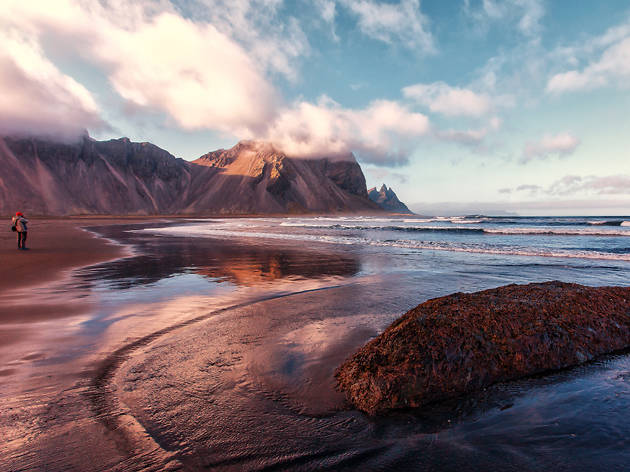 Photograph: Shutterstock
Stokksnes Beach, Vatnajokull National Park, Iceland
This bizarrely beautiful beach on Iceland's Stokksnes peninsula is ideal for photographers and explorers who, when it comes to beaches, aren't all about the sunbathing. The jet-black volcanic sand of Stokksnes beach has to be seen to be believed, especially as stark Vestrahorn Mountain – known to locals as the 'Batman' mountain for its bat-like triple peaks – sits brooding above. This may be the closest you'll come to feeling like you're walking on another planet.
Discover the best things to do in Iceland
6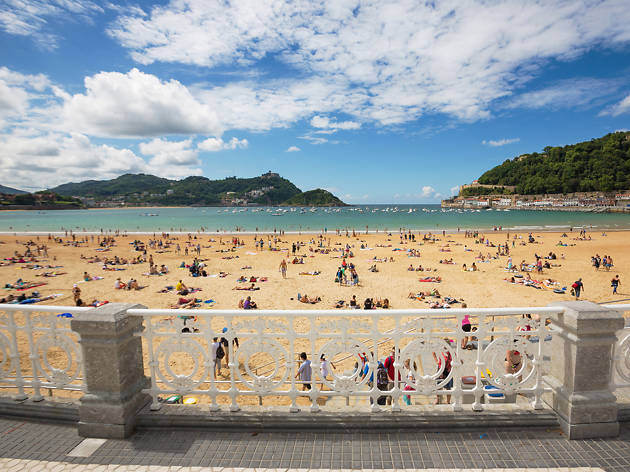 Photograph: Shutterstock
Playa de la Concha, San Sebastian, Spain
'The shell beach' – which gets its name from its curved shape – is the jewel in San Sebastian's crown. Once you've tried locally-caught seafood in the streets of the Basque city – a much-loved foodie destination – head for this picturesque sweep of sand. Walk off those tapas alongside locals who regularly stroll along the golden sand, enjoying wraparound views of the city and out to Santa Clara island.
Discover the best things to do in Spain
7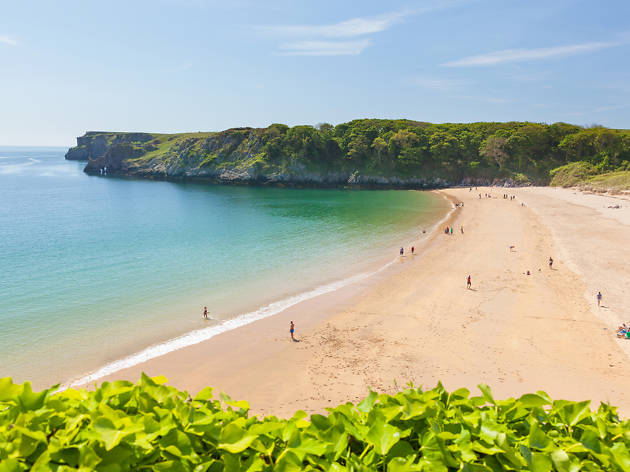 Photograph: Shutterstock
Barafundle Bay, Pembrokeshire, Wales
You're spoilt for choice for perfect beaches along Pembrokeshire's coastline in Wales, but arguably the loveliest is Barafundle. Not least because this bay is only accessible by a beautiful half-mile walk. Follow a path past the lily pads of Bosherston Lakes and you'll stumble across the warm golden sands of this glorious crescent-shaped bay. The water here is calm and safe for bathing, making it ideal for younger families. And the lack of road access mean that there's always plenty of space to make your own for the day.
Discover the best things to do in Wales
8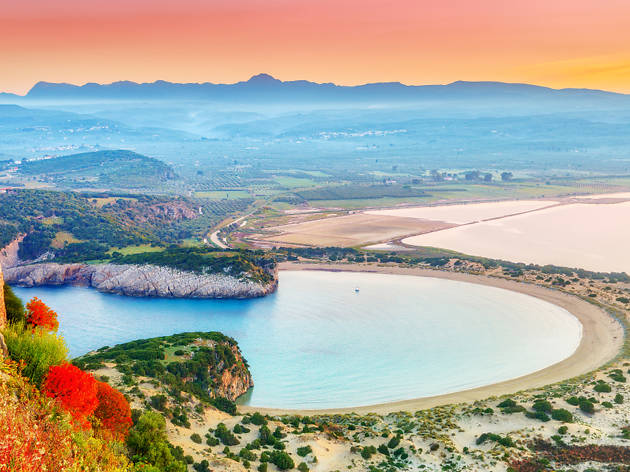 Photograph: Shutterstock
Voidokilia Beach, Messinia, Greece
It takes a while to reach Voidokilia, which is hidden down a bumpy narrow road in the Peloponnese region of mainland Greece, but it's a treasure worth seeking out in order to swim and snorkel in turquoise waters, walk in the dunes or, if you're feeling brave, jump into the sea from tall rocks. Fun fact: locals reckon the dunes that encircle this vase-like beach perfectly form the Greek letter Omega (Ω).
9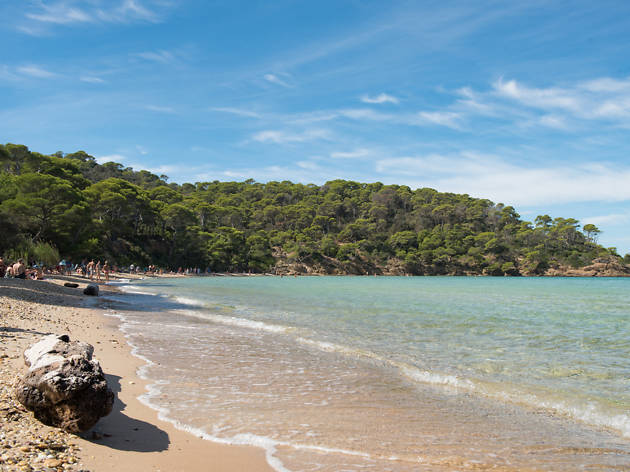 Photograph: Shutterstock
Plage Notre Dame, Porquerolles, France
Visiting the calming, car-free island of Porquerolles – one of the three idyllic Iles d'Hyères off the southeastern coast of France – is a real breath of fresh air (scented with the island's native pine and eucalyptus). Hiring a bike is the best way to go beach-hopping on the island, but the beach of Notre Dame is one of the finest, a sandy bay straight off a holiday postcard, with bobbing boats on the horizon.
Discover the best things to do in France
10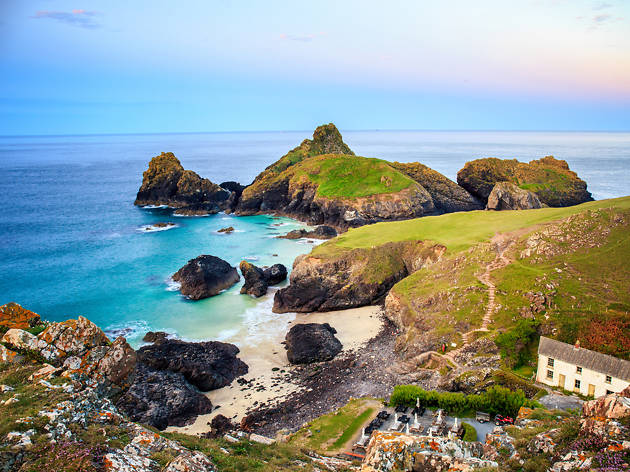 Photograph: Shutterstock
Kynance Cove, Cornwall, England
Here be mermaids. Tucked away on the Lizard peninsula at the southern tip of Cornwall, this much-loved and often-painted beach has sweeping sands, tall rocks to scramble around, hidden caves to discover – and the Mermaid Pool, a wild swimmer's heaven full of glassy green water, accessible only at half-tide. There's also an eco café serving cream teas next to the beach – don't forget it's jam first on scones in Cornwall.
Discover the best things to do in Cornwall and the best things to do in England
11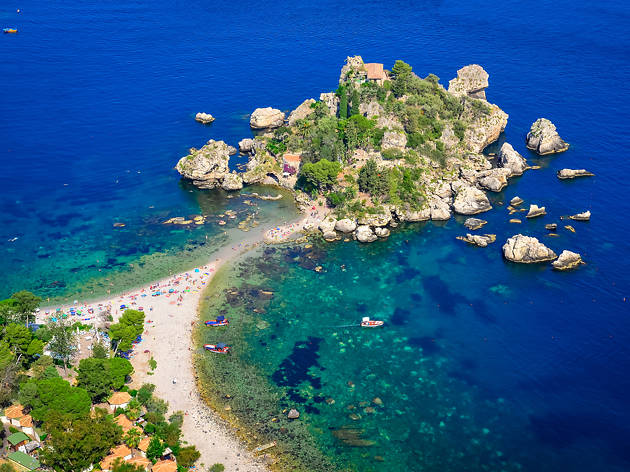 Photograph: Shutterstock
Isola Bella, Taormina, Sicily
Sicily's prettiest slice of coast is really all about the view. Strolling along Isola Bella's pebbly beach, lined with laidback seafood restaurants, you can gaze out over the crystal-clear waters of the Ionian sea to Isola Bella itself – the tiny green islet the beach is named after. Walk over to the island when the tide is low to explore a charming garden with half-hidden grottoes and follies.
12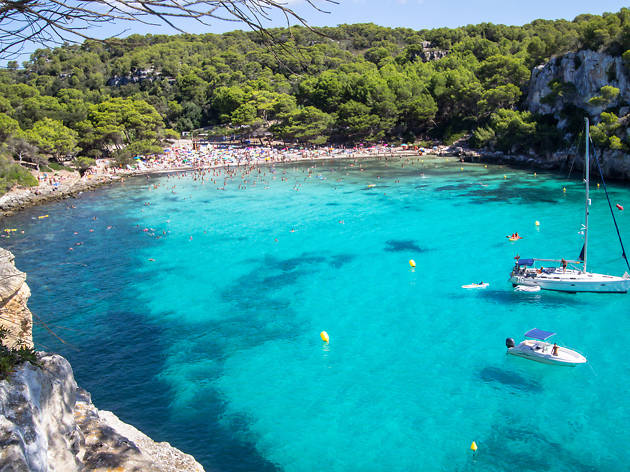 Photograph: Shutterstock
Cala Macarella, Menorca, Spain
You'd be forgiven for thinking someone has turned the saturation way up when you first glimpse Cala Macarella, the water is such a bright shade of blue. This lovely Menorcan cove is at its very best in early autumn, when the water is still delightfully warm but the summer holiday crowds have gone. After a dip, follow the coast path through the pine trees to the smaller but equally charming Macarelleta cove.
13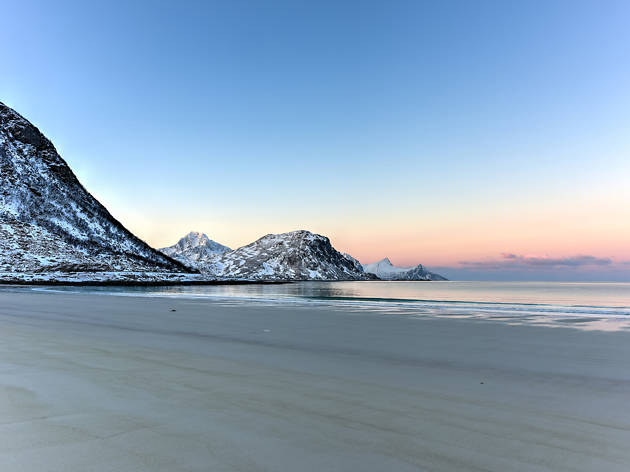 Photograph: Shutterstock
Haukland Beach, Lofoten, Norway
Norway may conjure up images of deep fjords and vertiginous mountains, but it's worth dragging yourself away from its iconic peaks and heading to the Lofoten islands to seek out Norway's finest bay, huge (and hugely inviting) Haukland. Its rightly nicknamed an 'Arctic paradise', where the cold but clear water is a glassy sea green, the sand is white and tall mountains rise straight out of the water.
Discover the best things to do in Norway
14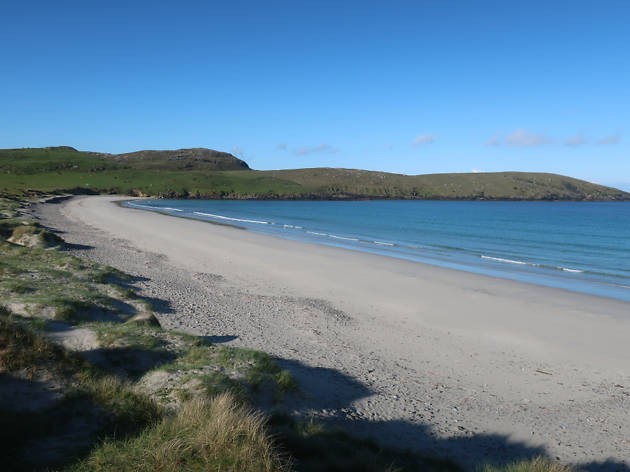 Photograph: Shutterstock
Vatersay Bay, Vatersay, Scotland
The sand is so white and the ocean so clear on the tiny island of Vatersay in Scotland's Outer Hebrides that you might be forgiven for thinking you're in the Caribbean – until you dip a toe in the ever-chilly water, that is. This sweeping bay edged by sand dunes is one of the dreamiest (and most isolated) beaches in Scotland.
Discover the best things to do in Scotland
Plage de l'Ouille, Perpignan, France
This pretty, pebbly beach in the south of France was a favourite for Matisse, who used to sketch the view from the clifftop path above the sea. Miraculously, it's still a bit of a secret spot and is often quiet and half-empty despite being only 100 metres long. The cliff path is perfect for strolling at a lofty height before clambering back down for a well-deserved splash around in the sea.
After more travel inspiration?
There are 44 countries in Europe alone, and no other place on earth packs as much cultural diversity into its borders. Want world-class museums and Unesco-listed monuments? You got it. How about hiking and biking beneath jagged mountain peaks? All-night party strips and silky sands? Our run-down of the best places to visit in Europe has it all.