The 18 best restaurants in National Harbor
Delicious Southern cuisine and ethnic foods delight your taste buds at the best restaurants in National Harbor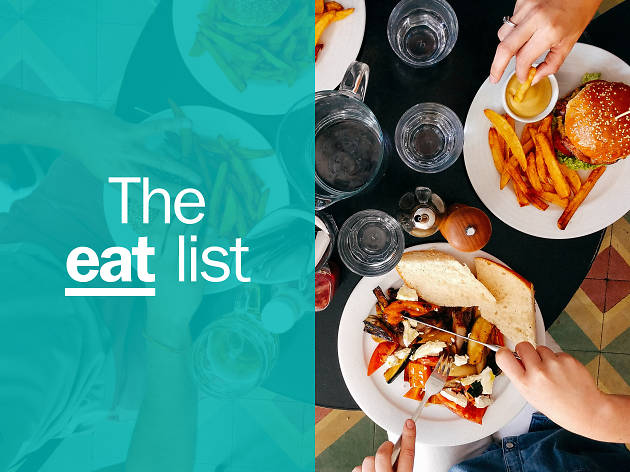 National Harbor is a gentrified oasis in Maryland within a few minutes drive from both Northern Virginia and the District of Columbia. The area's main draw? The slew of upscale restaurants and stores on premise. Although plenty of the best restaurants in National Harbor serve Southern favorites, many others draw from other culture's gastronomic trends. One thing is certain: you'll need help navigating the area's dining options. But, worry not! We're here to help, just browse through our list of top food destinations.
Best restaurants in National Harbor
1
Photograph: Courtesy Yelp/Brother Jimmy's BBQ
What is it: An authentic taste of the South in a chilled-out surroundings. We're talking budget-friendly but finger lickin' good eats in a wooden-tables-and-chairs kind of place. Wear your comfiest clothes and bring an appetite.
Why go: For the juicy Carolina pulled pork, smoked brisket, crisp country catfish and sloppy Jimmy (smoked beef and pork with peppers and onions). Hankering for dessert? The fried Oreos are calling your name. That's right: Deep. Fried. Oreos.
Price: Average
2
Photograph: Courtesy Yelp/Nando's Peri-Peri
Nando's Peri-Peri Chicken
What is it: Boasting a spirited vibe melding ethnic music, art and food, this Afro-Portuguese restaurant also offers a casual ambience, peppered by bright and urban lighting touches.
Why go: Prince Harry, the Duke of Sussex, is one of the eatery's many famous fans. The zesty chili sauce on top of the succulent chicken might be the reason why.
Price: Bargain
3
Photograph: Courtesy Yelp/Spencer H.
What is it: Chef Edward Lee crafts Southern fare with a hint of Asian accents. Basically the kind of food that will make you go ga-ga.
Why go: Cornbread with scallions, dirty fried chicken, lots of biscuits, grits, catfish and mac and cheese. You'll never want to leave the premise.
Price: Average
4
Photograph: Courtesy Yelp/Kareem T.
Bond 45 Italian Ristorante
What is it: An old style Italian steakhouse reminiscent of Frank Sinatra's vintage hangouts. It's actually the sister eatery to the eponymous one found in New York's Times Square.
Why go: The servings are large and rich—think steaks, shrimp scampi and classic lasagna. The theme runs through the dessert menu, also fairly robust. With highly polished dark woods and dim lighting, the spot is as beautiful as it is culinary exciting.
Price: Pricey
5
Photograph: Courtesy Yelp/Nina U.
What is it: This is a hip restaurant with a killer water view and an intimate-yet-casual vibe. Oh, the menu is fairly extensive.
Why go: Don't go just for the waterfront location or the crackling fire pit or the cozy dining room. Go for for all of the above and the perfectly prepared specialties, like the General Tso turkey burger glazed with sweet and spicy sauce, falling-off-the-bone-chicken, wood-fired flatbread and an array of shared plates.
Price: Pricey
6
Photograph: Courtesy Yelp/Jennifer M.
Granite City Food and Brewery
What is it: Granite City Food and Brewery is an award-winning microbrewery that also serves delicious food.
Why go: Well, it is an award-winning venue after all. Although you should certainly drink the hand-crafted hops brewed on site, you shouldn't miss out on the food offerings: savory burgers, pastas and seasonal chef's specials.
Price: Average
7
Photograph: Courtesy Yelp/Sabrina H.
What is it: Ever had a burger hankering that you couldn't seem to satisfy? That happened to Hans Hess… and that eventually led him to open Elevation Burger. Let's thank our lucky stars.
Why go: According to USA Today, the chain is the largest seller of organic beef in the U.S. Not so into meat? Try the savory fries and out-of-this-world milkshakes instead.
Price: Average
8
Photograph: Courtesy Yelp/Kevin G.
What is it: Searching for a fun double date spot? Look no further than Brass Tap, a funky venue that serves beer flights and really good bar food.
Why go: Hello? Beer flights! Make sure to nosh on beer cheese dip, wings, a gourmet sausage sampler, flatbreads and pretzel pizzas as well.
Price: Average
9
Photograph: Courtesy Yelp/Public House
What is it: A hidden gem that's worth the hunt necessary to find it. Expect dim lighting and spacious seating, making it the perfect destination for date night and relaxed group outings.
Why go: The cocktails here are really good, perfectly complementing the all-American meals. Enjoy juicy chicken, fluffy waffles, the best crab cakes outside of Baltimore and the many vegetarian options.
Price: Average
10
Photograph: Courtesy Yelp/D S.
What is it: A characterful Chinese restaurant by the river.
Why go: After being greeted by two enormous Terracotta Army style soldiers, visitors to Grace's Mandarin can also marvel at the massive gold Buddha inside. But novelties aside, this place is a classy one with the kind of prices you'd expect at an upscale restaurant beside the Potomac. Tuck into classic Chinese dishes, as well as sushi and some innovative desserts.
Price: Blowout
11
Photograph: Courtesy Yelp/Walrus Oyster and Ale House
Walrus Oyster and Ale House
What is it: Situated next to the waterfront, it may come as no surprise that the Walrus Oyster and Ale House dishes up hearty meals that are straight-outta-the-water.
Why go: Because the seafood is fresh, fresh, fresh. Our advice? Try the crab cake sandwich, cheesy grits, cider braised pork shoulder, grilled swordfish, fried calamari, rich desserts and oh-so-much more.
Price: Pricey
12
Photograph: Courtesy Yelp/Bryan E.
What is it: With a name like Cadillac Ranch, you can probably imagine the kind of menu on offer here. Barbecue, wings, steak, burgers…
Why go: This is the definition of the all-American diner. Think red leatherette booths, wood panelling, stars and stripes on the wall alongside deer antlers, and a life-sized Cadillac, naturally. There's also a bucking bronco, should you be over 18 and feel brave enough to take it on.
Price: Average
13
Photograph: Courtesy Yelp/Richard M.
What is it: A traditional Irish bar and restaurant that boasts the kind of atmosphere that will transport you to Europe in no time.
Why go: To eat the Irish specialities, of course. Try the fish and chips, corned beef and cabbage dish and cottage pie. To wash it all down, you're going to have to indulge in some really good Irish whiskey. Follow up your meal with a game of darts while listening to some live music.
Price: Average
14
Photograph: Courtesy Yelp/Lynne S.
What it is: McLoone's Pier House is the classic restaurant for special events. The wait staff is known for its top-notch service and all entrées—from salmon to seafood imperial to sea bass—are perfectly prepared.
Why go: The fabulous food is complemented by the spectacular view, that much more beautiful when sipping on a carefully concocted cocktail.
Price: Blowout
15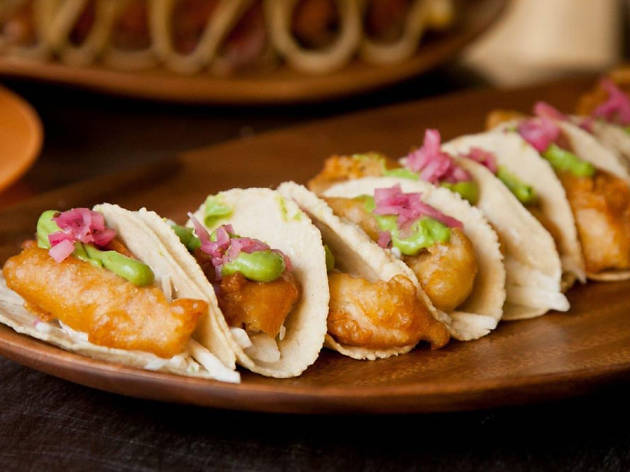 Photograph: Courtesy Yelp/Rosa Mexicano
What is it: A colourful spot in the harbor serving up delicious Mexican dishes that are just as vibrant as its decor.
Why go: You'll find Rosa Mexicano's all over the country, but this National Harbor spot is particularly lovely. Multicolored mosaics line the exterior, while inside has big splashes of bright pink. Add to that a view over the harbor and authentic Mexican dishes and you've got a prime dinner spot. Splash out on the grilled wild jumbo shrimp marinated in garlic vinaigrette with tomatoes, onions and more.
Price: Pricey
16
Photograph: Courtesy Yelp/Nutchanat P.
Fiorella Italian Kitchen & Pizzeria
What is it: A usually very crowded Italian restaurant that offers prime outdoor seating as well.
Why go: The prix-fixe menu, which will allow you to sample an array of foods. Prefer to order à la carte? Go for the traditional pasta dishes (baked shrimp Alfredo, pesto salmon) and the pies. Don't miss out on the cheesecake with the praline nut crust and strawberry glaze.
Price: Pricey
17
Photograph: Courtesy Yelp/Thai Pavilion
What is it: The eatery serves a mix of traditional and modern Thai fare right alongside top-notch sushi. The high-ceilinged surroundings add a layer of elegance to the entire experience.
Why go: The extraordinary chef's specialties, like the shrimp asparagus and Thai Pavillion steak. Do also consider ordering the noodle dishes, cashew chicken, pepper beef and crab meat fried rice.
Price: Pricey
18
Photograph: Courtesy Yelp/Natalia U.
What is it: Mi Vida is no standard Mexican restaurant. Renowned chef Robert Santibañez combines the taste of street food with traditional Mexican cooking for a flavor nobody will ever be able to replicate.
Why go: The most authentic Mexican food this side of the border is found here. Try the Mexo Chile cocktail sauce, hibiscus red onions and the Ostiones local oysters on the half shell.
Price: Pricey
Discover Time Out Market: the best of the city under one roof