Heads up! We're working hard to be accurate – but these are unusual times, so please always check before heading out.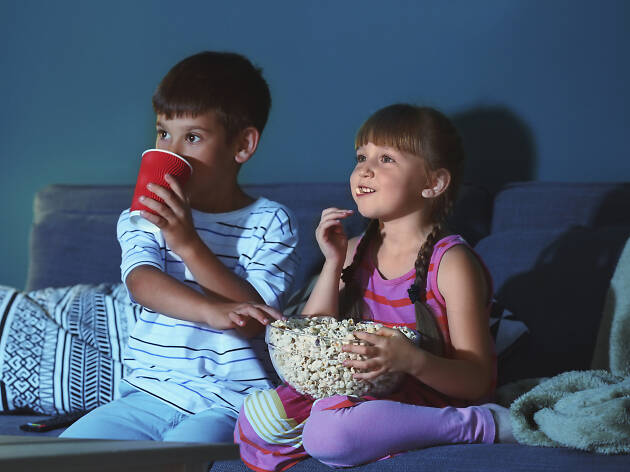 Best Disney Channel Original Movies to add to your list
The best Disney Channel Original Movies offer a lot to love—fun characters, catchy tunes and, of course, epic stories
The best Disney Channel Original Movies are essential for an epic playdate or sleepover, so take a gander at our list and see if the kids are up for a screening of Camp Rock, Cadet Kelly or both!
The young and the young at heart will find something to love with these flicks: race car riders, teen sleuths, friends from the future, budding musicians and so much more. No matter what your brood decides to watch, you can be sure that the best Disney Channel Original Movies will keep everyone entertained. (Plus, be sure to also have a look at our favorite family comedy movies, best kids' movies of all time and awesome movies for tweens.)
Be forewarned: If this marathon is taking place during a sleepover, chances are the kids will be up around the clock. We just hope you have enough popcorn and sweets to go around. Have a great marathon, friends! Don't be surprised if a sing-along is in your future...especially if your crew is going to watch High School Musical.
Best Disney Channel Original Movies
The last thing on Kelly's mind is military school, but that's exactly where the teen ends up after her bossy new stepfather has his way. Life at George Washington Military School is certainly intense, especially when Kelly's commanding officer decides to give her a hard time. Things seem impossible...until she sets her sights on a hunky classmate. Well, it looks like military school isn't so bad after all! Think Kelly (played by Hillary Duff) will be able to keep up? After your Lizze McGuire marathon, make sure to watch Hillary gem, too.
In the early 2000s, it seemed Lindsay Lohan made a cameo in just about every Disney movie ever created. We see her as an investigative journalist/super sleuth whose humble beginnings start on the school paper. The sassy NYC kiddo is used to writing for the paper's gossip column, but before you know it, her beat shifts to crime. Will she be able to uncover her missing teacher's whereabouts?
Casey Stuart is trying to get used to life without her mother, but the loss is too much for the tween (played by Lindsay Lohan) to bear. The tomboy retreats from her friends and looks for ways to bring her mother back...and actually stumbles upon it. She gets her hands on a book of spells—without paying for it—and tries to resurrect her mom with a spell. Instead, it's her new doll, Eve, who comes to life.
Taylor and Courtney have better things to do than work on the family farm...yet their father seems to think that is exactly where they need to be. In order to instill some responsibility in his girls—Michalka sisters—he tasks them with managing the every-day chores of the biz. The ladies get more than they bargained for when the family's funds go missing. Will they be able to keep things running?
The National Hot Rod Association is looking for young racers...but not eight-year-old Erica. Girls aren't meant to race, but naturally, she has ideas of her own. Determined to succeed in a man's sport, Erica does everything in her power to prove those naysayers wrong.
6. Read It and Weep, 2006
There are causes for panic when you're a teen...and one of them is having your deepest, darkest secrets exposed. Poor Jamie didn't mean for her life to become a literal open book. When she accidentally submits her journal as homework, her teacher works hard to make it a bestseller (a publishing feat writers dream of). Based on the YA sensation How My Journal Became a Bestseller, this Disney Channel Original Movie is a must for all young bookworms and scribes.
This Jo Bro, Demi Lovato throwback feels like ages ago, and it was one of the early points of the musicans' careers. In the rocking flick, Mitchie Torres is elated to put her singing chops to the test at Camp Rock. But when she arrives to the prestigious institution, she realizes that she's not the only one who can carry a tune. What will happen when she and a former camper, Shane Gray, join forces?
8. High School Musical, 2006
Who doesn't remember the sensation that was High School Musical when it was released? The soundtrack alone was a massive hit that then led to actual concert tours around the U.S., Canada and Latin America. The story centers around the captain of the basketball team and a smart but shy new girl who discover that both love singing. When both decide to audition for the lead roles in their high school's musical, the whole school rises in a fury because two students from opposite ends of the cool spectrum have banded together.
9. Wendy Wu Homecoming Warrior, 2006
Everything is status quo for Wendy Wu. The teen has a one-way ticket to her school's homecoming queen title, but everything is interrupted when she learns that she's actually a reincarnated Yin Warrior. Looks like high school happenings will have to wait.
10. Sharpay's Fabulous Adventure, 2011
The beloved High School Musical mean girl (Ashley Tisdale) is treated to a spinoff of her own where she heads to NYC to perform at an auction. But she realizes the big leagues aren't all fun and games, especially when she gets a taste of the wicked ways she once doled out on the hallways of East High School. But can a hunky fella in the industry make it all worthwhile?
11. Zenon: Girl of the 21st Century, 1999
Thirteen-year-old Zenon has spent her whole life living in a space station, but after another one of her mischievous acts go awry, she's literally grounded and sent down to Earth to live with her aunt. Zenon must now learn the ways of the scariest creatures of all—human teens—all the while thwarting an attack that could bring the whole space station crashing down. If you ask us, the best parts could very well be Zenon's fashion style and "Supernova Girl" played by the far out pop group Proto Zoa and the Microbes.
12. The Cheetah Girls, 2003
The Cheetah Girls drove fans wild with its catchy tunes and hijinks. A band of four girls, fronted by That's So Raven star Raven-Symoné, have their eyes set on their school's talent competition, but a famous record producer has his eyes on them. The girls go after a contract, but start having second thoughts when they're forced into becoming something they're not. Their friendship is tested, but thankfully they still make time to belt out a few tunes we still remember to this day.
13. Princess Protection Program, 2009
Carter Mason is a laid-back girl from Louisiana whose world gets turned upside own when her dad, an agent in the Princess Protection Program, is called to rescue Rosalinda Marie Montoya Fiore. Rosalinda is the teen princess of Costa Luna, which comes under attack by an attempted coup. Even though the two girls could not be any more different, they become best friends and work together to thwart those behind the coup and stand their ground against jealous high school girls.
14. Wizards of Waverly Place: The Movie, 2009
The popular television series gets its own movie when the Russo family goes on a Caribbean vacation that turns into a high-stakes magical adventure. Teen daughter Alex accidentally curses her parents into never having met in a fit of fury from being ground. She enlists the help of her brother Justin to search for the Stone of Dreams that will revert the spell while bother Max tries his best to keep his parents from going their separate ways. Zaps fly as the siblings break out every trick in the spell book to reunite as one big happy family.
This spooky adventure follows Marnie, a 13-year-old who discovers she's a witch and stumbles upon a magical land called Halloweentown. There, she meets ghouls and ghosts and other creepy characters she never knew existed thanks to her mother's refusal to let her children know their family's truth. But when an evil demon is threatens the lives of the good goblins of Halloweentown, Marnie is pulled to step into her role as a true witch. And you thought your trek through puberty was rough.
What would the kids of some of our favorite Disney villains look like? Descendants follows the lives of King Beast and Queen Belle after they've married, united all the kingdoms into one and cast all the villains away to a remote island secluded by magic. When their son Prince Ben decides to accept the children of four of these villains—Cruella De Vil, Jafar, The Evil Queen and Maleficent—into their prep school, he's also opened the door for these kids to carry out their parents' evil wishes.
17. Teen Beach Movie, 2013
Surfers Brady and McKenzie wipe out on a wave and wash up on the shores of the classic 1960s beach film Wet Side Story. The lost teens get roped into a longstanding rivalry that exists between the surfers and the bikers when the movie's lead characters fall in love with each of them. Brady and McKenzie must figure out how to reset the story line on its proper course and find their way back home. But first, a bit of shimmying and shaking it on the beach.
18. Miracle in Lane 2, 2000
This inspirational true story demonstrates that a disability doesn't define who you are and what you can accomplish. Justin Yoder is eager to be just like his athletic older brother, Seth, but because he was born with a birth defect he needs to use a wheelchair. When Justin discovers a soapbox car, he realizes that he's a natural behind the wheel and with the help of his once-overprotective family—and special handbrakes—Justin can finally speed towards his passion despite the dangers he might face on the way there.
19. The Even Stevens Movie, 2003
The kooky Stevens family—with a young Shia Labeouf—wins a trip to the secluded paradise of Mandelino. The family enjoys their tropical getaway, but little do they know that their all expenses-paid vacation ishosted by a new reality TV show that's pulling all the stops to turn the Stevens' world upside down for the sake of higher ratings.
Our favorite TV twins Tia and Tamera Mowry play twin witches—twitches!—who were separated at birth and adopted by non-magical families on Earth. When they reunite on their 21st birthday, they realize who they truly are, what their destiny has in store for them and how much more powerful they are when they work together. When the twitches learn about the Darkness that took their father's life when they were born, the pair join forces to restore peace to their magical land of Coventry.
Years before we were all consumed by smart phones, AI programs and tech-driven homes, Smart House showed us what could happen if technology truly acquired a mind of its own. After Ben Cooper wins his single dad a Smart House to make the lives of his family easier, he programs the home to become a surrogate mother for him and his younger sister. His goal was to prevent his Dad from dating the house's creator, but soon the house grows out of the control and the motherly persona becomes overly possessive of the family.
More fun for kids
Get in the know with the best family movies on Netflix for kids!