The best animal movies and pet movies for kids
Make it a fun and heartwarming movie night with sweet animal movies featuring extraordinary pets both big and small!
Good animal movies can pull at the heartstrings and leave us either wanting to cuddle with our furry best friend or run out and adopt a lovable critter. Characters from pet movies stay with us long after the credits roll and teach little ones valuable lessons on compassion and caring for our animal friends. This list of children's films contain some extraordinary animals—animated and live-action—including ones that we wished were our own growing up! So nab these titles and pull up your tots for a movie night filled with adventures, laughs and heartwarming stories.
If you're on the search for more awesome kids' movies, try our list of the best family movies on Netflix, the best kids' movies and our favorite family comedy movies. Don't forget the popcorn!
The best animal movies for kids
1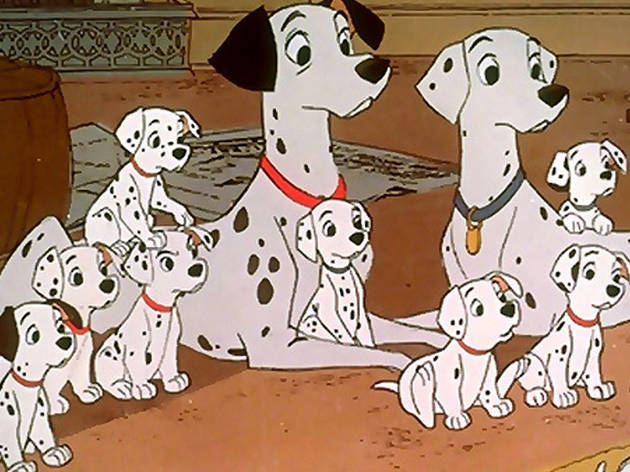 101 Dalmatians (1961)
Forget today's supervillains: Cruella De Vil, whose life goal is to make a luxurious fur coat out of puppies, is the most evil of all. After two adult Dalmatians fall in love (and make their owners Anita and Roger fall in love, too), their litter of fifteen puppies draws the eye of none other than Ms. De Vil (who will stop at nothing to have them in her clutches). Will the puppies (and their parents) be able to escape Cruella and her criminal cronies? Rated G.
2
Lady and the Tramp (1955)
In a scene that continues to live on in the minds of grossed-out kids and romance-obsessed tweens alike, Lady and the Tramp made spaghetti dinners just a little bit more exciting. When a misunderstanding causes Lady, a cocker spaniel with unreasonably great hair (er, fur), to be kicked out of her cushy home, it takes a wrong-side-of-the-tracks mutt named Tramp to take her back where she belongs. Rated G.
3
Homeward Bound: The Incredible Journey (1993)
What would your pets tell you if they could talk? This crew (Chance the bulldog, Shadow the golden retriever and Sassy the cat) would tell you that they're on an epic journey to find their family, who seemingly abandoned them in San Fran. Luckily, this furry dream team has what it takes to overcome all kinds of challenges (think porcupines, mountain lions…even the pound!) to get where they belong. Rated G.
4
Balto (1995)
After an outbreak of diphtheria makes a very sweet little girl sickly in Nome, Alaska, a dashing doggie outcast named Balto must step in to help save the day. As an unlikely addition to a local dogsledding team, he helps to deliver the antitoxin that saves her life (and uses scent rather than sight to lead his team home in brutal winter weather). The Disney rendition is based on a true story and a real dog named Balto. Don't miss the Balto statue in NYC outside the Tisch Children's Zoo! Rated G.


5
Old Yeller (1957)
Yet another example of how heartbreaking pet movies can be, Old Yeller remains an American classic. Set in post–Civil War Texas, the destitute Coates children find a big yellow dog in the cornfield, and encounter black bears, boars and the ultimate coming-of-age experience when oldest son Travis is forced to put down his beloved pet after he's bitten by a rabid wolf. Rated G.
6
Free Willy (1993)
This one's for everyone who dreamed they were in the ocean while right at home in the bathtub. Who wouldn't want a whale friend, anyhow? The 1993 classic follows troubled kid Jesse and Willy, a killer whale who is separated from his family to become an attraction for greedy aquarium owners. When Jesse is caught red handed defacing the aquarium, he's made to make amends by helping to clean it, and in doing so befriends the whale and its trainer. Not to spoil things, but the film's title might suggest what Jesse hopes to do next. Rated PG.

7
Flipper (1964)
Kids will love this fun tale of a boy and a dolphin which proved popular enough to merit a movie sequel and launch a fondly remembered '60s TV series. Sandy (Luke Halpin), a young boy who lives in Coral Key, Florida with his family, nurses a dolphin back from injury and names him Flipper. Sandy's father, fisherman Porter Ricks, dislikes the creature since it competes for fish in the local waters and distracts the neighborhood kids with its silly antics. Sandy must persuade his grouchy pop to let him keep his new-found pal as a pet. Not rated.
8
The Aristocats (1970)
Get ready: after watching this classic kids will be yelling that everybody wants to be a cat! When Duchess and her three little kittens are on a mission to retrieve the hefty inheritance their owner left them all the while avoiding the claws of two hound dogs and their evil butler, it's up to tomcat O'Malley and his savvy alleycat ways to help them return to their Parisian mansion safely. Not only will parents experience a bit of nostalgia here, but the jazzy soundtrack will have kids dancing along. Rated G.
9
Marley & Me (2008)
Marley & Me markets itself as a family-friendly comedy-drama, but don't be fooled: This movie will bring even the hardest hearts to full-blown sobs. You may want cut the cord halfway through, when the film hasn't yet breached its eventual subjects of miscarriage, postpartum depression and the slow decay of Marley's health. That said, it still manages to cater to the comic sensibilities of kids, albeit through many tears. Rated PG.
10
The Secret Life of Pets (2016)
When Max's owner brings home a new four-legged roommate, Max (voiced by Louis C.K.) is determined to show him who's boss. When the new dog, Duke, lands the pair in the middle of the city with no clue as to how to return home, the two set off on a series of misadventures and close calls while garnering laughs from viewers big and small. We dare you to not imitate the dramatic Snowball the bunny (voiced by Kevin Hart) once the movie is over! Rated PG.
11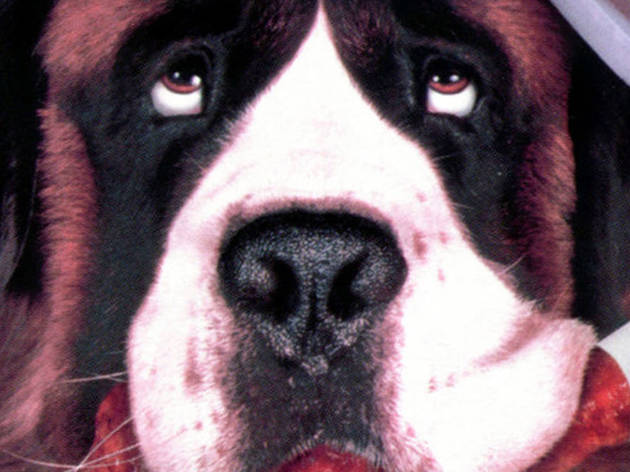 Beethoven (1992)
Who could possibly forget the massive St. Bernard and the comedic misadventures of his owners as they try to raise the slobbery Beethoven. Watch as an initially unwilling father slowly grows to love the family pet, but not before this monster of a furball shakes off his dirty coat inside the house. Beethoven reminds us what a chore raising a dog can actually be–but it is still so worth it. Rated PG.
12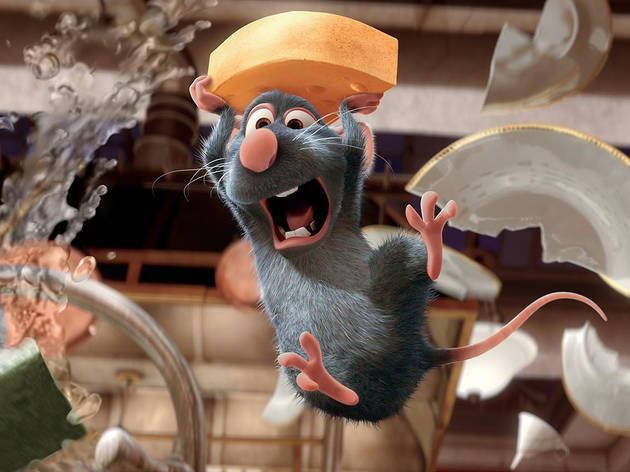 Ratatouille (2007)
Okay, so this rodent isn't exactly a pet—but when ambitious rat, Remy, puts his culinary talents to use to help novice chef, Linguini, succeed in a high-pressure kitchen, a true friendship develops. Remy emerges from his home in Paris' sewer system, certain that he's destined for something greater (and tastier). Since kitchens don't exactly welcome his breed with open arms, Remy's dream of becoming a chef proves difficult, but with help from his newfound human protégé, he may change the opinions of both species. Rated G.
13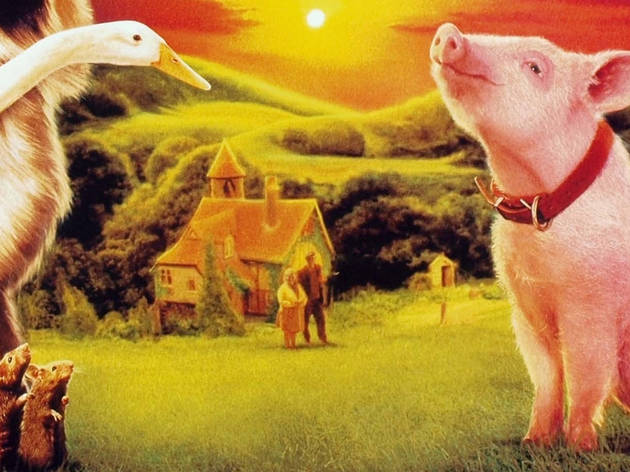 Babe (1995)
Who knew that the story of a pig who wants to be a sheepdog would turn into one of the world's most beloved children's classics? A brilliant screenplay, impressive computer graphics and true heart won Babe an Academy Award nomination for Best Picture and the acclaim of critics and families, perhaps enough to turn even the most carnivorous of humans into vegetarians. That'll do, pig. Rated G.
14
The Fox and The Hound (1981)
Prepare yourself for a rollercoaster of emotions with this Disney flick—hearts will melt when a red fox named Tod and a hound dog named Copper become pals, despite their instincts. A nurturing widow takes in young orphan Tod and cares for him like a pet, while her gruff neighbor, Amos, does all he can to make Copper into a fierce hunter. As the critters grow up things take a sad turn. As they head down the paths they were born to follow how will they maintain their friendship? Rated G.
15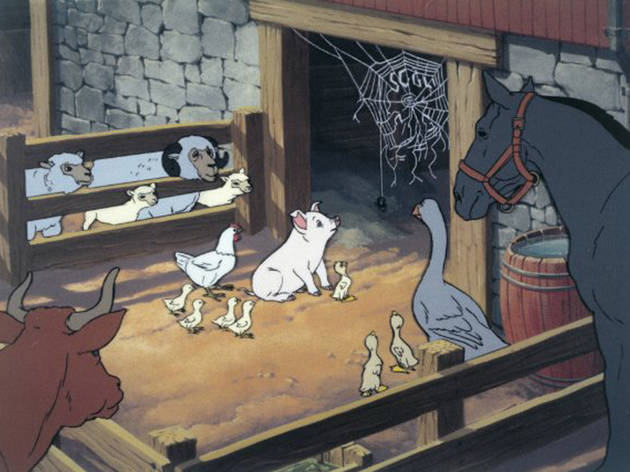 Charlotte's Web (1973)
The 2006 live-action film is good and all, but we prefer the 1973 musical adaptation of the children's book. After little Fern saves Wilbur, the tiniest of his litter, from certain death, the curious piglet learns that there's more danger up ahead. But with the help of the wise and talented spider Charlotte, Wilbur learns what it means to be brave. Rated G.
16
Best in Show (2000)
This funny animal film has grown a cult following for its quirky characters and plot. It's time to compete in the most elite event of the year—The Mayflower Dog Show—and the contestants will stop at nothing to win. Who will take home the ultimate prize? Rated PG-13.


17
Because of Winn-Dixie (2005)
The beloved children's novel about a lonely girl who moves in with her preacher father after being abandoned by her mother makes for a similarly sweet onscreen story, thanks in large part to a spunky Picardy Shepherd, who plays the title role. After finding Winn-Dixie at a supermarket, ten-year-old Opal learns how to meet friends and reconnect with her equally lonesome father. Rated PG.
18
Air Bud (1997)
The story of a golden retriever who can play basketball may sound like your standard straight-to-DVD movie plot, but the wildly successful Air Bud was based on (and features in its starring role) the stray dog found in the Sierra Nevada mountains that became a national sensation. (He even played the role of Comet on an episode of Full House!) Air Bud's unexpected talent helps 12-year-old Josh Framm break out of his shell to try out for the school basketball team. Rated PG.
19
My Dog Skip (2000)
Three school bullies with amazing names (Big Boy Wilkinson, Henjie Henick and Spit McGee) make nine-year-old Willie's life a living hell—until his family gets a lovable Jack Russell terrier. As told by the real Willie Morris, looking back on his childhood in 1940s Mississippi, this tale might best be left to kids who have an understanding of American history and the fact that their four-legged friends will someday go to doggie heaven. Rated PG.
20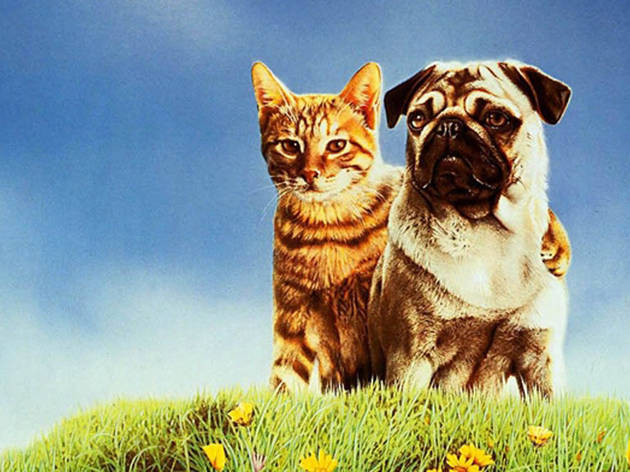 The Adventures of Milo and Otis (1989)
This 1986 Japanese film was edited for American audiences (the original featured some less-than-kid-friendly scenes) and was released three years later. But the English version is just as action-packed, including two bears, a snake and, surprisingly, not a single human. Rated G.
21
Lassie Come Home (1943)
For some of us, Lassie was the first dog we ever wanted to adopt. In this 1943 classic set in Britain during the Depression, an 11-year-old Liz Taylor is paired with the lovable collie (the original Lassie was played by a male dog named Pal) until the family is forced to sell Lassie to a wealthy duke. Determined to return to her family, Lassie sets off on a dangerous journey to return to her rightful home. Rated G.
22
Fly Away Home
When a little girl moves in with her father (which whom she has no relationship) after her mom dies, it takes a little while to settle in. When she saves some goose eggs from a nearby work site, she soon learns raising goslings may be more trouble than she'd originally expected. Rated PG.


23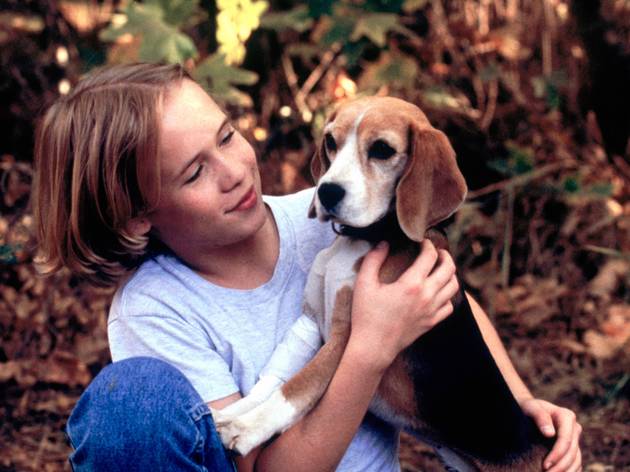 Shiloh (1996)
This one is definitely on our list of favorite heartwarming (albeit kinda cheesy) puppy movies, and might make your kids beg for a Beagle. Young boy, Marty Preston, finds a best friend in Shiloh, an adorable pup with an abusive owner, Judd. Marty strikes a deal with the old man, working for him in return for keeping the dog himself, but Judd doesn't hold up his end of the deal and Marty's canine companion might be lost forever. Rated PG.
24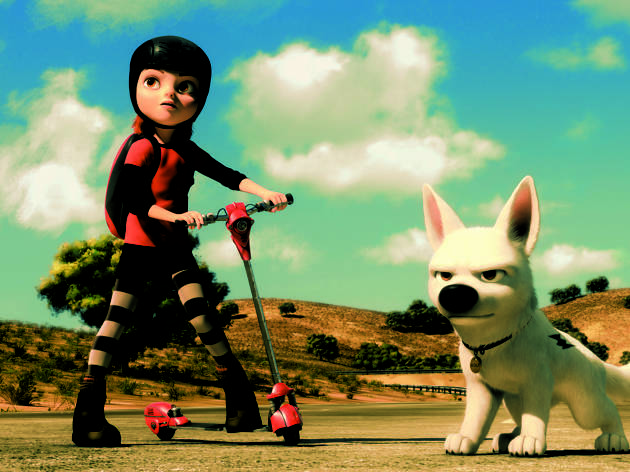 Bolt (2008)
In 'Truman Show' fashion, Bolt (voiced by John Travolta) is the deluded super-hero star of a hit live-action children's television show, replete with a snazzy lightning logo emblazoned on his flank. As Bolt is separated by accident from 'his person', the equally innocent child-star Penny (Miley Cyrus), and joined by an alley-cat and couch-potato Hamster, he learns to be 'real dog.' Rated PG.
More fun for kids