Five easy school lunch ideas for kids
These easy school lunch ideas for kids will have 'em happy (and eating healthy), even away from home
The kids going back to school means a few things for your family: The return of Pizza Day, your littles showing off their cool school supplies and yes—you'll have to re-sharpen your lunch-making skills. Good thing these easy school lunch ideas are a quick save in any morning rush! See below for some of our favorite easy-to-make lunchbox meals, then, if you're feeling more aventurous, consider dinnertime with our favorite recipes for kids from NYC restaurants (or attempt something from The Lunchbox Dad's lookbook of inspirational creations).
Apple Wraps
What you'll need:
Sliced deli ham
Cheddar cheese
Apple
Pretzels
How to make it:
The mix of crunchy apple and smooth cheese makes this a kid-pleaser. Slice a red or green apple (a little lemon juice will prevent browning) and top with a piece of cheddar. Fold a slice of ham in half, lengthwise, and wrap it tightly around the apple and cheese, securing with a toothpick. Serve with pretzels.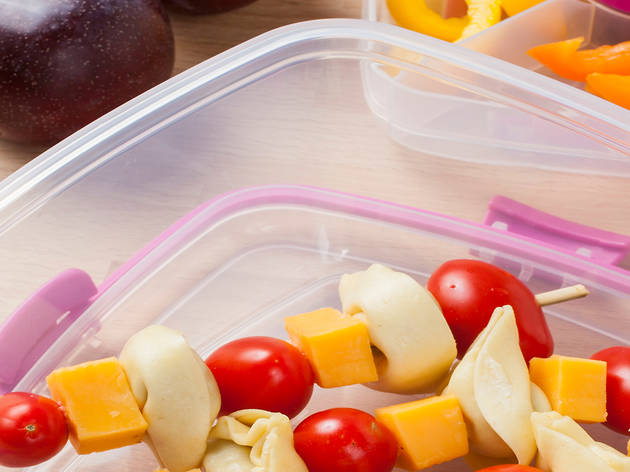 Tortellini Kebab
What you'll need:
Cooked tortellini
Cherry or grape tomatoes
Cheddar cheese
Bell peppers
Plum
How to make it:
Pasta is on the favorite-foods list of most kids. Put that pasta on a stick and you've got a clever way to add some fruit and veggies, too. Slide cooked tortellini—any variety—onto a skewer along with cheddar and tiny tomatoes for a fun, handheld pasta lunch. Swap in new ingredients to change it up, too.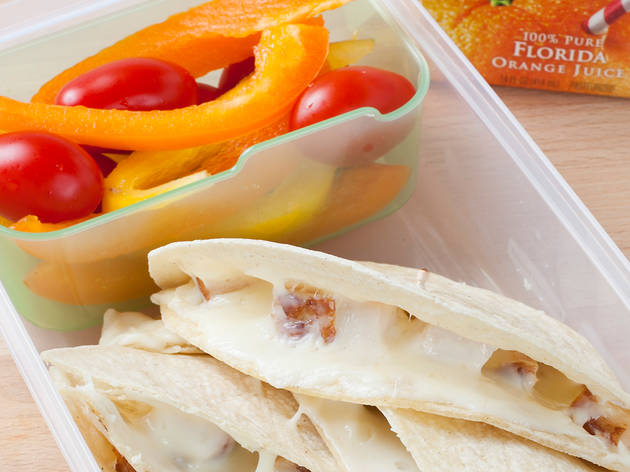 Chicken quesadillas
What you'll need:
Flour or corn tortillas
Cooked chicken breast
Mild cheese
Cherry or grape tomatoes
Bell peppers
How to make it:
Young mouths that prefer simple flavors will savor this classic. Layer cheese and diced chicken (deli slices or leftover chicken breast) on a tortilla, then cover with another tortilla. Bake at 350 degrees for five minutes or until the cheese melts. Slice and pack with a side of fresh veggies.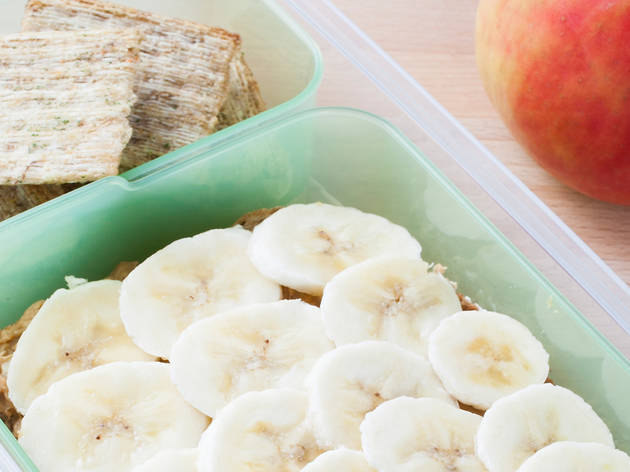 Peanut-butter-and-banana sandwich
What you'll need:
Whole-wheat bread
Banana
Peanut butter
Snack crackers
Apple
How to make it:
For kids with an aversion to veggies,
try this protein-and-potassium-packed sammie they can pick up and fold themselves. Top a slice of whole-wheat bread with a generous swipe of peanut butter and a layer of sliced bananas. Complement with snack crackers and an apple.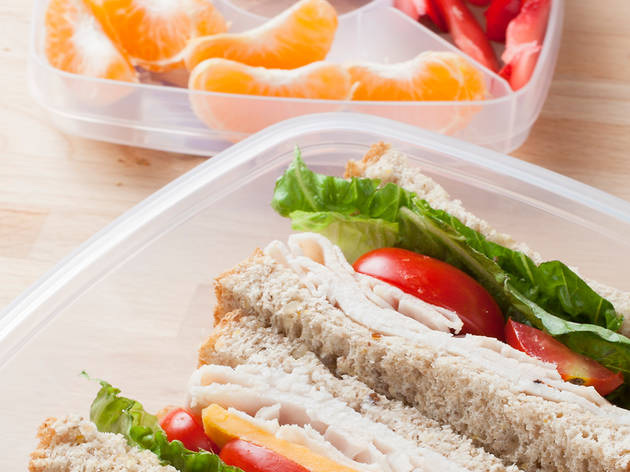 Turkey sandwich
What you'll need:
Whole-wheat bread
Sliced deli turkey
Romaine lettuce
Cheddar cheese
Mayo and mustard
Cherry or grape tomatoes
Strawberries and orange
How to make it:
This sandwich packs protein, dairy, fruit and leafy greens into one kid-approved package. Spread two slices of bread with mayo (and mustard if your kid likes spicy flavors). Top with sliced turkey and cheddar, lettuce and halved cherry tomatoes.