Six best babysitting games for kids
Keep little ones busy with these six low-maintenance, kid-approved games for indoor or outdoor play!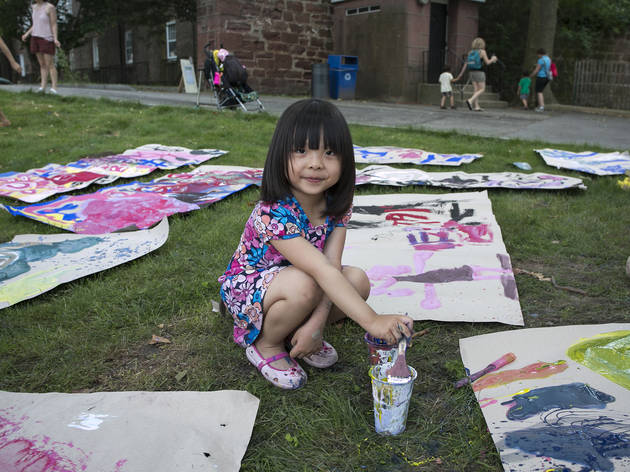 RECOMMENDED: Babysitters guide for families in NYC
After the billionth round of Tic Tac Toe, the same old game can get a little—scratch that—insanely boring. That's why any babysitter worth his or her stripes should have these six super easy games in their back pocket for when little ones get antsy. Here, we present the best babysitting games for kids, none of which require tons of equipment, prior planning or even much effort at all!
1. Balloon badminton
Now there's a way to use those stray balloons from your kid's last birthday bash: turn them into badminton birdies! To make rackets, glue a paper plate to the end of a popsicle stick (or anything long and sturdy), and then toss the balloon back and forth. (h/t Hands On As We Grow)

2. Storytelling game
Little artists and writers can give their imaginations a workout by drawing a picture that tells a story, and then exchanging it with someone else's. Afterwards, that person tries to interpret the story from the illustration before hearing what the drawer really meant. (h/t Playtivities)

3. Fortune teller
Here's a handy one for when hungry kids are waiting for their food at a restaurant: Use a paper napkin and crayons to fold a fortune teller (here's how) and write possible futures under each flap. Will your little one invent the cure for the nighttime giggles? Or will she travel to the moon on a dinosaur? Only the fortune teller knows!

4. Pillowcase race
There's a much more fun way to use your pillowcase besides dreaming: Hop around in it! Set up a racetrack down a hallway and have fun jumping towards the finish line. (h/t The Outlaw Mom)

5. Chalk
What's the best way to play with chalk? Any way! Tote a box of chalk to your nearest playground and set up a hopscotch trail, a four square grid or spend the day tracing each other's outlines and filling them in as astronauts or rock stars.

6. Nature scavenger hunt
Best for afternoons spent outdoors (the bigger the better—we recommend Central Park or Prospect Park), steer kids towards a forested area and let them roam free in search of mossy stones, a purple flower, salamanders, cool-looking pinecones or super crunchy leaves. (h/t Better Homes & Gardens)