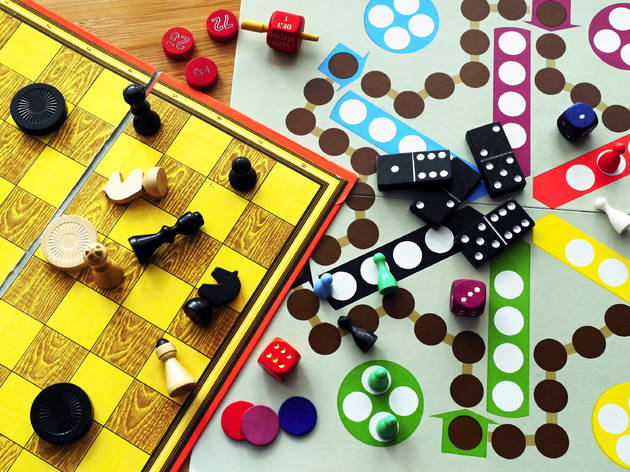 The 15 best kids' board games
We round up board games for kids that the whole family will love—Jenga, Clue, Monopoly and much more!
Ready, set, strategize! Check out our favorite kids' board games and bring on the competition.
All you need is a few friends or siblings and you're set. Kids can test their vocabulary with Scrabble, solve the who-done-it mudery mystery in Clue and so much more. Options are endless, really, and there are plenty of board games for kids of all ages. Mom and Dad, you might be inclined to join the fun yourself (or play without the kiddos—whichever)!
After the battle for victory has ended, be sure to check out other cool things to do at home, including fun family movies or free coloring book activities. Reach out to one of these board game cafes in NYC if you need a few pointers!
Best kids' board games
Little tycoons tackle a simplified version of the original Monopoly while trying to get their hands on kid-friendly real estate: the pet store, the candy shop and so on. Fingers crossed no one ends up in jail! Ages 5 and up, $11.
Young wordsmiths scramble letters together in hopes of earning as many points as possible for their choices. If your kiddos enjoy writing and love English class as much as recess, Scrabble is the perfect fit. Ages 8 and up, $17.
Players assume the role of pirates and build hideouts along tropical islands in this adventurous board game. The first to accumulate seven in total is declared the winner. But everyone must be careful—Ghost Captain is lurking! Ages 6 and up, $27.
Who's ready to stroll down the rainbow road? Players draw a card with a color to see where their gingerbread man need to venture, and the first to make it to the end of the colorful path wins. Ages 3 and up, $6.
Two players go head-to-head to stack four of their colored blocks in a row either horizontally, vertically or diagonally. Think of it as a tangible tic-tac-toe. Ages 6 and up, $8.
Connect 4 Shots put an NBA spin on the classic game. Not only are you required to match four colors in a row, you have to do so with small balls that must hit the table before going in. Ages 8 and up, $20.
Your little Sherlock Holmes will put his or her detective skills to work with this who-done-it murder-mystery game. Think you have what it takes to solve the crime? Ages 8 and up, $21.
It's all about asking the right questions in this mystery game. Your opponent will have an uknown person on a card—it's your job to try to figure out to guess who it is with the clues. The first to do so is the winner! Ages 8 and up, $13
As Forest Gump would say, "Life is like a box of chocolates: You never know what you're going to get." You don't know what surprises you're in for in The Game of Life, so spin to find out! Bonus? You can adopt pets in this version of the game! Ages 8 and up, $14.
If you're not opposed to a bit of cleaning up, try your hand at stacking the wooden blocks in Jenga! Ages 6 and up, $11.
Budding surgeons must remove all of the patient's ailments using twezers. Sound simple? Try not to let the annoying buzzer go off—a near-impossible feat! Ages 6 and up, $14.
You're given a prompt: Name three pet peeves. Name three of the dwarves in Snow White. Simple, right? Well, can you do it all in five seconds or less? Now's the time to try! You're going to have to think on your feet for this one! Ages 10 and up, $17.
Part Scrabble, part dominos and wholly satisfying, Quirkle lets players match and stack their way to victory with the colorful blocks and shapes. Ages 6 and up, $25.
Strategists are tasked with matching three colored pieces together either in ascending or descending order, according to size. It seems fairly straightforward, but you'll need a good game plan to outsmart the other players! Ages 6 and up, $35.
Did you know that crocodiles can't stick out their tounge? Test your knowledge of over 200+ mind-blowing facts with a fun challenge from the creators of National Geographic Kids Magazine and Brain Games Kids. Ages 8 and up, $19.