Not since Sharknado or Snakes on a Plane has the title of a movie got the internet quite so razzed up. And unlike Sharknado, Cocaine Bear has every chance of being much better than watchable.
Why? Because it has the might and financial muscle of a big studio behind it, an intriguing pick of director, a super-fun cast and a furry, drug-fuelled protagonist. Stick Paddington, The Revenant and Scarface in a blender and, presto, you've got Cocaine Bear.
When is Cocaine Bear released

?
Happily, it's getting a full theatrical release from Universal in 2023. Expect to see it on February 23 in the US and Australia, and a day late in the UK. Expect to see it on streaming platforms sometime later in 2023.
Is there a trailer?
Sure is. Sit back, watch and marvel.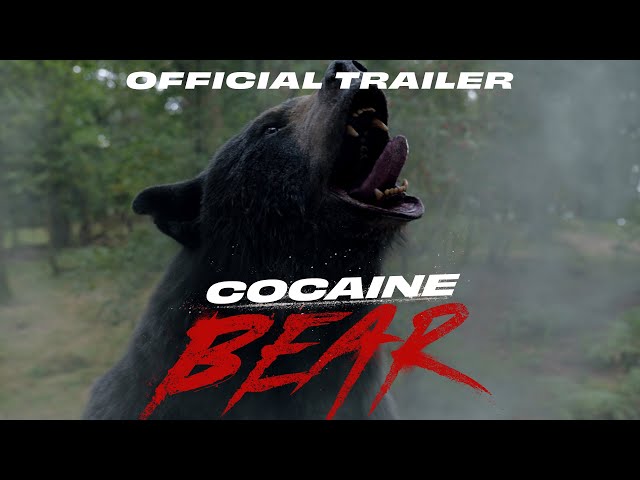 Is Cocaine Bear based on a real story?
Improbably, yes: it's one of those stranger-than-fiction tales that sounds like it's emerged from an over-lubricated Hollywood pitch meeting sometime in the '80s. 'It's a crime thriller… with a bear. And – hold on! – what if the bear was on drugs?'

But truth has a way of being even weird than fiction. Sure enough, the survival thriller takes inspiration from a real incident, reported at the time by The New York Times. In the winter of 1985, a duffel bag filled with cocaine was dropped from an airplane piloted by drug smuggler, Andrew C Thornton II, and subsequently eaten by an American black bear.

Despite weighing in at 175 pounds, no mammal is built to process that quantity of class-A narcotics. It ended badly for both Thornton and the poor bear. If you're in the area, the bear is currently on display at Kentucky Fun Mall in Lexington, Kentucky. What a way to go out.
Who is directing Cocaine Bear?
Behind the camera is actor-filmmaker-comedian Elizabeth Banks, aka The Hunger Games's Effie Trinket. Banks directed Pitch Perfect 2 and the 2019 Charlie's Angels reboot.

First-time screenwriter Jimmy Warden is the person charged with transforming these auspicious, if unlikely source material into a serious slice of backwoods drama.

And judging by the trailer, he hasn't even tried to: Cocaine Bear is less ursine Ozark and more of a batshit survival thriller that will juggle tones with wild abandon. It looks like a heady mix of black comedy, broader laughs and gory thriller.
Auspiciously, it's produced by those Hollywood comedy mavericks Phil Lord and Chris Miller of 21 Jump Street, The Lego Movie and Into the Spider-Verse fame.
Who is starring in the movie?
The headline act is the late, great Ray Liotta, in one of his very last screen roles. The Goodfellas star just belongs in a film called Cocaine Bear, so in some way it's a fitting big-screen valediction.
Also on the cast list are Straight Outta Compton's O'Shea Jackson Jr, Solo: A Star Wars Story star Alden Ehrenreich, August: Osage County's Margo Martindale, Keri Russell (The Americans), Jesse Tyler Ferguson (Modern Family), The Florida Project's Brooklynn Prince. Isiah Whitlock Jr will have plenty of opportunities to drop his The Wire catchphrase: 'Shiiiiiiiiiiit.'
Notably, it's also the screen debut of comedian and social media sensation Scott Seiss. Judging by the trailer, he looks to be parlaying his TikTok persona into the crazed world of Cocaine Bear pretty seamlessly.
Where was it filmed?
Perhaps surprisingly, the film's deep south setting of Georgia was actually recreated in County Wicklow, Ireland.
I'm in Ireland. #monday #cocainebear pic.twitter.com/HVGWctHPry

— Elizabeth Banks (@ElizabethBanks) June 28, 2021
Can you buy Cocaine Bear merchandise?
I mean, random question, but you can! That Kentucky mall is currently selling a range of merchandise celebrating its leftfield tourist attraction. If you're Christmas shopping, a Cocaine Bear 'blow globe' or 'Cocaine Bear for President' badge could make the perfect stocking filler.
The 32 best films of 2022.

The best streaming and TV series of the year.