A tech entrepreneur and one-time billionaire, Elizabeth Holmes has been dominating headlines after being found guilty of fraud in a legal case that has united the healthcare, tech and finance industries in a frenzy of rubber-necking fascination.
The story of the founder of miracle medical technology company Theranos (from 'therapy' and 'diagnosis') has already been charted in an ABC Podcast, The Dropout, and a bestselling book, 'Bad Blood: Secrets and Lies in a Silicon Valley'. Now Hollywood is getting in on the act, with two rival projects – a movie and a Hulu streaming show – that have a pair of A-listers playing Holmes.
Who is Elizabeth Holmes?
Holmes famously dropped out of Stanford University to reinvent herself as the founder of a medical company called Theranos. The company promised to revolutionise blood testing via a new technology that produced multiple diagnoses from only a drop or two of the red stuff. She became a tech billionaire, fêted in Silicone Valley and acclaimed as 'the next Steve Jobs' by Inc. Magazine. Theranos picked up cheerleaders like Bill Clinton and investors that included Rupert Murdoch and Larry Ellison.
Then it all went seriously sour.
It turned out that Theranos's invention was the tech equivalent of snake oil. Pharma companies and Investors had been duped by fake demos into pouring dollars into a device that couldn't live up to Holmes's claims. The fraud was brought to light by Pulitzer-winning journalist John Carreyrou in his bestselling book 'Bad Blood: Secrets and Lies in a Silicon Valley'. In January, 2022, she was found guilty of four counts of fraud and now faces prison time.
Who is playing Elizabeth Holmes on screen?
The story has caught Hollywood's eye in a big way. There are two rival projects in the pipeline, with two A-listers stepping into Holmes's shoes: Oscar winner Jennifer Lawrence plays Holmes in Bad Blood, a long-gestating movie from her Don't Look Up director Adam McKay; while Oscar nominee Amanda Seyfried is taking the lead role in a Hulu series called The Dropout.
What is The Dropout about?
The title of Hulu's show refers to Holmes's exit from college as a 19-year-old and comes from Rebecca Jarvis's ABC podcast on which the show is based. Now 37, Holmes's rise and fall in less than two decades will be charted in a limited run series that comes too soon to take in her fate post-trial.
Amanda Seyfried's co-stars include Lost's Naveen Andrews – he plays Holmes's business partner and secret lover (yup, the story has one of those too) Sunny Balwani – along with William H Macy, Laurie Metcalf and Stephen Fry. Look out for a who's who of '80s icons, including Ferris Bueller's Alan Ruck, Die Hard's Hart Bochner and Top Gun's Michael Ironside
Seyfried replaced Kate McKinnon, the original pick to play Holmes, when she dropped out last year.
Is there a trailer for The Dropout?

There is! It showcases Holmes's full arc from college flunker to entrepreneurial messiah to overseer of an epic pharmaceutical meltdown. The key point of interest here is a first run-out for Amanda Seyfried's husky Elizabeth Holmes – and it sounds pretty uncanny. Holmes, of course, is noted for speaking a few octaves lower than her natural register, supposedly to blend in more easily in a male-dominated business environment. It's an unusual acting challenge – faking a faker – but on this evidence, Seyfried has nailed it.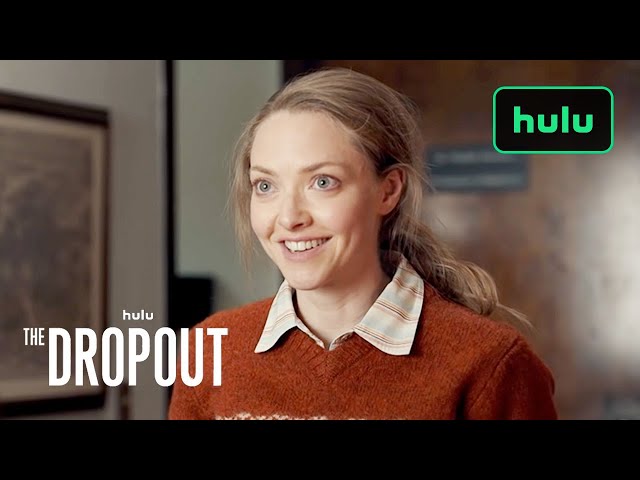 What can you expect from Bad Blood?
It's easy to see why Carreyrou's superb non-fiction account caught Adam McKay's eye, meanwhile. The filmmaker, fresh from his Netflix hit Don't Look Up, adapted a similarly expert piece of reportage about the subprime crisis in Michael Lewis's The Big Short and is always drawn to parables of late capitalist greed and corruption. Even his kinda-buddy cop comedy The Other Guys ended with a detail takedown of Wall Street avarice. With graphs and everything.
There's definitely blood in the water for a script he's co-written with Hillbilly Elegy screenwriter Vanessa Taylor and that has the backing of Apple. If McKay's previous work is anything to go by, Holmes can expect a sharply satirical depiction of her life, with some broader comic beats to keep the laugh count high and potential some fourth-wall-breaking explanations of the tech bro jargon.
Bad Blood may have the opportunity to take in the court case and verdict, even if only via end credit cards explaining Holmes's fate. The Dropout won't go that far into the story.
When are the Elizabeth Holmes movie and streaming series out?
No word yet on a release date for Bad Blood, but the first three episodes of The Dropout will land on Hulu in the US on March 3, 2022, with further episodes dropping weekly. Expect to see it on Disney+'s Star channel around the world in the same timeframe.

The 50 coolest filmmakers in the world right now.

The 100 greatest thrillers of all time: from Mulholland Drive to M.