In a classic case of Hollywood doppelganger syndrome, there are not one, but two Pinocchios landing our TV screens this year. In the right corner is the Disney+ live-action take on the story, with Tom Hanks as Geppetto, Cynthia Erivo as the Blue Fairy and the wooden puppet given the full benefit of tech-forward director Robert Zemeckis's VFX wizardy.
In the left corner, and coming at Carlo Collodi's 1883 fable from a wildly different angle, is Guillermo del Toro and co-director Mark Gustafson's stop-motion adaptation, which is destined for Netflix.

Disney will beat it to the punch – its version is streaming on September 8 – but will it match GDT's Pinocchio, a lifelong passion project for the Mexican, for freshness, craft and heart? It's not a competition – and del Toro is a super-fan of Disney's 1940 Pinocchio– but also, you know, it kinda is…
When is Pinocchio in cinemas and on Netflix?
The del Toro version hits select US theaters on Nov 11 and UK cinemas on November 25. It lands on Netflix worldwide on December 9.
Is there a trailer for Pinocchio?
Si! It came out in late July and you can watch it below.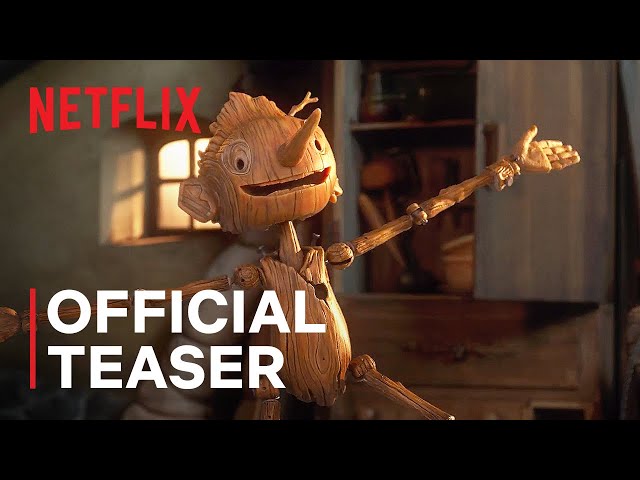 What is Netflix's Pinocchio about?
Billed as a 'reinvention' of Carlo Collodi's classic tale, it moves timeframes to Italy in the 1930s – of course, the moment fascism told hold in the country. It still sticks to the story's famous coming-of-age arc of a wooden marionette magically brought to life to help grieving woodcarver Geppetto come to terms with the loss of his son.

Runs the official synopsis: 'This whimsical, stop-motion film follows the mischievous and disobedient adventures of Pinocchio in his pursuit of a place in the world.' A wise grasshopper, Sebastian J Cricket (not Jiminy), lends him sage advice along the way, while a dastardly down-on-his-luck aristocratic puppeteer, Count Volpe, sees him as a ticket back to fame and fortune.
Stitched into that story, stresses del Toro, is a quest for love and acceptance. 'To me, it's essential to counter the idea that you have to change into a flesh-and-blood child to be a real human,' he tells Vanity Fair. 'All you need to be human is to really behave like one, you know? I have never believed that transformation [should] be demanded to gain love.'
Who is providing the voices in Pinocchio?
As you'd expect, del Toro has assembled a mighty roster in the Pinocchio recording studio. Ewan McGregor voices Cricket – think Obi-Wan with more thorax – with newcomer Gregory Mann providing the voice of Pinocchio himself.

British acting royalty David Bradley will be trying not to make people think of Walder Frey (or Argus Filch) with his voice work as the story's puppeteer Geppetto, while Chrisoph Waltz voices Count Volpe and Cate Blanchett is his monkey sidekick, Spazaturra.

Stranger Things' Finn Wolfhard, John Turturro, Ron Perlman, Tim Blake Nelson, Burn Gorman and Tilda Swinton all round out a serious impressive and Oscar-laden voice cast.
How will Netflix's 'Pinocchio' differ from the Disney version?
Chalk meet cheese.
While Disney has a blend of CGI and live action lined up that'll be familiar to anyone who's seen its recent Aladdin, Cruella or Jungle Book updates, del Toro is working entirely in stop-motion. And he promises to lean right into the source novel's harder-hitting aspect. It's not just hummable tunes and unfortunately encounters with whales. And then, of course, there's that backdrop of Mussolini-era Italy, where, as del Toro notes, everyone is behaving like a puppet of sorts.
'It's not a film for all the family to enjoy,' he tells Collider.

Before you run for Netflix's parental controls, del Toro is not saying that it's not a family-friendly film – it's streaming just before Christmas and the trailer is marketed it heavily as exactly that – just that his Pinocchio won't shy away from the more quote-unquote maturer aspects of the yarn. 'These are times that demand from kids a complexity that is tremendous,' he tells Vanity Fair. 'Kids need answers and reassurances.… For me, this is for both children and adults that talk to each other. It tackles very deep ideas about what makes us human.'
So, maybe not one for the toddlers in the room, but hardly The Conformist either.
So is Guillermo del Toro's Pinocchio a monster of sorts?
Put it this way: this effervescent wooden boy won't be stalking your dreams, Nightmare on Dutch Elm Street-style, no. But Guillermo del Toro, the auteur who gave us memorable creatures like Pan's Labyrinth's Pale Man and The Shape of Water's amphibian Asset, does draw parallels with another iconic movie monster. 'I've always been very intrigued by the links between Pinocchio and Frankenstein,' he tells Vanity Fair. 'They are both about a child that is thrown into the world. They are both created by a father who then expects them to figure out what's good, what's bad, the ethics, the morals, love, life, and essentials, on their own.'
What can we expect from the animation in Pinocchio?
In short, beauty, intricacy and a slight sense of the uncanny. Del Toro cut his teeth making stop-motion movies with a Super 8 camera, having been inspired by the use of the medium in the classic 1933 King Kong, and has been striving to make a stop-motion movie for decades. '[It's] a form of animation perpetually on the brink of extinction,' he told the Annecy International Animation Festival in June.
'When I saw King Kong [the 1993 version], I understood what it means to animate – to give a soul to something that is not alive,' he said. Helping him repeat that trick with his Pinocchio is British-based puppeteer makers Mackinnon and Saunders, veterans of Hollywood animations like Tim Burton's Corpse Bride and Wes Anderson's Fantastic Mr Fox.

Del Toro's co-director Mark Gustafson is another old hand in the medium of stop motion, having worked as animation director on Fantastic Mr Fox.
The look of Pinocchio himself was inspired by the American artist Gris Grimly, who illustrated a 2002 edition of the novel.
Pinocchio is streaming on Netflix worldwide in December.
The 21 best films of the year (so far).