Like any good pizzaiolo, Pazzi prepares, bakes, slices and boxes pizza after pizza after pizza. It properly churns them out: sometimes 80 or so an hour. And yet unlike most, it will guarantee your margherita or fiorentina isn't touched by a single human hand.
Pazzi is a robot – the first to run a pizza restaurant with no human supervision. Set up in the Val d'Europe shopping centre 30 minutes east of Paris, the machine was designed by entrepreneurs Cyrill Hamon and Sébastien Roverso, who last year raised more than €10 million (£9 million, $11 million or A$16 million) in startup funding to develop the world's first 'robot pizzaiolo' technology.
The first bricks-and-mortar Pazzi establishment opened for business late last year, but abruptly had to close in March as lockdown set in. Now, as France reopens and demand grows for more contact-free solutions to dining out, the company plans to open four more restaurants throughout the country later this year.
Photograph: Pazzi
Customers simply order via (disinfected) terminals or via an app, choose their pizza and pick a collection time. The dough is made according to a recipe by Thierry Graffagnino, using flour from local mill The Moulins Familiaux Paul Dupuis, and each pizza takes around five minutes to prepare and bake.
Pazzi then slices the pizza, places it in a box and puts this in a secure locker only the customer can access. Aside from the payment terminals, this is the only stage at which diners will have to touch any potentially contaminated surface. Rest assured that hand sanitiser is available, and social-distancing measures are currently in place.
The robot is named for the Italian phrase Cose da pazzi! (rough translation: 'Incredible!') That it certainly is, but in these fraught, physically-distanced times, we wouldn't be surprised if robot chefs of Pazzi's ilk become a much more familiar sight in malls worldwide.
Our only reservation: can they possibly match the flavour and texture of the very best human-made pizza?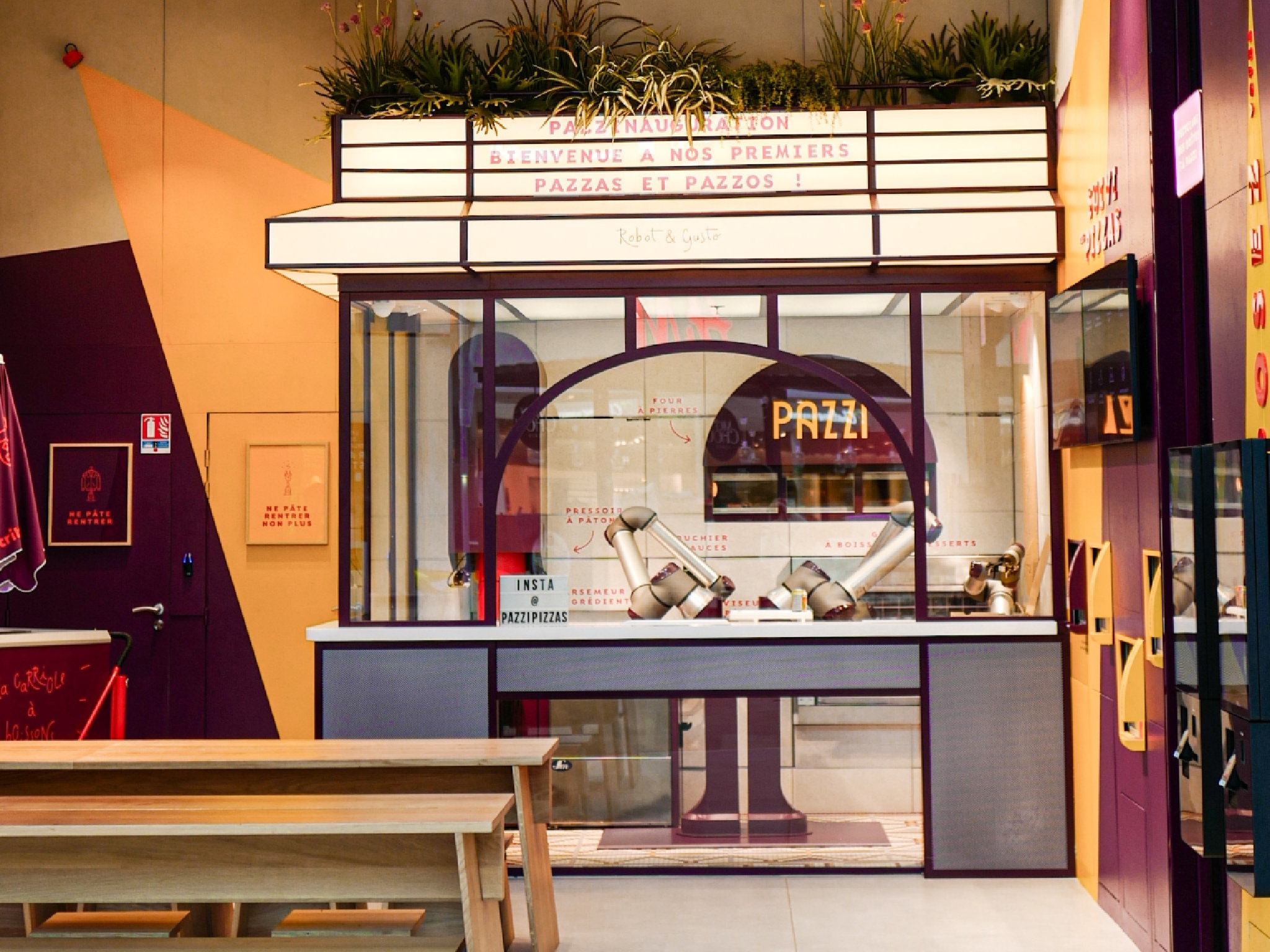 Photograph: Pazzi
As restaurants tentatively reopen around the world, could these suspended shields, these dumpling automats or these private igloos be the future of dining out?