Olivia Wilde's director debut was the sparky, funny and seriously fresh-feeling high-school comedy Booksmart. Now, she's back behind (and in front of) the camera with Don't Worry Darling, a '50s-set psychodrama that's about to unite fans of provocative period thrillers, sexy on-screen romance and Harry Styles in a frenzy of anticipation. So what to expect? Let's take a deep dive into the year's thirstiest film.
When is Don't Worry Darling out?
Don't Worry Darling will be in US movie theaters on September 23, with UK cinemas debuting the film a day earlier. It will be streaming on HBO Max in America 45 days later.
Who is starring in Don't Worry Darling?
The headline act is Florence Pugh. The British superstar-in-the-making still fresh from entering the Marvelverse in Black Widow, but it was her turn as Midsommar's grieving, tormented Dani that really caught Wilde's eye and led to her casting as Don't Worry Darling's protagonist, Alice.
His 44 million Instagram followers won't need telling but Wilde's partner IRL, Harry Styles, is playing Pugh's on-screen husband, Jack – his biggest screen role to date. The role initially went to Shia LaBeouf, but the actor was sacked in September 2020 for what Variety reported as 'poor behaviour' and a style that 'clashed with the cast and crew'.
Also appearing are Chris Pine, Gemma Chan, Nick Kroll, Timothy Simons (aka Jonah in Veep), If Beale Street Could Talk's KiKi Layne and WandaVision's Asif Ali. Wilde is starring in this one, too. And according to IMDb's cast list, Dita Von Teese is appearing as 'Burlesque Dancer', a role she will absolutely nail.
Who is behind Don't Worry Darling?
The film was first announced back in August 2019 after the script, based on a story idea by Dick Van Dyke's grandsons Carey and Shane Van Dyke, and co-written by Booksmart's Katie Silberman, sparked a major studio bidding war. Wilde's involvement, fresh from Booksmart, fuelled the interest, and having Style's name on the poster will only fan those flames.
Is there a trailer for Don't Worry Darling?
A mini-teaser trailer was released in late 2021. At a mere 11 seconds long, it's a glimpse of ankle rather than anything meatier – a mood piece where the mood is best described as 'mysterious and extremely sexy'. There's bumping, grinding and some unconventional use of cellophane. It was the first sign that this film will either shake us to the core or make us pregnant. Or both.
Now that we've finally been treated to the first true trailer, we know the answer is definitively 'both'.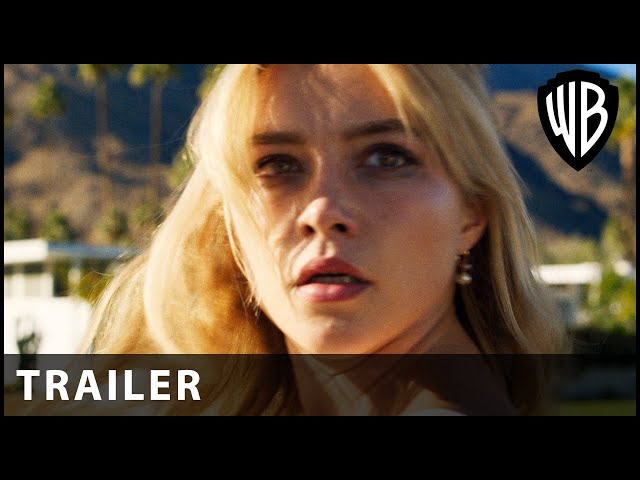 What is Don't Worry Darling about?
According to the movie's official synopsis: 'A 1950s housewife living with her husband in a utopian experimental community begins to worry that his glamorous company may be hiding disturbing secrets.'
The housewife is Pugh's Alice, shacked up in an 'idyllic experimental community' in the California desert with husband Jack (Styles). Everything seems pretty sweet: the neighbourhood is Wallpaper*-stylish, money is everywhere and the sex is loud enough to disturb the neighbours.
But the elephant in the room is Jack's employer, the company that built the community, and specifically his work on a mysterious wheeze called the Victory Project. Alice soon suspects that something sinister is afoot at her hubbie's workplace. She's also experiencing some rather nightmarish visions involving demonic ballerinas, empty eggshells, masks of cellophane and her own drowning. The more suspicious she gets, the more gaslit she finds herself - hence, perhaps, the movie's title - placing her at odds with Jack's boss, Frank, played by Chris Pine with shit-eating smirk and cult-leader charisma. 'I've been waiting for someone like you. Someone to challenge me,' he purrs at one point. 'Like a good girl.'
Alice, it seems, is definitely not living in wonderland.
What are Don't Worry Darling's biggest influences?
At first glance, David Lynch's Blue Velvet, with its surface order masking barely-buried moral decay, seems like an obvious touchpoint for the movie's sunny veneer and superstrata of nightmarishness. But Wilde is citing landmark sci-fi movies, including Inception, The Matrix and The Truman Show, as her main points of parallel. She's calling Don't Worry Darling 'a love letter to movies that push the boundaries of our imagination'.
How much should we read into the fact that all three of those movies feature constructed or virtual worlds? Will Pugh's Alice be drawn down some kind of psychological wormhole? Is she the subject of the Victory Project?
A visual reference point for the movie's sun-baked Stepford Wives-ish suburbia is 'Poolside Gossip', a portrait of wealthy Palm Springs indolence captured by American photographer Slim Aarons in 1970. Presumably, this is the look the film's production designer, Katie Byron (Zola), and cinematographer Matthew Libatique (Black Swan) will be going for in creating Alice and Jack's privileged existence in SoCal.
Wilde has also called Don't Worry Darling '"The Feminine Mystique" on acid', referring to Betty Friedan's 1963 feminist bestseller which tore into the conventional idea that the mother-housewife role was all a woman should aspire to. 'Are you willing to blow up the system that serves you?' is the question that drives the story, she tells Vogue, and Alice seems like the one with the detonator here.
Can we expect much sex in Don't Worry Darling?
Erm, yes? Early word on the trailer is that nookie will not be rationed in this film, and Wilde corroborates that. She points to Adrian Lyne thrillers like Fatal Attraction and Indecent Proposal as (quite literal) touchpoints. They're 'really sexy, in a grown-up way,' says Wilde in Vogue. She goes on to bemoan the coy treatment of sex in contemporary movies. 'I kept saying, "Why isn't there any good sex in film anymore?".'

There soon will be.

The 18 movies you need to know about this summer.