It's Blue Monday – officially the glummest day of the year – which may soon be followed by Torpid Tuesday, Weepy Wednesday, Thankless Thursday and a variety of other patience-testing days, as we muddle through these wintry, Covid-hit times. So to help banish the gloom we asked some of our favourite actors and filmmakers – from Kristen Stewart to Succession's mighty Brian Cox – to recommend spirit-lifting movies to settle down to while we wait for this whole January thing to blow over. And they didn't disappoint.
'Barb and Star Go to Vista Del Mar is my favourite! I think I've seen it forty times and I still sweat laughing at it.' – Kristen Stewart (Spencer)
'My favourite film is The Court Jester. It's one of the funniest films ever made. It didn't do very well when it opened but it's become a classic. Danny Kaye is extraordinary.' – Brian Cox (Succession)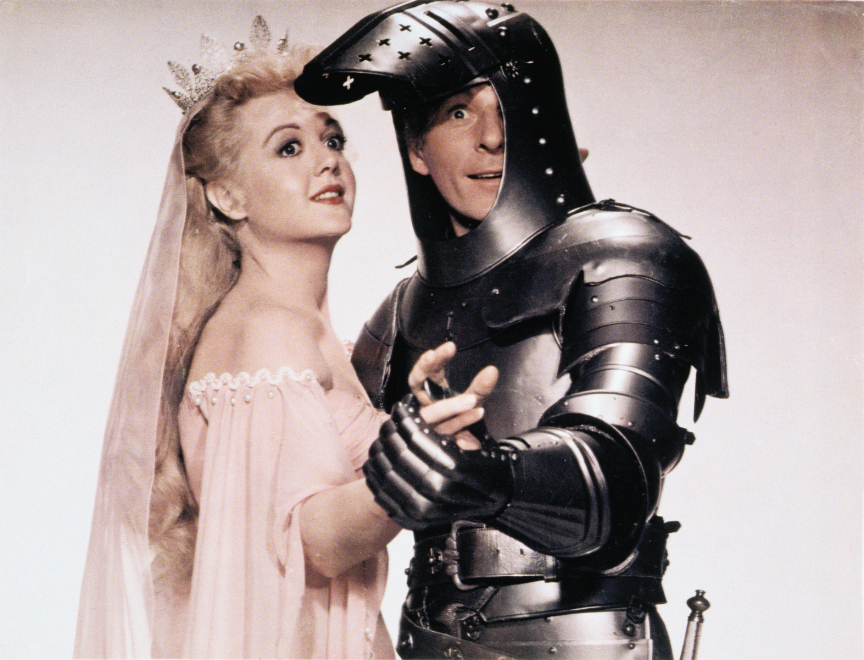 'Watch Network again! Everything (screenwriter) Paddy Chayefsky wrote about in 1975 came true.' – George Clooney (director, Tender Bar)
'Breakfast at Tiffany's is always one. It's such a cliché but I could watch that a million times. Is it because of the cat? It is! Poor old sad old cat with no name.' – Caitriona Balfe (actor, Belfast)
'Airplane! always makes me laugh. The sweating scene, "I had to ask the guy next to me to pinch me", the nun and the intravenous drip... all good.' – Jesse Armstrong (creator-writer, Succession)
'It's probably a comedy for me, something like Anchorman, although I get a lot of comfort from watching Kramer vs Kramer, even though it's fucking sad.' – Jamie Dornan (Belfast)

'I love the animated Aladdin. I skip forward to Robin Williams' bits because the genie always cheers me up.' –Sarah Snook (Succession)

'I watched The Sopranos during lockdown and now we have a dog called Tony. I don't know whether it puts you in a fantastic mood, but it's involving.' – Jarvis Cocker (The French Dispatch)
'I love Edward Scissorhands. It's just a work of art. It's weird, he's the outcast and he's not accepted. I love everything about that.' – Kodi Smit-McPhee (The Power of the Dog)
'Spartacus is the greatest film ever made. It's about incarceration, obviously, but it's also about how the underdog can succeed over adversity and it's a good socialist story.' – Jason Flemyng (Boiling Point)
'I also have to watch a lot of kids films so they cheer me up as well: Snow Dogs and things like that. I don't have control of the remote.' – Steven Knight (screenwriter, Spencer)
'I recommend a film called I Know Where I'm Going! by Powell and Pressburger. It's set in the Hebridean island and it stars Roger Livesey, who was Colonel Blimp.' – Dame Judi Dench (Belfast)
'The Addams Family. Morticia and Gomez Addams are the sexiest couple, and the world makes total sense even though it's completely bonkers.' – Rupert Friend (The French Dispatch)
'It'd be a Barbra Streisand movie. I love Funny Girl, I love Yentl and I love Funny Lady. Barbra is beautiful and I'm an actor because of her.' – Sean Harris (Spencer)
'Willy Wonka and the Chocolate Factory. Gene Wilder's forward roll is the best entrance ever in a film.' Stephen Graham (Boiling Point)
'This is Spinal Tap. It's full of comic genius.' – Peter Capaldi (Benediction)
'The Squid Game is amazing and dystopian. Maybe its value is helping us to see what's going on in a different light.' – Steve Park (The French Dispatch)
'I love Tootsie, it's so hopeful.They don't make movies like that anymore – where people were allowed to just be messy and the camera would hold the frame and people were just alive. It always makes me happy.' Mireille Enos (Hanna)
'Ball of Fire, 1941, with Gary Cooper and Barbara Stanwyck and directed by Howard Hawks. Check it out, you'll love it.' – Alan Ruck (Succession)
'The Jerk just makes me laugh. It's so clever and it always puts a smile on my face.' – Grant Heslov (producer, The Tender Bar)
'My favourite film is Master and Commander. I'm absolutely obsessed with it, because I'm obsessed with seafaring and sailing and adventure. I also love the relationship between the two main characters – played by Paul Bettany and Russell Crowe – because relationship between two men is so rarely shown on screen. We need more films like this: big daft films that make you smile.' – Jack Lowden (Benediction)
'Mine are all musicals: Singin' in the Rain, On the Town and The Pajama Game. Pajama Game is wonderful and it has two of the greatest numbers in cinema: 'I'll Never Be Jealous Again' and 'Steam Heat'. I couldn't live without them.' – Terence Davies (writer-director, Benediction)

Looking for more uplift? Check out the 100 best comedy movies ever made.
Cinema's funniest scenes – as picked by its coolest filmmakers.