Updated, April 1 2021: Jesus Christ Superstar is streaming for free on The Shows Must Go On YouTube channel from 7pm BST on Friday April 2 (2pm EDT, Saturday 5am AEDT), and for 48 hours afterwards.
It's probably not every ten-year old boy who wants to be Judas Iscariot when he grows up – but we're thankful that Tim Minchin did. For the second year running, 'Jesus Christ Superstar' is streaming free this Easter as part of Andrew Lloyd Webber's 'The Shows Must Go On' series – and Minchin's Judas is the star of the show.
Ahead of the production streaming on YouTube, we spoke to the Australian actor, singer and composer about his time playing Christianity's biggest traitor (or biggest scapegoat, depending on your views) in the 2012 UK production.
'It's literally something I've wanted to do since I was ten years old, but I never thought I would,' Minchin said. 'It was a stupid pipe dream!' In fact, the actor understudied Judas twice in productions in his home town of Perth, Western Australia. Many years later, following his success with 'Matilda the Musical', Minchin (in an admirably gutsy act of career-based YOLO) wrote directly to Andrew Lloyd Webber to see if he could audition for the role of Judas.
'He wrote back and said "Oh, sorry: I wish you'd told me, we've just cast it",' says Minchin today. 'And the person they'd cast was Seal!' However, the pop singer dropped out a few weeks later, and Minchin finally got his turn as Judas in a production that was exactly how he'd always imagined it: 'Fucking loud, fucking camp and huge.'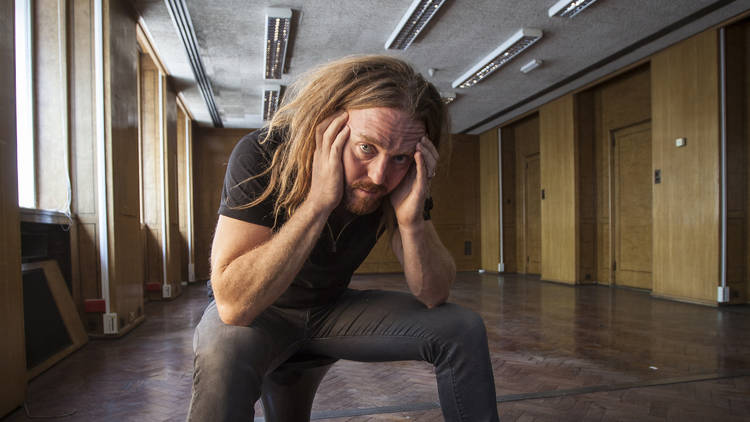 Tim Minchin, photographed for Time Out by Rob Greig
Minchin drew inspiration from the show's original Judas, Murray Head, who starred on the 1969 concept album that birthed the staged musical. 'I loved that album: that was what I got addicted to,' explains Minchin, who credits his love of Head's performance as Judas to the fact that 'he wasn't a beautiful singer': 'He sang it like he was tearing his throat out with knives.'
The vocal range for Judas also lies at the lofty end of Minchin's voice, lending the same air of agony to his performance. 'If you watch me singing, you can see the veins in my head, the veins in my throat: you can see how much musculature I have to put into every note.'
'Jesus Christ Superstar' famously sticks a middle finger up to the mythology surrounding Jesus, by painting Judas as someone far more complex (and redeemable) than in the Bible. The contentious subject matter, along with a delivery dripping in satire, is partly what Minchin credits with the musical's enduring success – assisted in no small part by Tim Rice's lyrics. '[It] was a proper parody, a satire of the Bible that questioned the very premise of the Easter story – and rocked out,' says Minchin today. 'It managed to be hilarious and completely iconoclastic and camp and rocking and devastating. You have two protagonists who are of equal billing and you just feel desperate for both of them – you just want them to hug it out.'
The 2012 Laurence Connor-directed production of 'Jesus Christ Superstar' was filmed at London's The O2 on the second week of the show's original run: it went on to tour the UK twice, as well as Australia. What fans see on YouTube over Easter was filmed largely across just one night, with no cuts, retakes or editing – just Minchin and the cast performing an 'utterly wicked and funky' rock opera.
And for anyone not used to watching pre-recorded theatre, which he admits can feel like 'a bit of a headfuck' the first time around, Minchin has some sage advice: 'You've just got to get through the first ten minutes, and then it's an extraordinary experience – because you're actually watching people in real time.'