Jimmy Kimmel has been confirmed as the host of the 2023 Academy Awards.
The American comedian and late-night TV presenter has previously helmed the prestigious film event in 2017 and 2018.
'Being invited to host the Oscars for a third time is either a great honour or a trap,' said Kimmel. 'Either way, I am grateful to the Academy for asking me so quickly after everyone good [had] said no.'
To celebrate Kimmel's return, here's seven of his best gags from his previous hosting gigs.
On the infamous Best Picture mix-up
Kimmel hosted the Oscars in 2017, back when an on-stage blunder meant La La Land was incorrectly announced as the winner of the Best Picture award. It was only once the cast and crew took to the stage to accept the gong that it was confirmed Moonlight had actually won.
'This year, when you hear your name called, don't get up right away,' Kimmel told the A-listers in the audience the following year.
Timothée Chalamet's age
Jimmy Kimmel playfully mocked youngster Timothée Chalamet when the actor received a nomination for Best Actor in 2018 following his role in Call Me By Your Name.
Kimell teased: 'Timothée is missing Paw Patrol to be here tonight.' Luckily Chalamet was seen laughing along.
Roasting celebrities with mean tweets
OK, so technically these roasts are from members of the public, but Kimmel used one of the most popular segments from his chat show when presenting the 2017 Academy Awards.
He got A-list stars like Samuel L. Jackson, Emma Stone, Ryan Gosling, and Whoopi Goldberg to read out mean tweets about themselves and the result is comedy gold.
His feud with Matt Damon
The chat show host and Matt Damon have had beef for over a decade, ever since Kimmel randomly chose the actor's name as the butt of a joke in a 2006 episode and he used it consecutively for a month after it got a laugh from producers.
Since then, there's been diss rap tracks, including Kimmel's own 'F****ing Ben Affleck', and several run-ins at glitzy award shows.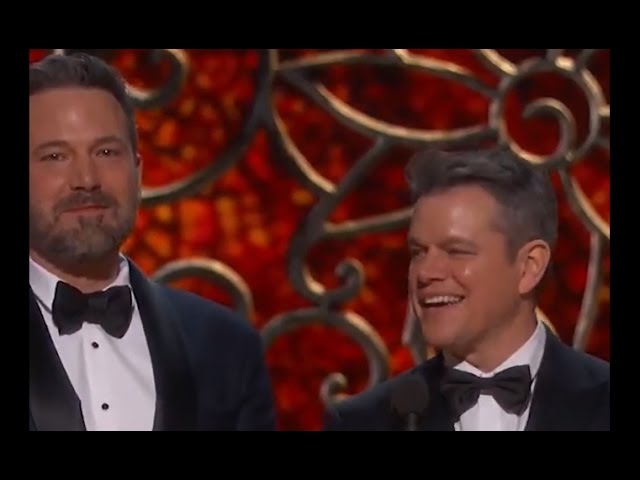 At the 2017 Academy Awards, Matt Damon was presenting an award alongside Ben Affleck when Kimmel conducted the orchestra to drown out Damon whenever he spoke.
Even though the feud is fake and the pair are actually close friends, it's almost guaranteed that Damon will be high on Kimmel's hit list for next year's Academy Awards.
Using a very '00s reference to diss sexism
While criticising how 'clueless' Hollywood remains about women, Kimmel pulled out a vintage reference to a 00s rom-com.
'Here's how clueless Hollywood is about women,' he said at the 2018 Oscars. 'We made a movie called What Women Want and it starred Mel Gibson.'
On not being able to swear
In 2020, Kimmel hosted a pandemic-era Emmy awards, which meant the comedian was alone in the arena telling jokes to a virtual audience.
Dan Levy's sitcom Schitt's Creek pulled in several nominations, but the host was struggling with the scripting issues, referencing the nudity allowed on shows like Watchmen, while the strict swearing rules remained in place.
'HBO can show us a big blue penis no problem, but I can't say the word Schitt with a C.'
When fish scored higher than men
This zinger came back in 2017, ahead of Guillermo del Toro's Best Picture win for The Shape of Water. The movie sees Brit actress Sally Hawkins' character fall in love with a humanoid amphibian.
During his opening monologue, Kimmel teased: 'We will always remember this year as the year men screwed up so badly, women started dating fish.'
Oscars 2022: Five things that made this year an Academy Awards horror show.
Oscars 2022: All the winners and losers from the 2022 Academy Awards.