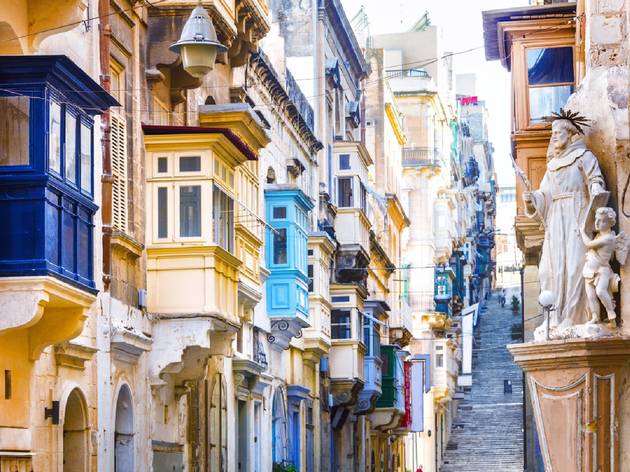 Malta has officially reopened its borders to travellers
The country's government will now welcome tourists from across Europe and 17 other countries around the world
Posted: Thursday July 23 2020, 12:11pm
With their distinctive brightly painted blue balconies, the cobbled streets of Maltese capital Valletta look dashing at any time of year. But few sensations beat traipsing round its unusual historic centre in high summer, traditional lemon and almond ice cream in hand.
Sound pretty far-fetched? Well, if you're from Europe or 17 other countries outside the continent, it turns out you could actually be jetting off to the Mediterranean island right now.
From July 1, the country became the latest of many to announce it was reopening its borders to visitors, and it is constantly reassessing its list of 'safe' countries tourists can travel from.
Currently, residents and citizens of EU and Schengen-travel-zone countries, plus the UK, are allowed in for tourism purposes. The country is also welcoming visitors from the following nations outside Europe: Australia, Canada, China, Georgia, Indonesia, Japan, Jordan, Lebanon, Morocco, New Zealand, Rwanda, South Korea, Thailand, Tunisia, Turkey, the United Arab Emirates and Uruguay.
There will be no quarantine for these travellers, but anyone not on that 'safe list' will still be subject to a 14-day self-isolation period.
First it was Portugal, then Italy, then Greece. Now Malta is open for business. How will we decide where to bliss out by the beach – and neck the ice creams – this summer?
Remember, many countries are still warning against all non-essential travel and some are quarantining all overseas arrivals, including their own returning citizens. Check all the relevant restrictions before you think about travelling.
Where can you travel right now? Here's what you need to know.

How safe is flying right now? We asked an expert.
Share the story