The diversity of languages across the globe is shrinking at a terrifying rate. Whether it's Gardiol in Italy or SiPhuthi in South Africa, the rarest ways of communicating are, well, getting even rarer. This new map from stats website Statista shows exactly where those vanishing languages are concentrated.

There are more than 7,000 languages in the world. In Oceania, 733 of them are endangered. Some of them, like Jingulu in northern Australia, are only estimated to have around ten speakers. Pitjantjatjara, in central Australia, is also listed as 'vulnerable' (with only around 3,000 speakers worldwide).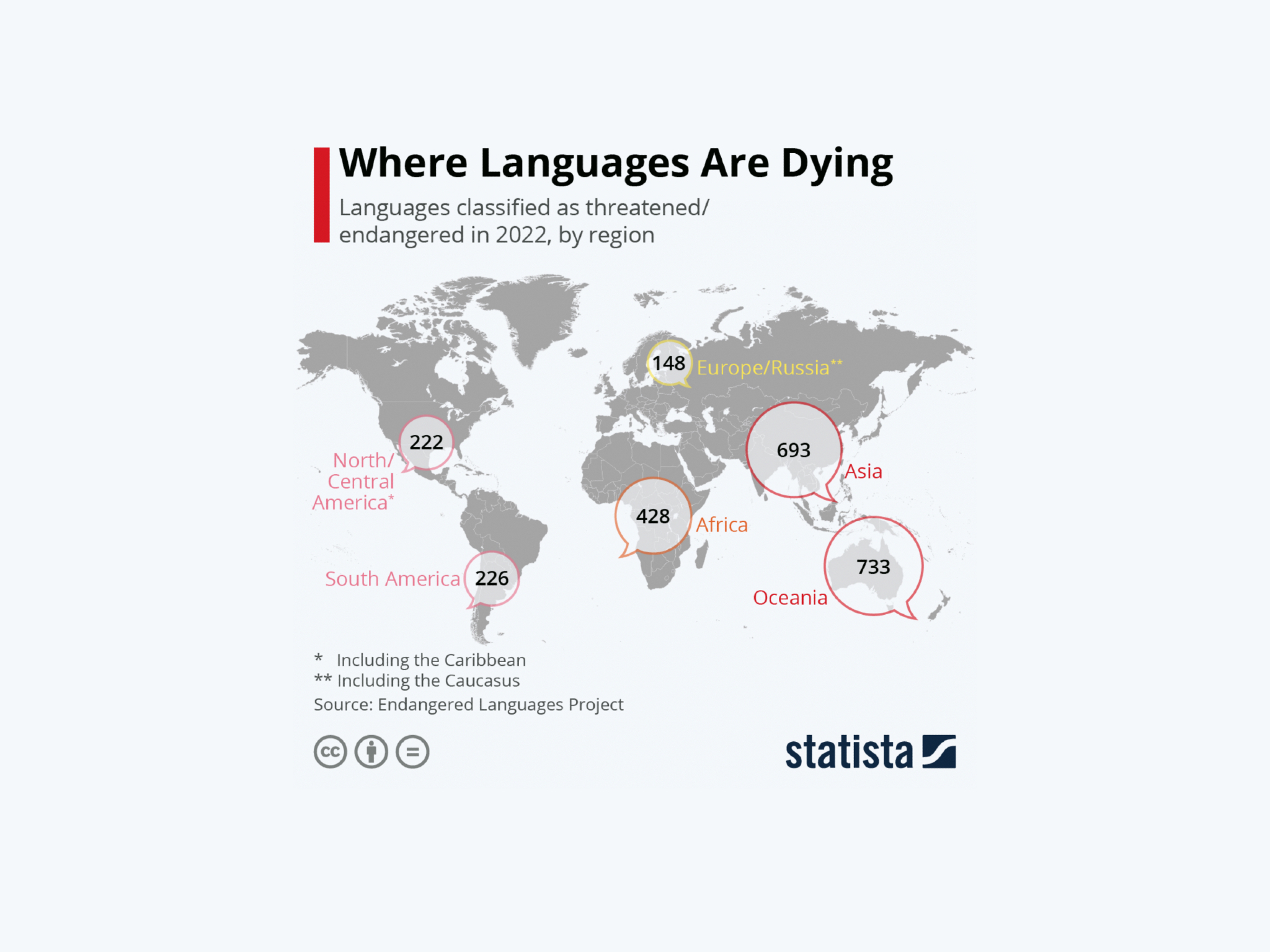 In Asia, there are slightly fewer endangered languages, with 693 identified. These include Taworta in Papua New Guinea, which has around 140 native speakers worldwide. Darai in Nepal is listed as having 3,060 speakers – less than a third of the total Darai population (who are now more likely to speak, perhaps unsurprisingly, Nepalese).

Next up is Africa, with 428 endangered languages, then South America with 226. North and Central America isn't far behind, with 222, then Europe and Russia with 148. In total, there are 2,450 threatened or endangered languages that we know of today.

The data comes from the Endangered Language Project, a platform set up by the University of Hawai'i Manoa. Of course, due to the nature of disappearing languages, it's hard to accurately pin down exactly who is speaking what. Plus, it can be difficult to differentiate between dialects and languages, making distinguishing them even more tricky.

If you're interested in doing your bit for endangered languages, you can actually learn some of them online. On Duolingo you can enrol in Navajo lessons, there are Greenlandic courses on Memrise and the BBC has a Cornish language course. Time to get learning!

Got five minutes to spare? Want to tell us what life is like in your city? Take the Time Out Index survey here.