A Christmas Carol is getting a new musical spin with Will Ferrell and Wrexham FC's Ryan Reynolds teaming up for a new Apple TV+ Christmas cockle-warmer.
Spirited puts a twist on the classic tale with the Charles Dickens story, told from the perspective of the ghosts that visit Scrooge. Oh, and there's show-stopping musical numbers from Benj Pasek and Justin Paul, the creatives behind La La Land, The Greatest Showman and Dear Evan Hansen.
With Ferrell taking early ownership of the festive season via his Elf riffing new ASDA ad, we've taken a rummage in Spirited's Santa sack to fill you in on all the info on the movie.
When is Spirited released?
Spirited drops in UK cinemas on November 18, and it will also be available to stream on Apple TV+ on the same day.
US audiences can catch Spirited in select cinemas from November 11, with it also arriving on AppleTV+ a week later on November 18.
A limited edition soundtrack vinyl will be released as part of Record Store Day's upcoming Black Friday event. The 12" record will feature two tracks with vocals from Will Ferrell and Ryan Reynolds, but there will only be 3000 copies available, so be quick when they're released on November 25.
What is Spirited about?
Anyone familiar with the basic plot of Dickens' 'A Christmas Carol' will have a ready grasp of the basics, with this version described as injecting a 'hilarious musical twist' into the mix.
'Each Christmas Eve, the Ghost of Christmas Present (Ferrell) selects one dark soul to be reformed by a visit from three spirits,' reads the official synopsis. 'But this season, he picked the wrong Scrooge. Clint Briggs (Reynolds) turns the tables on his ghostly host until Present finds himself reexamining his own past, present and future.'
Is there a trailer for Spirited?
Sure is. Apple TV+ have delivered an early Christmas present with the official trailer for Spirited. It's available on YuleTube YouTube.
The clip features an all-star cast, Broadway-esque musical numbers, magic, and plenty of festive laughs. Check it out below.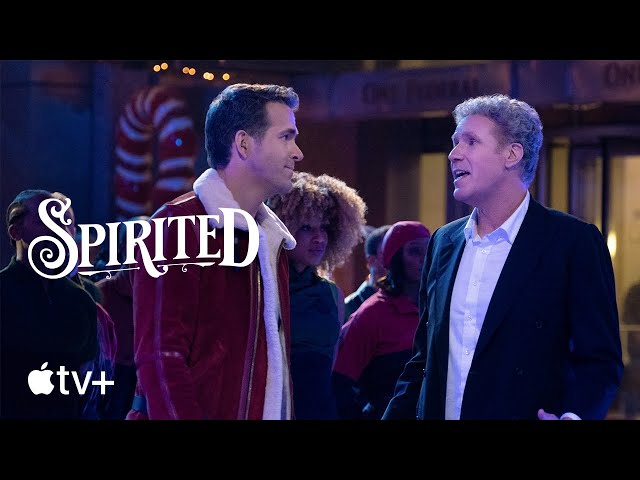 Who is in the cast?
Spirited features an A-list cast of Hollywood stars, with Ryan Reynolds as Christmas cynic Clint Briggs, and Will Ferrell as the Ghost of Christmas Present.
The movie also features Octavia Spencer as Kimberley, Clint's co-worker who assists the ghosts in bringing festive cheer to her colleague.
American actress and comedian Sunita Mani (Glow) will appear as the Ghost of Christmas Past.
Spirited was directed by Sean Anders who has previously sat in the director's chair for Horrible Bosses 2 and Daddy's Home.
Anders co-wrote the screenplay for Spirited, alongside long-time collaborator John Morris.
The 50 best Christmas movies of all time.