"There are so many opportunities to reflect Japanese storytelling in a Star Wars universe," executive Jaqui Lopez says in the first-look reel from the upcoming Star Wars: Visions. For a series not known for understatement, that's quite a whopper.
Star Wars has been drawing heavily from Japanese culture since Luke Skywalker first met a space samurai and went full Hidden Fortress on the Death Star. From Darth Vader's ancient Japan-inspired attire to the prequels' geisha aesthetic, Rey's top knots and The Mandalorian's direct nods to Kurosawa, Japanese pop-culture is as woven into the Star Wars fabric as the Force. Now, finally, the franchise is crossing over to the anime world.
Set to debut September 22, Star Wars: Visions is an anthology featuring seven shorts from some of the top studios in anime, including Ghost in the Shell's Production IG, A Whisker Away's Studio Colorado and Batman Ninja's Kamikaze Douga.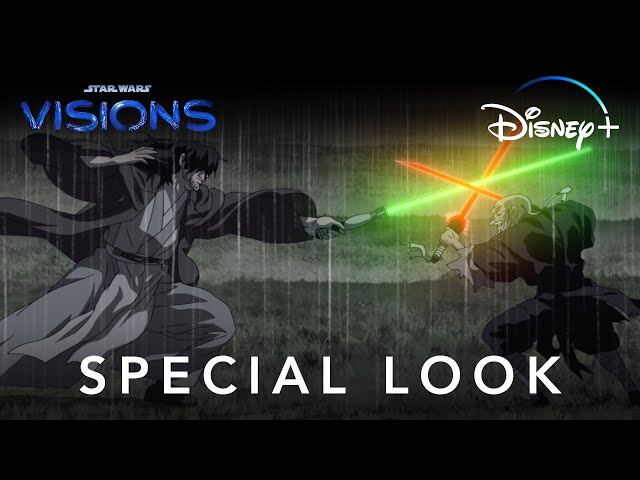 Based on the three-minute sizzle reel, the series will dive deep into Japanese tradition, with lifelong fans/artists reimagining the Star Wars world through a uniquely Japanese lens: That is, a lens held by actual Japanese people and not George Lucas after attending a late-night screening of Rashomon.
That means droids sporting straw hats to shield from the harsh double suns and rain-soaked Jedi duels that play out like classic samurai battles. There will be extra-adorable droids inspired by Astro Boy and fantastical creatures pulled from similar forests as Princess Mononoke. Tonally, the anthology's creators evoke everything from cutesy retrofuturistic adventures to rock-operas and Edo-period melees, with comedy and romance sprinkled in throughout. Hopefully, the romance part will not feature any prolonged discussions of the texture of sand.
Interestingly, Star Wars is about 20 years behind The Matrix in recruiting anime artists to tell new tales in its universe. The Animatrix was released in 2003 and introduced nine short films from various artists expanding on the Wachowski siblings' world. Like Star Wars, The Matrix leans heavily into Japanese philosophy and aesthetics.
Star Wars: Visions is among several Star Wars projects set to debut on Disney+. The streaming service is also working on live-action standalone series focused on classic characters like Obi-Wan Kenobi, Lando Calrissian, Boba Fett, C-3PO and R2-D2. It's also producing a show about Rosario Dawson's Ahsoka Tano and Gabriel Luna's Rogue One hero Andor, in addition to the mysterious The Acolyte and a third season of The Mandalorian.
Star Wars: Visions debuts on Disney+ September 22.
The 52 best Star Wars characters of all time