Val Kilmer has worn many hats across his long career: '80s heartthrob, method-actor, egomaniac, poet, thespian, action hero and even MacGruber villain. Now, in a new A24 documentary that bears his name, the screen legend dives into each and every one in intimate detail.
"I was the first guy I knew to own a video camera," a narrator who sounds a lot like Val Kilmer says at the top of the trailer for Val, which made its debut today at Cannes. At the shocking conclusion of the reel, it's revealed that the narrator is not in fact Kilmer himself when the actor — who endured a tracheotomy during his battle with throat cancer — speaks through a voice box.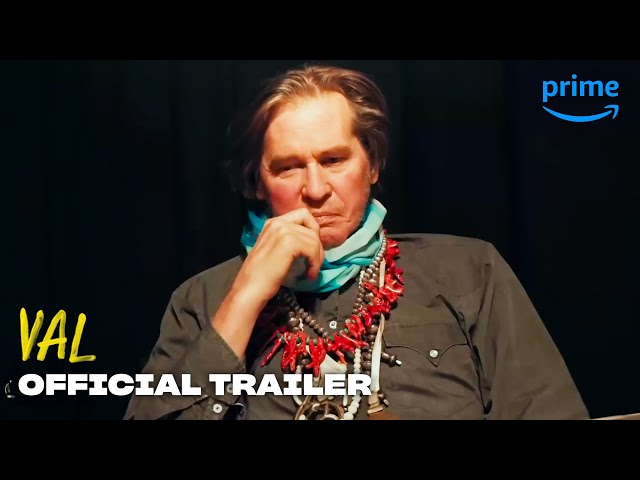 While Kilmer doesn't provide the trailer's voiceover — it's reportedly his son, Jack — he is the guiding voice through Val thanks to that aforementioned video camera. Throughout his early life and 40-year career, Kilmer extensively documented his experiences in Hollywood, from his precipitous rise to fame via Top Secret! and Top Gun to his '90s superstardom in The Doors, Tombstone and Heat; his time as Batman; his fall from grace amid ego clashes with Marlon Brando in The Island of Dr. Moreau; his career resurgence in Kiss Kiss Bang Bang; and his unlikely reinvention as Hal Holbrook's heir apparent in a one-man Mark Twain stage show.
The film, which draws from Kilmer's autobiography I'm Your Huckleberry, also features footage of his childhood, school days at Juilliard and an intimate look at the actor's home life and battle with cancer.
According to Ting Poo — who co directed with Leo Scott — the project is culled together from thousands of hours Kilmer shot over time, complete with unfiltered interactions with actors and directors, candid footage of his family and intimate thoughts expressed from behind the camera.
"He shot over 200 hours of footage just around Red Planet," Poo told IndieWire in a feature about the film ahead of its Cannes debut. "He had a full camera crew with him, and his own HD cam. It was a lot, and we ended up using less than a minute."
The film premiered at Cannes today, and it's receiving positive reviews.
"Val is an exhilarating, honest and raw look at the life of an actor, this actor, with all the trials and tribulations that go with a 40-year career in front of audiences… the victories and defeats, the will to carry on despite being dealt a devastating blow for any performer, especially one who finally achieved a dream on getting back on stage with Mark Twain," wrote Deadline's Pete Hammond.
"What makes Val a good and heartfelt movie, rather than just some glorified movie-star-as-trashed-parody-of-himself piece of reality-show exploitation, is that Kilmer brings the film an incredible sense of self-awareness," writes Owen Gleiberman of Variety.
Val will receive a limited release in theaters on July 23, following a debut on Amazon Prime August 6.
The 52 best documentaries of all time