Album review: Matan Porat, Variations on a Theme by Scarlatti
A gifted pianist administers a jolt to lazy listening with an adventuresome new recital CD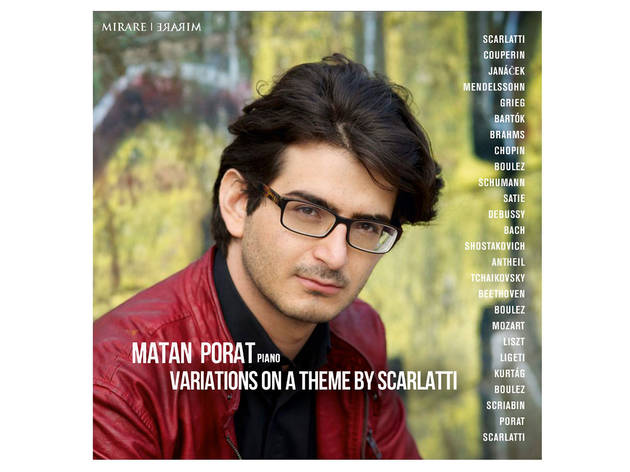 Matan Porat is a Tel Aviv–born, Berlin-based pianist and composer whose punchy, astringent music has been recorded by the Israeli Chamber Project and pianist David Greilsammer, among others. Last season Porat visited New York twice with Musicians from Marlboro, anchoring at the keyboard a for-the-ages account of Györgi Ligeti's Horn Trio and a mellow, generous reading of Brahms's Piano Quartet No. 2.
Porat's new album, a cousin to Greilsammer's stunning 2012 Baroque Conversations (Sony), is a continuous program of twenty-odd pieces, spanning some 350 years and riffing on the rising-and-falling semitone motif in Scarlatti's D minor Sonata (K. 32). Porat brings a sense of cool mystery to Liszt's "Vallée d'Obermann," the disc's longest selection. For all the exultant virtuosity of its climax and the watery, iridescent beauty of its arpeggios, the performance is haunted by silence—the "unheard" word and "voiceless thought" referenced in the Byron epigraph Liszt attached to the score.
The Liszt casts a weird light on the pieces that bookend it: Mozart's K. 574 Gigue, suddenly made edgy and angular, and the Rubato from Ligeti's Musica ricercata, turned moodily post-Romantic. A Chopin-to-Debussy sequence via Boulez, Schumann and Satie finds musical textures shredding and dissolving into mere puddles of sound. When Porat returns to the Scarlatti following a visionary, tour de force improvisation, its seemingly quaint and decorous surface is changed, hinting at wild and troubled musical realms to come.
You might also like
See more in Opera & Classical Music