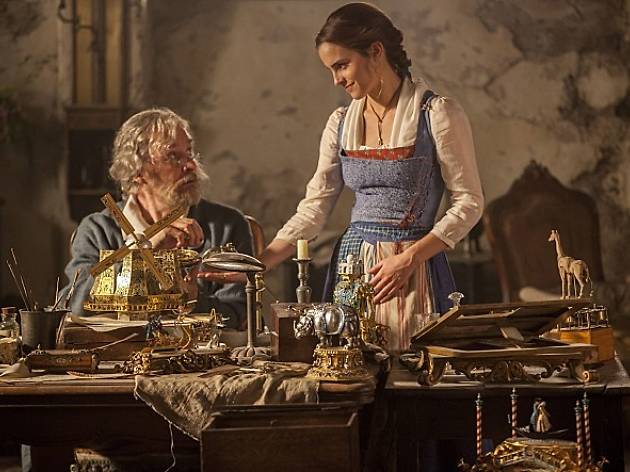 Time Out says
A live-action spin on the classic Disney animated romance, starring Emma Watson, honors the love for the original film.
The virtue of courage is high up on the list of Disney princess must-haves (just below kindness, beauty and a strapping prince in tight pants). So three cheers for Dreamgirls director Bill Condon and star Emma Watson for having the courage to make a live-action musical adaptation of Disney's adored Beauty and the Beast with 2017 gender politics and a diverse cast. Not only is this new Belle the studio's most feminist princess to date, the update boasts the first (and second) interracial kiss to ever appear in a Disney movie, as well as the first openly gay character. And it's all done with a lovely feeling of integrity.
Today's Beauty and the Beast is a lavish pull-out-all-the-stops musical. Watson brings sincerity to the role of Belle, the only bookworm in an 18th-century French village. (Her singing isn't bad either). Luke Evans is hilarious as her sexist meathead suitor, Gaston, whose charming come-ons include: "Do you know what happens to spinsters in the village when their fathers die? They beg for scraps." Josh Gad (who voiced Olaf the snowman in Frozen) is Gaston's adoring sidekick Le Fou. The pair's one-sided bromance is a highlight.
Belle's inventor dad (Kevin Kline) is on his way to market when he takes a wrong turn and finds himself locked in the gothic castle belonging to the Beast (Dan Stevens from Downton Abbey, hiding behind a furry face and a CGI-supplanted physique). Of course, the Beast is actually a dashing prince, transformed by a kind witch as punishment for his cold-heartedness. Only true love—as Céline Dion must surely have once sung—can set him free. You know the rest.
This funny and drop-dead gorgeous Beauty and the Beast stands on the shoulders of a giant, the original animated movie. It's got the same talking appliances, performed here by an all-star cast: Ewan McGregor is Lumiere the candlestick; Ian McKellen is pompous clock Cogsworth; Emma Thompson does her best cockney accent as Mrs. Potts. And the sheer razzle-dazzle is totally old-school, with dancing napkins instead of chorus girls and everyone bursting sumptuously into song at every available opportunity.
If you want to pick holes, the Beast is a bit of drip. And while Belle is a young woman in charge of her destiny, it's not totally clear what kind of happy ending there is for her, beyond wifey for lifey. Did the world need another Beauty and the Beast? Maybe not, but this one is still a keeper.
Details
Release details
Rated:
PG
Release date:
Friday March 17 2017
Duration:
129 mins
Cast and crew
Director:
Bill Condon
Screenwriter:
Stephen Chbosky, Evan Spiliotopoulos
Cast:
Luke Evans
Ewan McGregor
Emma Watson
Dan Stevens