"Max von Sydow" at BAM
From Bergman to Bob and Doug McKenzie, the Swedish thespian delights in keeping us off-balance.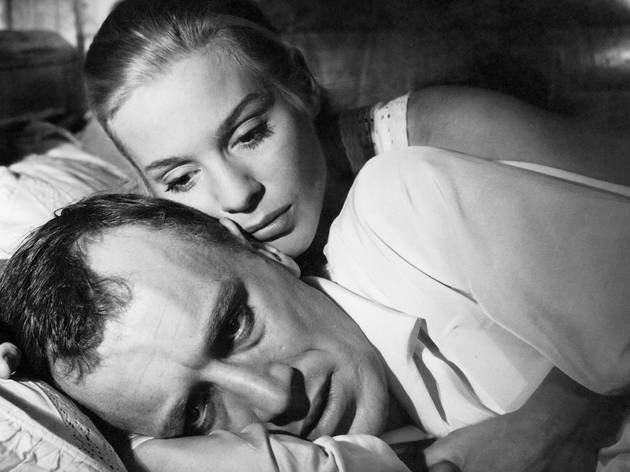 He's played Jesus Christ, faced off with both the demon Pazuza and Death himself, and insisted with mustache-twirling glee that, "It takes experience to run a brewery…and you have none!" The Swedish-born Max von Sydow has had a fascinating, oddball career that's traversed genres, countries and occasionally good taste (his high-camp Ming the Merciless in 1980's Flash Gordon is some kind of low watermark). The 83-year-old actor is nonetheless a reliably imposing presence, with a lullingly deep voice that he uses with pinpoint selectiveness; few performers are as consistently engaging whether speaking or silent. BAMcinématek's 22-film retrospective barely scratches the surface of Von Sydow's almost 150 credited titles, but the sampling does give you a sense of the multifarious Max's intriguing eclecticism.

You pretty much can't go wrong with any of Von Sydow's 13 collaborations with his mentor, Ingmar Bergman, five of which are screening in the BAM series. Their first project together, The Seventh Seal (1957), gave us several iconic sequences in which the actor's medieval knight, Antonius Block, plays a life-or-death game of chess with the Grim Reaper. It's a rightfully accepted classic, alongside the Last House on the Left–inspiring The Virgin Spring (1960), in which Von Sydow movingly plays a father out to avenge his raped-and-murdered daughter. But be sure to check out his lesser-known Bergman collaboration The Magician (1958), a defiantly strange horror-satire about a mute illusionist who attempts to drive a rationalist doctor to insanity. Von Sydow is at his best as the conjurer-cum–con artist, moving effortlessly between frightening self-assurance and tragic puniness.

It's also worth seeking out the actor's two collaborations with another notable Swedish filmmaker, Jan Troell: His two-part saga The Emigrants (1971) and The New Land (1972)—in which Von Sydow and another Bergman muse, Liv Ullmann, play a 19th-century immigrant couple making a hard journey to America—are screening in longer international cuts that are not so easily available stateside. And Ullmann joins Von Sydow again in László Benedek's grippingly glacial thriller The Night Visitor (1971). Look no further for evidence that this towering thespian excels in purely physical roles. As a wrongly incarcerated mental patient out for revenge against those who wronged him, the actor scales rocky walls, stares with quiet menace at his antagonists and runs roughshod through wintry landscapes…all in his skivvies!

Then there's Strange Brew (1983), which more than lives up to its title: In this wildly inventive comedy, Rick Moranis and Dave Thomas re-create their suds-loving SCTV characters Bob and Doug McKenzie, who stumble upon a nefarious plot by Von Sydow's hilariously monikered Brewmeister Smith to invent a mind-controlling, world-dominating stout. Smith is King Claudius to Bob and Doug's Rosencrantz and Guildenstern (what, you didn't know the film, set in and around the fictional Elsinore Brewery, is a loose remake of Hamlet?). And Von Sydow indeed recites his lines (see first paragraph) as if this were the Shakespearean apogee of beer comedies. It's a great farcical performance and a prime curveball in a prolific career that remains blessedly unpredictable.

"Max von Sydow" runs at BAMcinématek Tue 27–Dec 14.
Follow Keith Uhlich on Twitter: @keithuhlich
Missing Time Out magazine?
You can still read our latest issue from the comfort of your couch
Read online