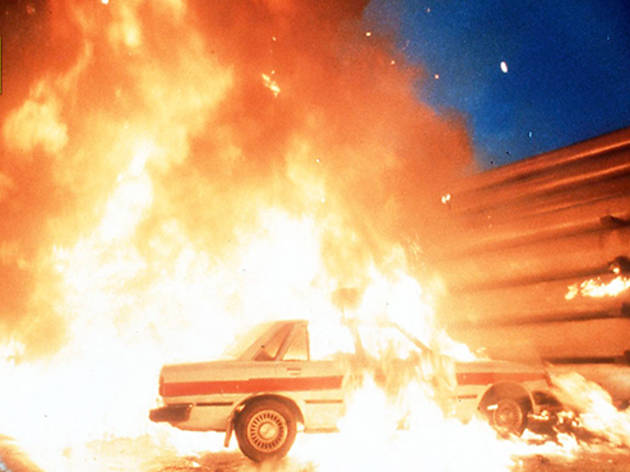 1/10
To Live and Die in L.A. (1985) Vehicles: A Chevy Malibu, a Mercury Grand Marquis, a freight train, a Peterbilt 352 semi Custom features: Someone yelling, "You're going the wrong way!" With his career in free fall, onetime wunderkind William Friedkin (The Exorcist) decided the only option was reverse for the centerpiece chase scene in his superb L.A. noir. Friedkin topped the automotive thrills and spills of his Oscar-winning The French Connection by forcing star William Petersen to drive headlong into L.A. freeway traffic for a full six minutes. Reckless, gleefully irresponsible and totally off the hook. Read review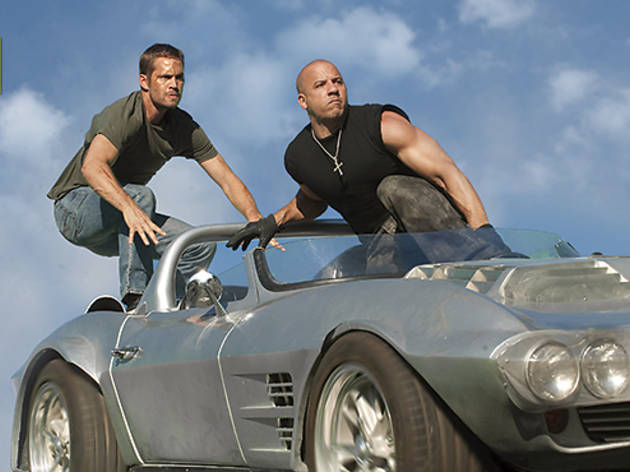 2/10
Fast Five (2011) Vehicles: Two Dodge Chargers, a Subaru Impreza WRX STi, countless Brazilian cop cars and more than 100 smashable prop vehicles of every make imaginable Custom features: A giant safe The Fast and the Furious action series prides itself on spectacular stunts, but all that smashing and gear-grinding can get a bit tiresome. It wasn't until the fifth installment that the makers truly found their mojo, laying on a madly inventive bank-heist sequence in which Paul Walker and Vin Diesel tow a five-foot-high cast-iron safe through the teeming streets of Rio de Janeiro, tearing up the asphalt and flattening everything in sight. Read review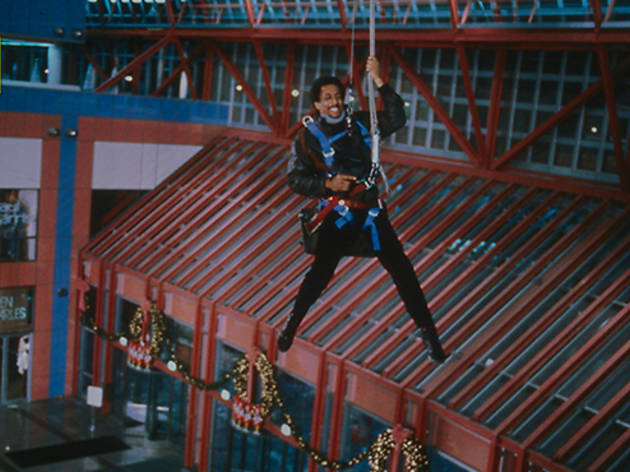 3/10
Running Scared (1986) Vehicles: A Lincoln Town Car, a bulletproof taxi, a subway train Custom features: Elevated rail tracks, red-hot nuns, manic gesticulation, you name it! When your new squad car turns out to be a bulletproof taxicab that happens to work fine on the tracks of Chicago's famous el train system, you know it's going to be a lively day. An unmissable opportunity, then, for policeman Gregory Hines and his partner Billy Crystal to mug their way through the most gleefully contrived car chase of all time. Read review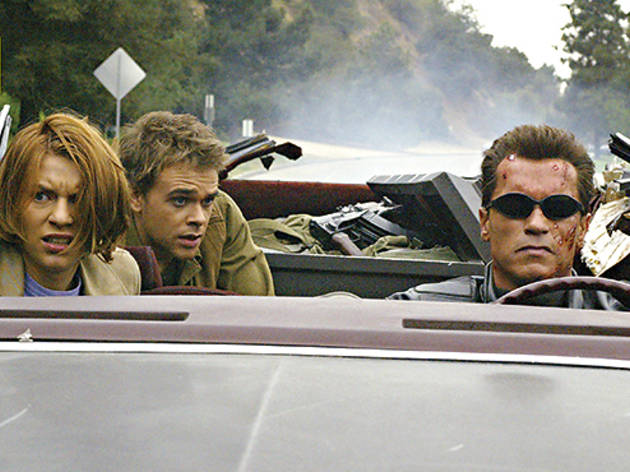 4/10
Terminator 3: Rise of the Machines (2003) Vehicles: A vet's van, a Champion crane truck, a police chopper Custom features: More explosions than you can shake your mutating robotic gun-arm at It may have been the last and least of the original Terminator trilogy, but in 2003, it was also the most expensive movie of all time. We'd guess that pretty much the entire budget was splurged on this epic, city-flattening chase scene. The shape-shifting T-X pursues John Connor through L.A.'s backstreets, crushing traffic left and right until Arnie saves the day by tearing down glass buildings with his bare hands. Read review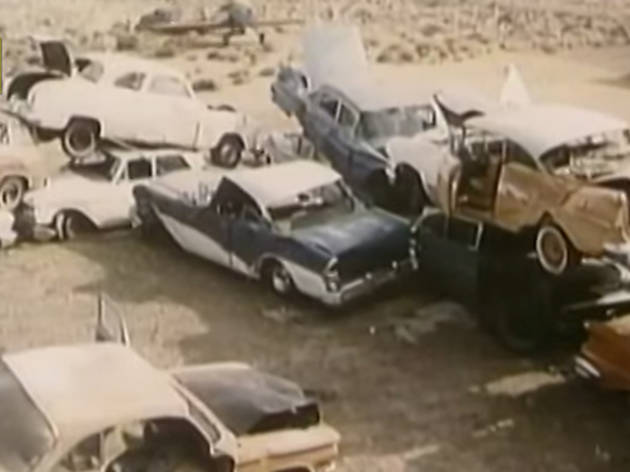 5/10
Charley Varrick (1973) Vehicles: A '67 Chrysler Imperial, a WWI biplane Custom features: See above! Neatly summing up the uneven tone that makes Don Siegel's groovy but unwholesomely violent crime caper so enjoyable, stunt pilot Walter Matthau (in his bucket-of-bolts crop duster) faces off against Joe Don Baker's battered Chrysler for a gonzo junkyard finale of shattered tail fins and screeching steel. Read review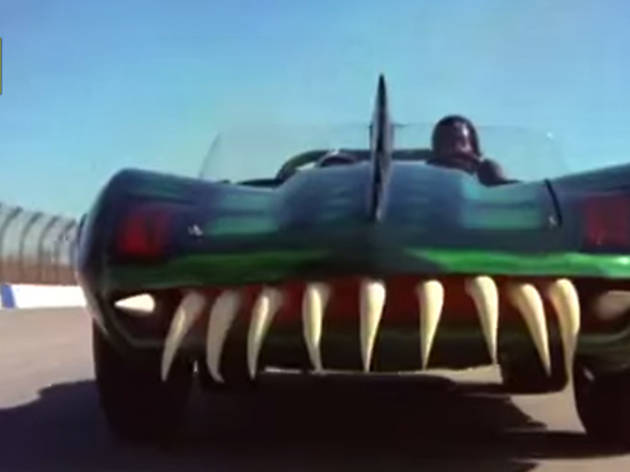 6/10
Death Race 2000 (1975) Vehicles: "The Bull," an unnamed matador Custom features: Red cape, horns The entirety of this futuristic psycho sports flick is basically one wacky car chase, as the participants in the great Transcontinental Road Race mow down pedestrians to score points. But the most surreal moment has to be this speedster-versus-Spaniard jousting contest between Calamity Jane in her cow-pie-colored coupe and a hippy toreador pedestrian who looks suspiciously like a third key grip who got talked into it. Read review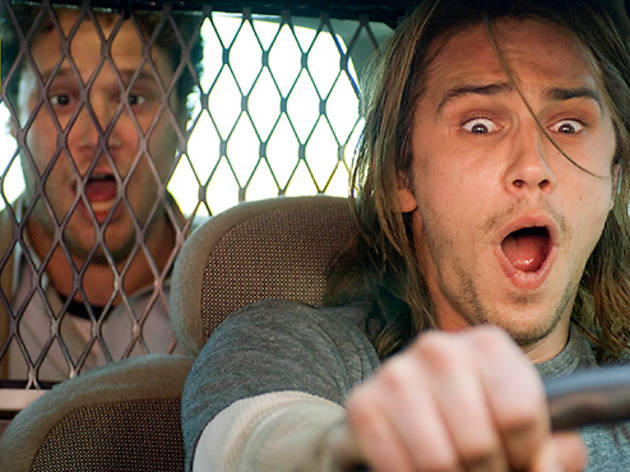 7/10
Pineapple Express (2008) Vehicles: Multiple cop cars Custom features: Soft drugs, shatterproof glass What would any self-respecting stoner comedy be without a heroic car chase crammed with wailing sirens, battered suspensions and random boxes of flying weed? On the run from dirty cop Rosie Perez, wanted deviants James Franco and Seth Rogen find themselves up to their space-cadet heads in hurt, particularly when Franco tries to kick out the windscreen and gets his foot stuck. Read review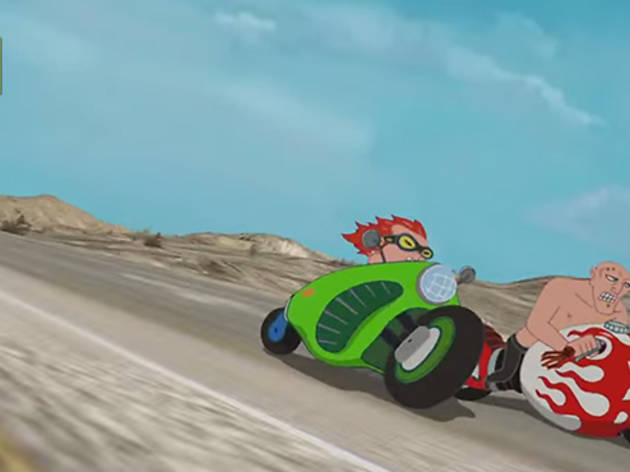 8/10
Aachi & Ssipak (2006) Vehicles: A tooled-up juggernaut, blue-meanie motorbikes, Rollerblades with horse heads (honest) Custom features: Highly addictive narcotic lollipops, poo power The opening of this fecal freakout—set in a world run on human waste—redefines the animated car chase, chucking in drug addiction and screeching blue dwarves. A movie with an unfeasible body count, its tone is set with a madcap tank-jacking performed by a team of diminutive highwaymen.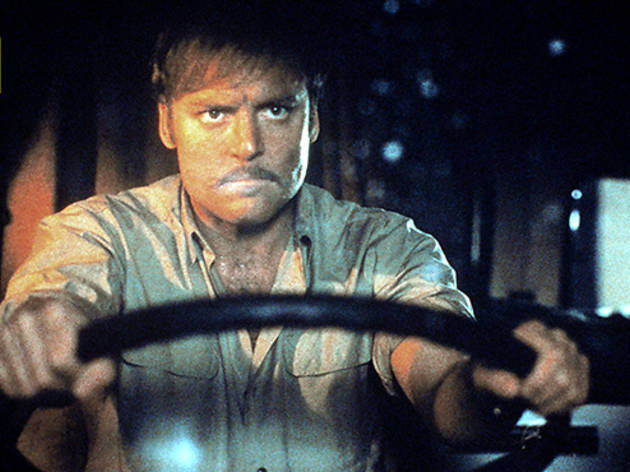 9/10
Roadgames (1981) Vehicles: A refrigerated meat hauler, a murderer's bread van Custom features: This was the world's first (and greatest) stationary car chase. Heroic outback trucker and part-time poet Pat Quid (Stacy Keach) pursues a serial killer down a dark and gradually narrowing alleyway. It's not long before both vehicles are wedged in tight, leading to a gear-grinding, side-mirror-shattering, spark-scraping finale of nail-biting, almost entirely motionless intensity. One…more…inch! Read review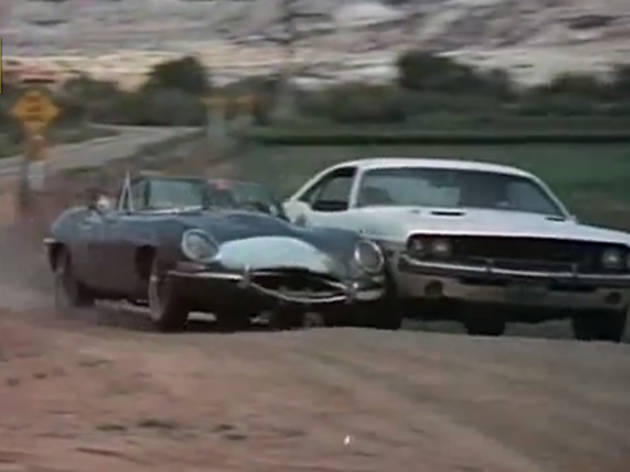 10/10
Vanishing Point (1971) Vehicles: A 1970 Dodge Challenger, a moped that needs a good wipe Custom features: Spurious insight into the "car-delivery business," sheer unrelenting stamina Its reference in a Primal Scream song aside, this entire film is basically one long, relentless chase as Barry Newman grinds his muscle car across the United States, stopping only to watch a naked hippie ride a motorbike. It's, like, a metaphor for life and stuff. Read review
The 10 most insane car chases in movies
Get out of the road! Here are some of cinema's very best car chases…
Car chases are simple, right? There's one car in front, another behind, they speed along, and bingo: blockbuster gold. That may be true if all you're after is yet another unmemorable action scene. But if you want something that will go down in movie history, you have to try a little harder. From car-versus-plane smackdowns to psycho robots in semis, these are 10 of some of the wildest, most destructive scenes of automotive mayhem in cinema history.
RECOMMENDED: Our list of the 100 best action movies ever made
Take a closer look at the world of action...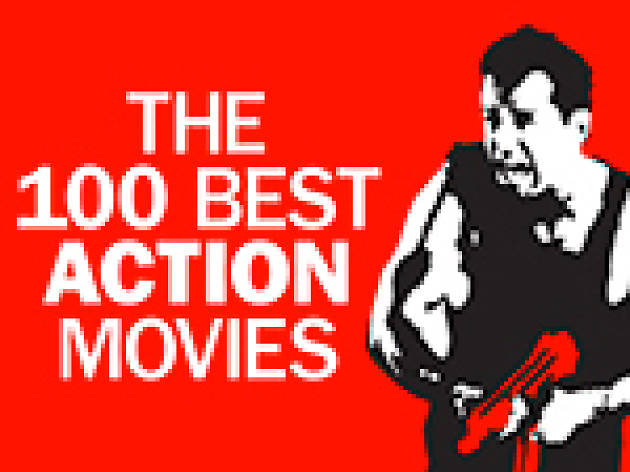 We polled over 50 experts in the field, from essential directors like Die Hard's John McTiernan to the actual folks in the line of fire, such as Tarantino favorite Zoë Bell (the fearless stuntwoman behind Uma Thurman in the Kill Bill movies). The result: The 100 best action movies, a definitive look at the genre from the earliest silent classic short film of 1896's "Arrival of Train at La Ciotat" to Marvel's big-screen fighting force of 2012's The Avengers.
See the 100 best action movies