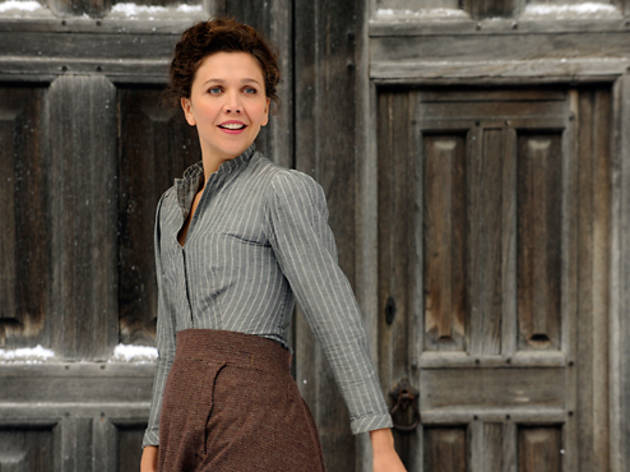 The Hot Seat: Maggie Gyllenhaal
In Hysteria, the Brooklyn mom stars in a sex-toy origin tale.
RECOMMENDED: Full list of Hot Seat interviews

How did you first get involved in the film Hysteria?
The producer of this movie produced Crazy Heart [in which Gyllenhaal costarred]. And so just as we finished all the Oscary stuff, she gave me the script and said, "Read it—it's about how the vibrator was invented in Victorian England."
This isn't the first time you've been involved in a project that deals with women's sexuality. Is there something behind that?
Well, [my character] doesn't have anything to do with the vibrators. But its true; I am interested in sex in film. Especially when it actually resembles any sexual experience I might have had, as opposed to movies you saw in the '80s and '90s where it would be someone in a black demi-cup bra, lit perfectly, arching their back. There's something kind of feminist about saying, "This is an actual woman's experience of sexuality."
Charlotte, your character in the film, is a staunch feminist. Do you think a romantic comedy is a good vehicle for issues like feminism and women's rights over their bodies?
I think it can be. If you use a romantic comedy as a way of saying something new, you'll reach more people than if you make a teeny-tiny little independent movie that just goes after the politics. And I think it's the responsibility of anyone who has the luxury of being able to choose their job: to do something where you can have an effect on the community you live in. But I don't think this movie is meant to hold a massive political agenda. It's a movie [that allows you to] laugh and have a good time and also learn something unusual. And maybe you'll leave thinking about something that we all need to be thinking about.
Do you own a vibrator?
I think…it's not relevant to the interview. [Laughs]

I'm guessing doing press for this film has been an interesting experience.
I've done so many interesting interviews about this movie, with women all over the world. But there was one day I was being interviewed by all these guys, and they were trying to figure out a way to word things. So they would sort of say, "Then the doctors would manually stimulate the women." And I was like, "You mean, finger them?" [Laughs] Even that is hard to say. You don't really use that word, you know, if you're a grown-up.
Have you had any questions that really caught you off guard?
In Italy, a woman asked me if I thought the vibrator or the dishwasher had done more for women's liberation. And I have to say, I think the dishwasher has. I completely take that for granted at this point.
Hysteria opens on Fri 18.
You might also like
See more Hot Seat
See more in Film