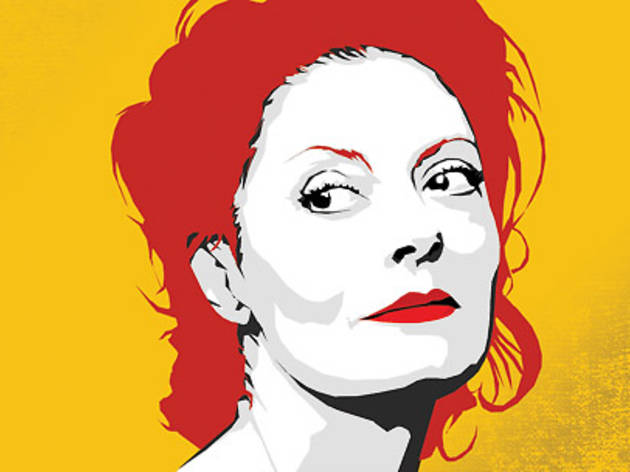 The Hot Seat: Susan Sarandon
The legendary actor talks about getting older, staying hot and, of course, Ping-Pong.
Susan Sarandon is something most of us will probably never be—smokin' hot at the age of 63. And come Friday 24, you can see the Academy Award--winning actor as the lady who gave life to Shia LaBeouf's character in Wall Street: Money Never Sleeps, the sequel to the 1987 film about crooked stockbroker Gordon Gekko (Michael Douglas). But Sarandon isn't getting complacent in her advancing age. Instead, she's showing us all that it's never too late to shake things up. In 2009, she helped launch SPiN New York, a trendy Murray Hill Ping-Pong club; then she sent gossip blogs into a frenzy when she ended her 23-year-long relationship with Tim Robbins and was linked in the tabloids to sexy 33-year-old SPiN cofounder Jonathan Bricklin. So what's it like to be Hollywood's favorite star over 60? We called Sarandon to find out.
RECOMMENDED: Full list of Hot Seat interviews
Tell me about your character in WS2.
She represents the little person who was affected by the Wall Street crisis. You can track the arc of my character by the length of my nails. Before my world falls apart, I had long, fake nails and very perfect hair.
Those nails looked pretty unwieldy.
They were impossible! I couldn't take care of my kids, I couldn't wipe my butt. I don't know how people do it.
Oliver Stone has said that the original Wall Street inspired a new generation of stockbrokers to get into the business. You think the sequel will do the same?
I think maybe it encourages you to have a life. I don't understand why anyone would want to be a stockbroker to begin with.
Do you have a competitive streak?
I really don't like to lose, so I don't really get into situations where I'm playing against someone. With Ping-Pong, I'd say I'm more of a propagandist than a competitive player.
Any Ping-Pong talent that you're keeping an eye on?
Jan-Ove Waldner—everyone who's seriously involved in Ping-Pong knows about him because he is the only non-Chinese competitor to get a gold medal in the Olympics. I looked him up while I was in Sweden.
Did you play him?
No, but I drank with him. I did pretty well with that.
Who won?
Well, I think it was a draw. But his English got better and better. Mine got worse.
Were you surprised by how much buzz there was surrounding SPiN's opening?
It's like when you get a tattoo, and you show your tattoo and suddenly everyone's undressing to show you theirs. If you start talking about Ping-Pong, suddenly everyone admits that they play. Or they played when they were younger.
Do you ever sneak out of SPiN to see The Rocky Horror Picture Show? It's screened every weekend on 23rd Street and Eighth Avenue, just down the street.
I didn't realize it was still showing. But that's good! That's my legacy, I guess.
What's it like watching vintage Susan Sarandon onscreen?
Chronological time for me is rather arbitrary; I tend to see my life in waves of sorrow and ecstatic celebration. It's fun to see how many different me's have existed. I tend not to look back, but when you see a film it triggers a lot of memories and feelings, and that's really a lovely opportunity. I see things that I never noticed when I was too close to them, and I remember people more fondly the more distance there is. And miss people. It's kind of like a living, breathing scrapbook that I never took the time to assemble.
Does canoodling with Justin Timberlake in "Mother Lover" fall in the "pleasant memory" category?
I'm happy if people think there's a chance that I would do things like "Mother Lover" and approach me. Your greatest loss is when you're no longer hungry and no longer foolish. I've been very lucky because I never got stuck in one kind of a part, even though you're encouraged to repeat yourself once something is successful. After Pretty Baby, I got offered so many prostitutes, and then I ended up playing nuns.
How do you feel about playing another hot mama in WS2?
I'd rather play that than someone who's dying. These days, my choices seem to be somebody who's dying or helping someone die, or somebody's hot mother.
Wall Street: Money Never Sleeps opens Fri 24.
You might also like
See more Hot Seat
See more in Film