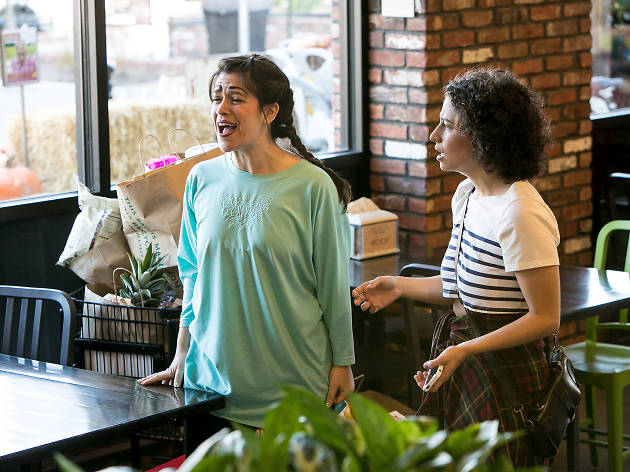 The 17 best TV shows of 2015
Here's how we ranked the best TV shows of 2015, with everything from comedies to dramas (and a whole lot of Netflix)
Presenting our list of the best TV shows 2015 had to offer, including five Netflix shows, two miniseries and one cartoon. And not to brag, but several of these best television shows are set in NYC neighborhoods, like Jesssica Jones, Unbreakable Kimmy Schmidt, and Broad City (the "St. Mark's" episode!). These are the shows everyone's been tweeting about and discussing at work, and yes, there are spoilers below. Let the binging begin.
RECOMMENDED: See the best of 2015
The best TV shows of 2015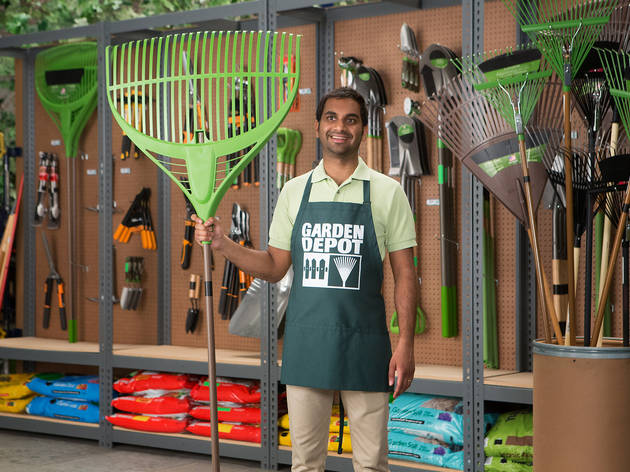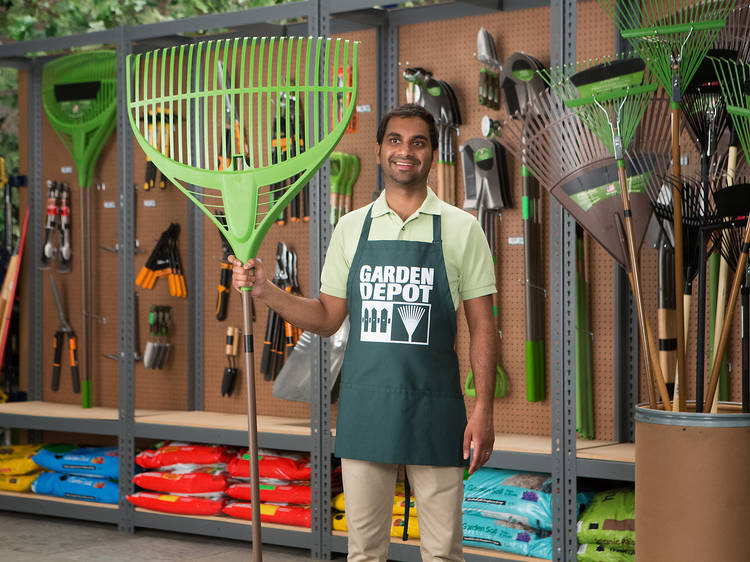 Photograph: Courtesy K.C. Bailey/Netflix
1. Master of None (Season One)
This Netflix series is much sweeter and smaller than you would expect from Aziz Ansari, the stand-up whose biggest role before this show was as an egocentric man-child on Parks and Recreation. This time, though, he's fully grown-up as Dev. Sort of. Or not at all, like when Dev decides he'd rather eat pasta in the middle of the night than have kids. Each standalone episode has a theme, like "Parents" (with Ansari's actual parents, proving that excellent comedic timing is hereditary) and "Indians on TV," and they tackle topics like race, friendship and broken condoms more effectively than any other show out there.
Best moment: The montage episode of "Mornings," where Dev's girlfriend, Rachel (former Saturday Night Live cast member and breakout star Noël Wells) moves in with him.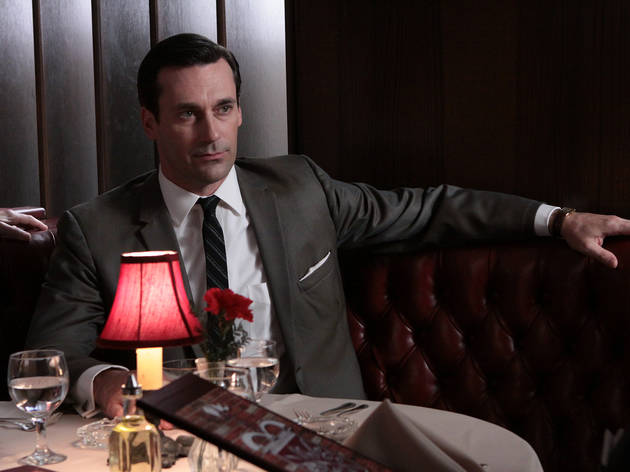 Photograoh: Courtesy Carin Baer/AMC
2. Mad Men (Season Seven)
Certainly, Mad Men deserves to go down in TV history as one of the best shows ever, but the way it reached its peak in season seven came as a surprise. Other capital-G Great TV shows like The Sopranos and Breaking Bad ended on nihilism or ceaseless violence—but this one ended on a sense of optimism, with even the sad fates of characters like Betty and Sally given a sense of brave dignity that lesser shows would throw away. Even the last scene (nothing more than a famous, cloy commercial) has depth in that context.

Best moment: It's obvious, but it's still that last commercial.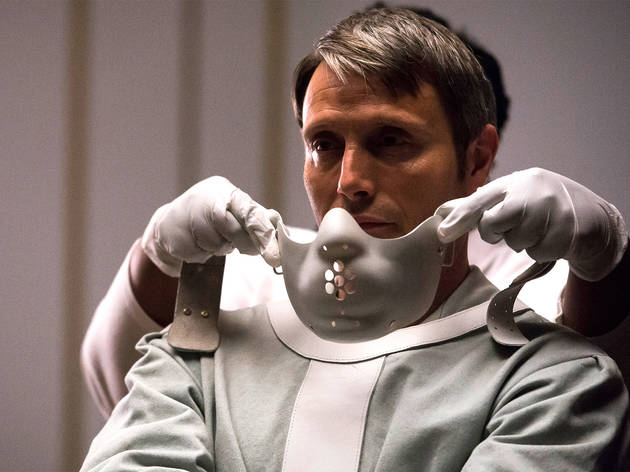 3. Hannibal (Season Three)
This gorgeous, gruesome retelling of Thomas Harris's books about Hannibal Lecter reached its apex this season, though explaining how, exactly, is difficult. The show is filmed impressionistically, with dreams and reality commingling uncomfortably and the plot following its own kind of dream logic. But grounding it all are the subtle, intricately layered performances of the cast, particularly the twisted love triangle of Will (Hugh Dancy), Bedelia (Gillian Anderson) and Hannibal (Mads Mikkelsen).
Best moment: Will finally finds an on-the-lam Hannibal at an Italian art museum, but instead of fighting, the two share a subdued, loving conversation.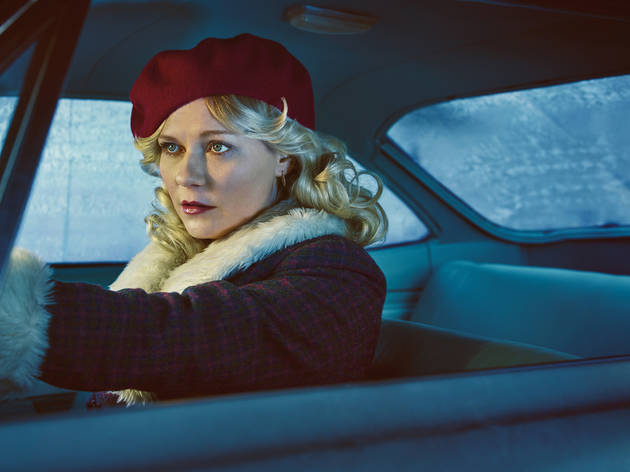 Photograph: Courtesy Mathias Clamer/FX
The second season of Fargo (which, as every summary of the show must mention, is not a remake of the Coen brothers movie) is a '70s period piece that's every bit the equal of its fantastic (and unrelated) first season, with actors like Jesse Plemons, Ted Danson, Patrick Wilson and Jean Smart doing some of their best dark comedy work as small-town Midwestern crooks and cops. And Kristen Dunst hasn't been this funny since Bring It On.
Best moment: The waffle house massacre in episode one (goodbye, waitress).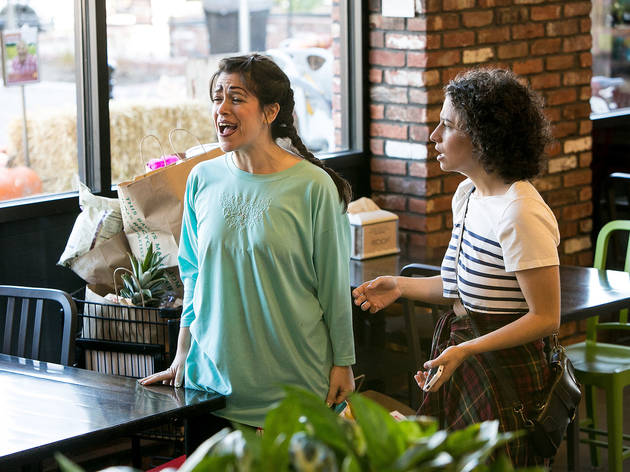 Photograph: Courtesy Matthew Peyton/Comedy Central
5. Broad City (Season Two)
Ilana Glazer and Abbi Jacobson's friendship continues to make a two-person team seem like the best kind of squad. While Broad City's first season occasionally felt as self-contained as the web series it grew out of, the world of its second season got bigger (meeting Ilana's parents, Abbi's adventure with Kelly Ripa) and funnier. Yaaaaaas queen.

Best moment: Ilana's family discussing pegging while sitting shiva.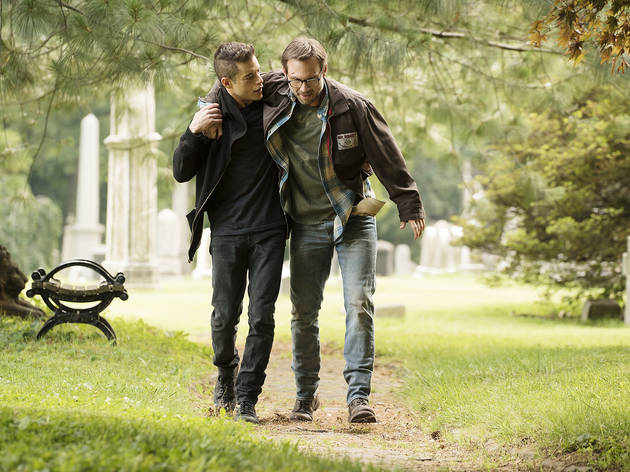 Photograph: Courtesy Virginia Sherwood/USA Network
6. Mr. Robot (Season One)
The twisty, brilliant plot includes a paranoid, Travis Bickle-like hacker, Elliot (Rami Malek), a plot to end all debt, and Christian Slater playing a revolutionary anarchist. The hacker hero snarls for the camera, takes drugs and wonders how much of the plot is happening in his mind. And yet somehow, Mr. Robot became one of the biggest TV hits of the summer.
Best moment: Elliot finally realizes Darlene is his sister after going in for a kiss. Oops.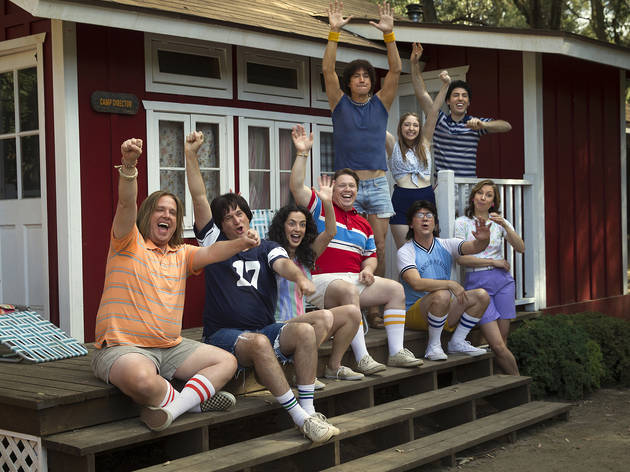 Photograph: Courtesy Saeed Adyani/Netflix
7. Wet Hot American Summer: First Day of Camp (Miniseries)
This genius prequel to the cult classic film Wet Hot American Summer spawned a multitude of then/now slideshows and is proof that Netflix is where to go for comedy (count 'em: five Netflix shows made it on this list, and all but one debuted in 2015). It's pure silliness and the plot doesn't make sense, but the only bad part is that we may never get to see the second day of camp.

Best moment: When you find out that, inexplicably, assassin "The Falcon" (Jon Hamm) and Gene (Christopher Meloni) have been on the same side the whole time.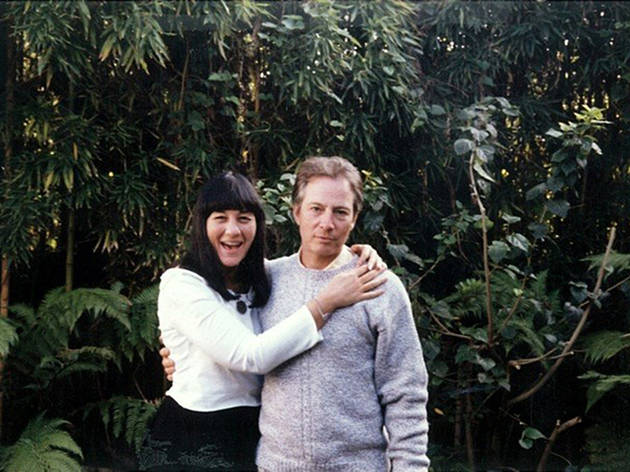 Photograph: Courtesy HBO
8. The Jinx (Documentary Miniseries)
For starters, this HBO series was the only show on television this year that arguably led to an actual arrest of a suspected murderer. But the tale of Robert Durst and the people who went missing around him over the years was riveting from the first episode—especially because Durst himself bizarrely cooperated with the filming.
Best moment: When Durst, unaware that he is still mic'd, appears to confess to the murders after going to the bathroom.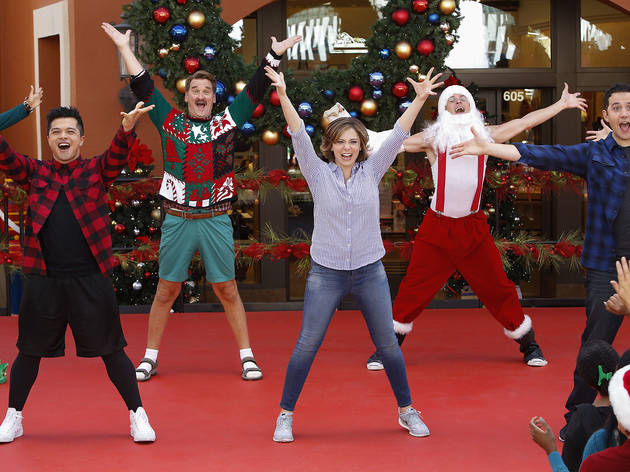 Photograph: Courtesy Greg Gayne/The CW
9. Crazy Ex-Girlfriend (Season One)
We always had high expectations for Kimmy Schmidt, but this show about a quirky female protagonist seemed to come out of nowhere. Looking at the advertisements for it, in fact, you could be forgiven for thinking it was sexist, CBS sitcom dreck. Not so—Rebecca, the titular crazy ex-girlfriend (an amazing Rachel Bloom, who's also its creator), balances her crazy with smarts and sarcasm and gives every one of her musical number fantasies way more life than, say, the lame pop covers on Glee.
Best moment: She raps in "I Give Good Parent" and speaks French in "Sexy French Depression," but "The Sexy Getting Ready Song" still wins.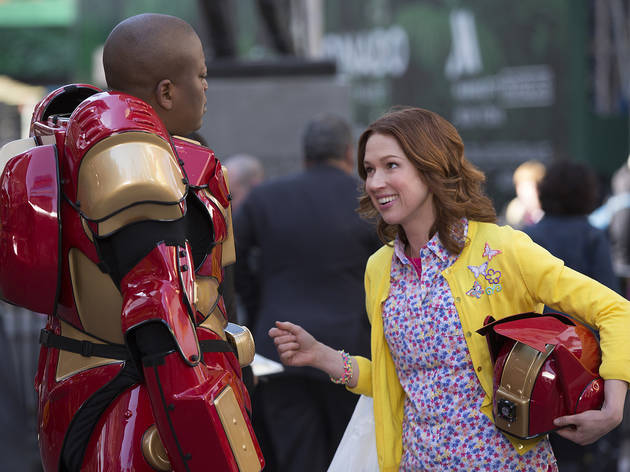 Photograph: Courtesy Netflix
10. Unbreakable Kimmy Schmidt (Season One)
This Netflix series gives a 30 Rock–esque tone to a story of how a woman deals with horrific trauma (it's basically the comedy version of Jessica Jones). That makes sense, considering it has Tina Fey as a creator and the undervalued Jane Krakowski as a co-star, but Ellie Kemper as Kimmy, a naive New Yorker recently sprung from an underground cult, holds her ground against her comedic costars, and her optimism is only annoying if you binge all 13 episodes in a day (that's not to say you shouldn't).
Best moment: Two words: "Peeno Noir."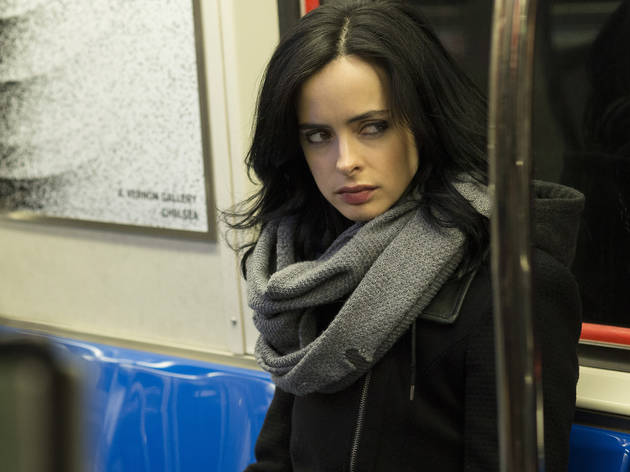 Photograph: Courtey Myles Aronowitz/Netflix
11. Jessica Jones (Season One)
The superhero-becomes-a-PI premise is fine on its own, but the real reason everyone is watching this Netflix show has everything to do with a character who was, alas, killed off. Over the course of 13 episodes, Jessica Jones' (Krysten Ritter) nemesis Kilgrave (David Tennant, in an Emmy-worthy performance) became Marvel's most fascinating and terrifying villain: a monster with the power to control the behavior of others with nothing more than a few words. The Avengers would all be toast if they ever faced him. The only problem (aside from its too-long sex scenes) is figuring out how to top that.
Best moment: Jessica tells a disbelieving Kilgrave that every moment they were together was rape.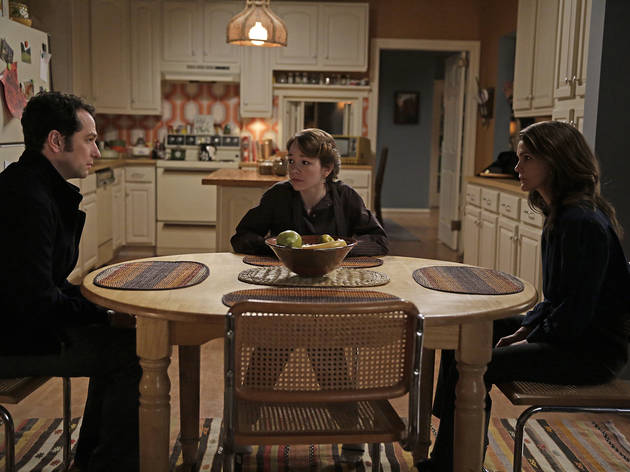 Photograph: Courtesy
12. The Americans (Season Three)
It hardly seems possible, but this season the stakes rose even higher in the criminally under-watched FX drama about spies living undercover as a married couple in America. The Jennings (Keri Russell and Matthew Rhys) have to deal with how to bring their increasingly grown-up daughter into the fold—do they recruit her? Tell her the truth? Keep her in the dark? Seeing how the loneliness of their situation isolates everyone around them is making this Soviet-bleak show even bleaker—but even more intriguing, too.
Best moment: Paige (Russell) betrays her parents with one phone call.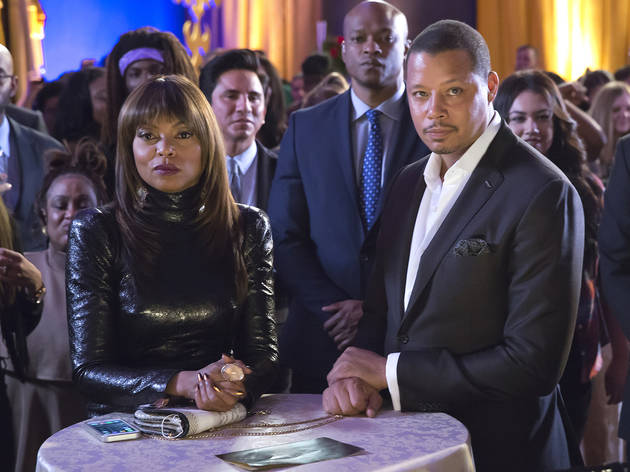 Photograph: Courtesy Chuck Hodes/FOX
Sometimes, you just want to sit down and watch something fun—and Empire is there for you. It's a musical soap opera confection; it's self-described by its creator (Lee freakin' Daniels!) as "black Dynasty." And good God, it brought us Cookie Lyon (Taraji P. Henson, having a blast in a spectacular wardrobe), possibly the best soap opera matriarch since Alexis Carrington.

Best moment: Cookie interrupts a board meeting (for the very first time) in the pilot.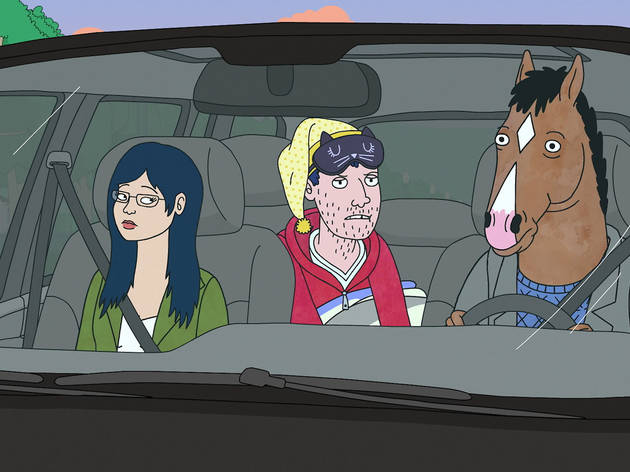 Photograph: Courtesy Netflix
14. BoJack Horseman (Season Two)
We're not quite sure how this happened, but the darkest animated show got even darker this season. Yes, the great voice work from Allison Brie, Aaron Paul, Paul F. Tompkins, Amy Sederis and especially Will Arnett make the show about an animated horseman trying to make it in Hollywood while managing debilitating depression very funny. But it all leads up to a hell of a season-ending downer—and that's a compliment.
Best moment: It's Bojack's worst moment: kissing the teenage daughter of one of his last friends.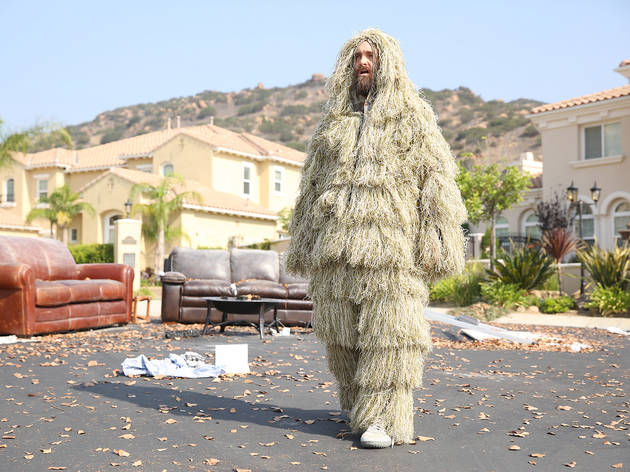 Photograph: Courtesy Adam Taylor/FOX
15. The Last Man on Earth (Season One)
This show undermined its premise at every turn, adding the great Kristen Schaal as Carol (and several other characters) to join Phil (Will Forte) mere episodes in. And yet! The first few episodes of The Last Man on Earth are so, so good. The first episode in particular feels revolutionary: an entire, mostly wordless, completely hilarious episode of Phil mourning and celebrating his status as the titular character in manic, destructive bursts.
Best moment: Phil finally approaches a mannequin he has developed a crush on. Carol gets consumed by jealousy.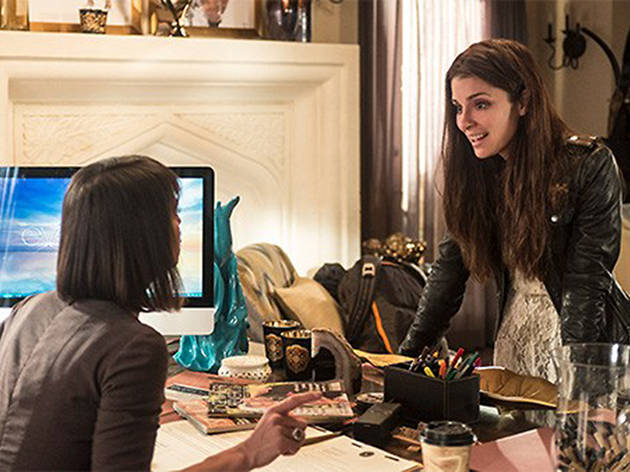 The next season of The Bachelor will be its twentieth, and yet this is the first show about the behind-the-scenes machinations (the juiciest parts) of a reality dating competition. Created by a former staffer on The Bachelor, the fictional show feels like soapy industry gossip about how producers wring tears out of a departing cast member or mold a contestant into a bitch—and then grapple with guilt afterward (or not).

Best moment: Faith, a closeted gay contestant, publicly admits her attraction to her female best friend.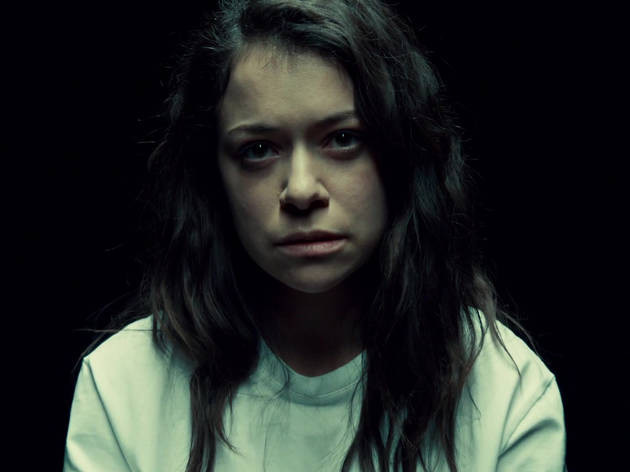 17. Orphan Black (Season Three)
Tatiana Maslany's performances as not one, not two, but 11 characters on this show are still top-notch, and though the show's mythology is still, at times, overly complex, overall it grows deeper without weighing down its primary theme of how women—and men—shape identities and relationships in a sexist society.
Best moment: The finale's four-clone dinner party, which Maslany improvised…with herself.