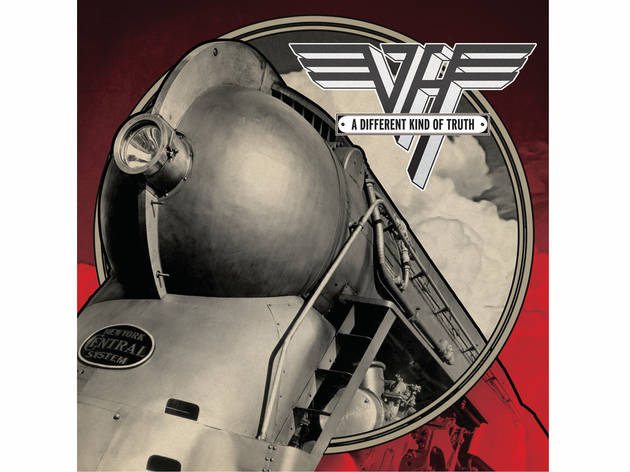 Album review: Van Halen, A Different Kind of Truth
Did you miss them? They're back—and they brought their pencil.
Anyone still nursing abandonment issues after David Lee Roth stranded us in Hagar Forest will have plenty to smile about on Van Halen's latest. Daddy's back, shtick intact, and even if he makes you cringe on occasion ("Text me, baby!"), that's nothing new. Cougar chaser is a role that suits Roth well.
Meanwhile, can we talk about something more important? Eddie Van Halen, the band's secret frontman, is way too pivotal to have gone AWOL for so long. Both Eddies are in attendance here: the effortless trick pony (the solo in "Big River" is his most unhinged since MJ's "Beat It") and the dreamer who tapped out that delicate, chiming bridge to 1979's "Dance the Night Away" ("Blood and Fire," "You and Your Blues"). If you were worried about too much keyboard, know that A Different Kind of Truth probably pounds harder than 1984—a shocking turn of events.
Always more sophisticated than frat-partying fans realized, the musical unit (now with Ed's son, Wolfgang, on bass) continues to bob and weave around Alex's thunderous beats—and that's the real accomplishment of the new album: The band is covering itself (many of these songs were '70s demos), but in a way that's exuberant and fully committed. (When they burn through their MSG set, you'll actually want them to play the new stuff.) Ignore the frightening misstep of a single, "Tattoo," and go straight to "Honeybabysweetiedoll," a dark squall of Fair Warning--sounding menace. And please, guys, keep it together for one more.
Van Halen plays Madison Square Garden Tue 28 and Thu 1.
Buy A Different Kind of Truth on iTunes
Follow Joshua Rothkopf on Twitter: @joshrothkopf
You might also like
See more Album reviews
See more in Music