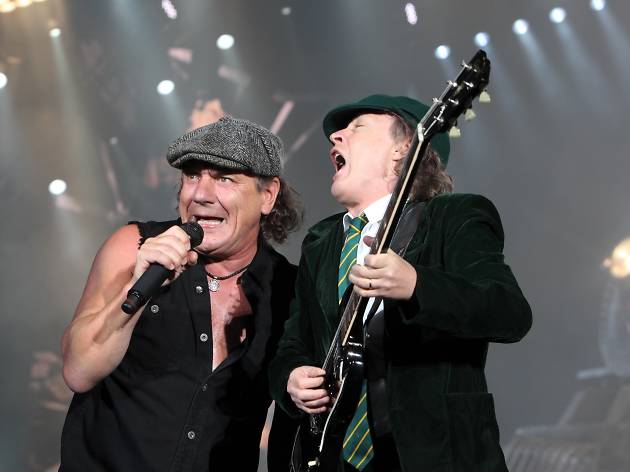 The 24 best classic rock songs of all time
The best classic rock songs ever written will stir your emotions and get your fists pumping
Classic rock will never die. The emotion, the guitar licks, the fist-pumping… It's not just the best karaoke songs that will get you singing at the top of your lungs, the best classic rock songs never fail to get you going.
From Hendrix and The Who to The Stones and Zeppelin, these tunes from the 60s, 70s, and pre-hair metal 80s were and are staples of FM radio. They conjure up nostalgia for the good ol' days and remind us what's great about today. Many are stadium rockers, but some are just classic rock songs with a feeling that spans generations.
Will today's best pop songs achieve this much greatness? We're not sure. So grab your buddies, crank it up, warm up your best air guitar moves, and you've got yourself a classic rock party.
Listen to these songs on Amazon Music
RECOMMENDED:
🎉 The best party songs ever made
🎤 The best karaoke songs
🚗 The best road trip songs
🎶 The best '80s songs
😊 The best happy songs

Best classic rock songs of all time
1. Jimi Hendrix, "Purple Haze"
There are famous riffs, and then there's "Purple Haze." As usual, Hendrix was operating on a level wholly different than that of mere mortals, laying down an effortlessly original blend of freaky psych and screaming old-school blues with enough panache to seem like he really could just excuse himself for a few minutes to kiss the sky (or this guy) if he wanted to.
2. Queen & David Bowie, "Under Pressure"
Don't be fooled by the undemanding funk of that notorious two-tone bass line, this baroque and passionate plea for love from sorcerers Bowie and Mercury still sounds like they might beat you over the head with the mic stand if you don't listen up.
3. The Rolling Stones, "Start Me Up"
The sexual bluster and braggadocio of "Start Me Up" is quintessential Stones, but the song's playfully gratuitous come-ons—heightened by Mick Jagger's bug-eyed performance—and Keith Richards's monster riff take it from 10 to 11.
4. Creedence Clearwater Revival, "Proud Mary"
The utopian vision of provincial life "Proud Mary" promotes would seem exceedingly cheesy if it wasn't such an authentically successful country-blues hybrid, with John Fogerty's relaxed but powerful voice and the languid vibe all but packing your bag for you to set sail on a river boat queen.
5. Neil Young, "Rockin' in the Free World"
The godfather of grunge comes out swinging on one of his most intense tracks, with the first Bush administration, American malaise and drug addiction catching jabs, all while Young's fierce, fervid guitar work capitalizes on his titular promise.
6. Led Zeppelin, "Whole Lotta Love"
There's no innuendo here, no way. Robert Plant is delirious and yelpy, the band is strutting and chugging; it's a frenzied, lightheaded trip that only slows down for a second in that middle part to...well, you know what's up.
7. The Clash, "Should I Stay or Should I Go"
This tune's Muddy Waters–style appeal to an indecisive lover plus some controlled chaos in the form of wild tempo shifts and half-Spanish call-and-response vocals makes it sound like one of the best tracks of the 1950s twenty years after the fact.
8. Aerosmith, "Walk This Way"
Aerosmith achieves impressive synergy as Joe Perry's big-dog riff struts around Steven Tyler's breakneck near-scatting with ease despite the frantic pace. The rhythms are so front-and-center that it's not so surprising Run DMC reinvented it 11 years later as a hip-hop hit.
9. The Who, "Baba O'Riley"
We may never know if Pete Towshend wrote the massive all-downbeat riff specifically so he could windmill-strum it, but it worked out perfectly that way. And when his guitar thunders in after the mechanical, synthesized opening, it's one of rock & roll's top all-time moments.
10. Pink Floyd, "Comfortably Numb"
This epic track from their magnum opus is a distillation of everything Floyd—swirling, psychedelic organs, a doom-laden narrative of druggy madness and multiple heaven-scraping solos from David Gilmour, endlessly searching for some redemption through the haze.
11. Janis Joplin, "Me & Bobby McGee"
In her most fiery, delirious performance, Janis claimed Kris Kristofferson's much-covered song as her own so completely that there's a high chance that before reading this sentence you were unaware she didn't write it herself.
12. Thin Lizzy, "The Boys are Back in Town"
This pinnacle of party songs is a few parts leather (either pants or boots), a smattering of coin-operated jukebox and a splash of bar fight, topped with raucous guitar-monies. Mixes well with people you haven't seen since high school.
13. Black Sabbath, "Iron Man"
Ozzy's lyrics are mostly nonsensical—he's a time-traveling revenge robot?—but he belts them out with purpose over the original sludge metal track, all pounding kick drum and destructive riffage meant to keep heads banging and devil horns pumping.
14. Deep Purple, "Smoke on the Water"
Whole generations of guitarists have been introduced to the fretboard via this song's iconically simple riff: four chords consisting of parallel fourths. The song's lyrics reference the true story of Deep Purple's members watching a casino fire burn, set off by an overzealous fan with a flare gun at that night's Frank Zappa gig.
15. The Kinks, "You Really Got Me"
Dave Davies' scuzzed-up playing on this record may have laid the foundation for whole other genres, though the band's magnum opus was clearly never meant to be more than what it was: an unkempt, three-chord "love song for street kids."
16. Golden Earring, "Radar Love"
Like the narrator of Golden Earring's biggest US single—a driver racing home to his woman, with whom he has a connection so strong as to be telepathic—the song surges forward with an inimitable sense of drama, deft execution of the loud-quiet-loud dynamic, and a breathless chorus that leaves you greedy for more even as the running time crests six minutes.
17. Stevie Nicks, "Edge of Seventeen"
The persistent, chugging guitar, alternately tense and electric drumming, and ominous cooing of the background singers all wrap around Stevie's unparalleled rasp for continued proof that she can out-rock the boys whenever she feels like it.
18. Van Morrison, "Brown Eyed Girl"
Pure aural nostalgia drives Van Morrison's simple celebration of the halcyon days, when making it with your first girlfriend somehow seemed a result of nature's good intentions and your biggest worry was whether your transistor radio had enough battery juice to get down to the swimming hole and back.
19. Blue Oyster Cult, "(Don't Fear) the Reaper"
Let's forget about the cowbell for a second—the song's mystical, serene take on death achieves a level of profundity you wouldn't expect from the band behind "Godzilla," and the proto-metal solo section is everything a hard rock devotee could hope for.
20. Blondie, "One Way or Another"
This tune sounds like a breezy '60s pop standard set upon by some Lower East Side punks, with its the mercurial stalker thrust of its lyrics hardly registering in the face of the song's pure bubbly energy, a tone that only adds to Debbie Harry's coy badassness.
21. AC/DC, "You Shook Me All Night Long"
Brian Johnson tries on a few metaphors over the course of this track, but AC/DC's raison d'etre—hot-blooded, balls-to-the-wall rock & roll—doesn't suffer any of that; they've got the best damn woman that they've ever seen, and we're going to hear all the brash, sweaty details. Loudly.
22. Lynyrd Skynyrd, "Sweet Home Alabama"
From the instantly recognizable guitar twang of the intro to the sing-along-even-if-you're-a-yankee refrain, there's nothing about Skynyrd's southern-fried homeland tribute that doesn't evoke a warm sense of affection and bonhomie—we swear it's not just the beer talking.
23. The Cars, "Just What I Needed"
The song's ardent pulse and undeniable earworm melody, which bely Benjamin Orr's sardonic delivery and barely sincere lyrics, might be power-pop's crowning achievement.
24. Jethro Tull, "Locomotive Breath"
Ian Anderson might not be the '70s most iconic name, but he does hold a number of superlatives regarding his use of the flute—best chorus involving a flute, most animated flute solo, fastest flute solo, perhaps the decade's only flute solo... Some would say it's a gimmick, but we say it's innovation.
Want to hear more body-shakin' tunes?
Our sonic roundup of the era that brought us Miami Vice, mall culture and more awesomely cheesy entertainment than any sane person can handle is wonderfully diverse.
If you're brave enough to step up to the mic, you're already doing great, but with so many good karaoke songs to pick from, making the right choice on what to sing could make or break the night.