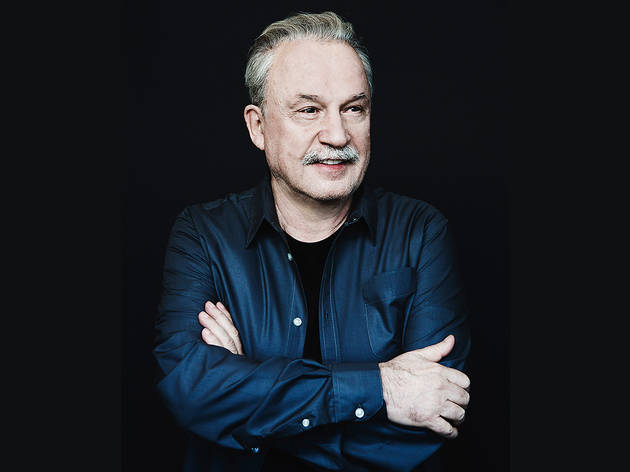 Disco pioneer Giorgio Moroder is back with a new album and an old mustache
After a 24-year hiatus, the legendary producer talks DJing with Idris Elba, David Bowie and where his mustache goes
His name is Giovanni Giorgio, but everbody calls him Giorgio—or so begins Daft Punk's spoken-word tribute track to the man, "Giorgio By Moroder," from the duo's Grammy-winning 2013 album, Random Access Memories. Moroder originally started as a pop singer—a 1969 performance on French TV of his first hit "Looky Looky" must be seen to be believed, sartorially speaking. He soon turned to producing, and pioneered new uses of the synthesizer, giving the nascent disco genre a nut-to-bolts facelift. He's responsible for Donna Summer's genre-definining tunes ("I Feel Love," "Love to Love You Baby," countless others) and massive hits for Blondie, Kylie Minogue, and Berlin, as well as soundtracking films like Scarface, Top Gun, Flashdance and Midnight Express, winning three Academy Awards for his effort. Halfway to an EGOT, Moroder easily falls into the oft-overused category of "living legend" and last year released Déjà Vu, his first studio album in 24 years. We spoke with him on the phone from Los Angeles in advance of his second-ever NYC DJ set at Output.

Why did it take you 30 years to try deejaying for the first time?
Well, I had offers, but I never thought of doing it. But then by coincidence, I did it at a presentation for Louis Vuitton. I just played three of my songs—which was not really deejaying—but it was so intriguing that when Red Bull Music Academy invited me to New York to deejay a show a few years back, I said, "I have to try it out."

I was thinking for this next New York gig you might wear your outfit from the French "Looky Looky" performance. Man, I love that tie.
Ugh, I don't think so. It was so bad! But that was 1969. I don't know who found the video, but I've watched it a few times and…well, it's embarrassing but, those were the times!

There's been a lot of talk this year about this year's Oscars being "too white." You've won three yourself, but for some reason nobody's talking about the lack of mustachioed performers. Will you be boycotting as well?
I was thinking about that whole problem. I think it's a little unfair to say that all the 6,000 voters are not voting for any black people. The thing is I cannot even vote for any of the big ones. For example, I did not have a chance to vote for a guy who I love, like Idris Elba. I just did a DJ gig in Switzerland with him. He's a great actor and a great DJ and I loved the movie, but I couldn't vote for him because I'm not an actor. So you can only blame me for the composers.

You definitely had one of the most iconic mustaches in music. The 1970s was basically just you and Burt Reynolds running shit. Was there a reason you shaved it for your DJ gig in 2013 but then brought it back for the new album?
I was getting tired of it. I think it was the early '90s that I first got rid of it, so for like 20 years, I didn't have one. But then my wife said, "Wow, look, you look so iconic in these pictures from the '70s and '80s; why not bring it back?" I decided that I would retire when the mustache doesn't grow anymore.

I think you're safe. You guys have been together for so long now, you must have a name for him…
No. But, actually that's a good idea to name it.

I also have a mustache and his name is "The Captain."
"The Captain??" Why? Is he directing your life?

He does direct my life! He leads, I just follow. He also gets way more compliments than I do.
But he's always with you, right?

Well…as far as I know he is. But he could be out partying at night when I'm home fast asleep, I don't really know his life. There's no way to know what the mustaches are doing when we're not looking. It's like Toy Story or something.
So you sleep and he just goes and goes…

You had no idea we'd be talking this much about facial hair, did you? Time Out New York is actually not a hair or mustache publication, these are just my personal inquiries, while I have you here.
Oh okay, good.

You've done so much soundtrack work. Are there any films you've seen and thought, "I would have loved to do the soundtrack for that?"
I actually just started on one two days ago! I'm doing it with a friend of mine, Raney Shockne. It's for a great TV series called Queen of the South which is a little bit of a Scarface-type story about this Mexican lady who becomes a big drug dealer. And it's funny because [Kate del Castillo], who was involved with this El Chapo interview, was the actress in the original Mexican version years ago. But a movie like Drive I would have loved to do. Or that Swedish tattoo girl movie would have also been nice.

You also collaborated with David Bowie on the music for the film Cat People.
It was such a great collaboration. We did the recording in 1982 in Switzerland, where he lived at the time. He loved the demo and sang it in a matter of two or three takes and it was done. In fact, he actually called me up many years before that, looking to book time at Hansa Studios in Munich, but it was all booked. So I said, "But there's this other studio in Berlin, which is a beautiful city!" And so that's where he and Brian Eno went and they did their three albums there [the Berlin Trilogy] and although I'm not a big nightlife person, Berlin was so incredible. It was open 24 hours; it really was kind of a frontier mentality.

So you actually helped shape the "Berlin Trilogy!" That's amazing. You also did the music for the Tron: Legacy videogame, which is interesting since your collaborators Daft Punk did the music for the film.
Yeah that movie took a lot of energy out of them. It was a long, long process. The music for a game is much easier so it would almost have been a waste of talent for them. But they're probably extremely busy thinking of whatever to do in the future.

Like, taking over the world. Were you surprised when you went into the studio with them and they basically just wanted you to tell them your life story and then put music behind it later?
Yes, the fact that they just wanted me to talk that was a total surprise. It's not like I'm anxious. I like to work 8 hours in a studio but it was a nice little relief that it only took about two hours, exactly like I'm talking to you now and then they did the rest. It was a great job.

Maybe I'll turn this into a Grammy winning song after we hang up.
You're welcome to and if it's good I'm going to endorse it.

Don't worry though, we'll split the profits 60-40 me.
Ha, okay, no problem.

So many people have sampled and covered your music over the years. Do you have any favorites?
You know what? I never listen. First of all, most of the sound is so well manipulated that you can barely hear it. For example, Kanye West had this song called "Mercy" and he only took the chords from Scarface. I read about it somewhere so I listened and he used them in a way that was quite interesting how. But usually no, I don't listen.

Thank you so much for your time. I really appreciate, sir. It was a pleasure speaking with you.
Sure, no problem. And when I see you at the show I will have a name for my mustache!

Perfect. I'll alert "The Captain" and hopefully he can join us.
Giorgio Moroder plays Output Wednesday, February 10, at 10pm.