Elton John releases a new album with old cohort Bernie Taupin
The songwriting process remains the same for a softer Elton John, playing New York concert at Madison Square Garden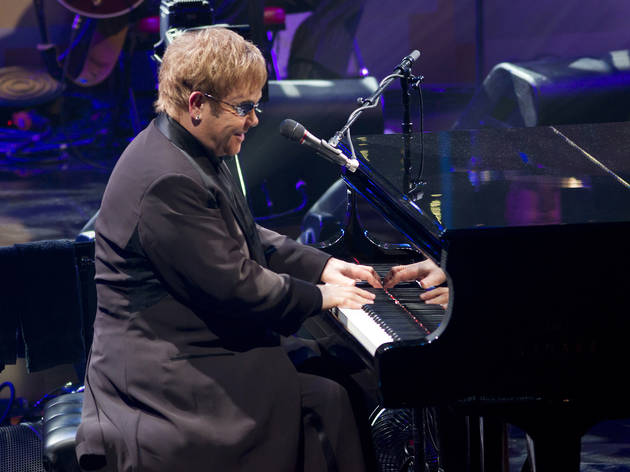 An artist's way of writing is mysterious at the best of times, as individual as the musician who's creating the song, and often featuring a fair amount of ritual and superstition. One thinks of such rock veterans as Phil Collins making intuitive sounds over his music (why else d'you think the song's called "Sussudio"?), or Paul McCartney noodling around with a line like "Scrambled eggs" (which became "Yesterday").
One of pop's most enduring and deliciously intriguing partnerships is that of Elton John and Bernie Taupin. Yes, we know they've been knocking out hits for more than 40 years, and have sold upwards of 250 million records. But did you know that Taupin writes the lyrics first—these days from his West Coast horse ranch—and then sends them to John, who gets an instant feel for the song, somehow, and usually finds its tune in under an hour? A recent New York Times article revealed that even when the pair were whippersnappers sharing a London flat, the process was the same: Taupin in one room scribbling poems, John manifesting a melody on a piano in another.
It's a fascinating thought to ponder while listening to John's new album, The Diving Board—by his own admission, his most adult album, awash in warm, honest production from T-Bone Burnett and some of John and Taupin's most melancholy, reflective songs to date.
The album cover shows a young man peering cautiously at the ocean over the edge of a diving board: a reflection of the trepidation about getting older found on the record. And it's this sense of cautious exploration that infuses the album's songs and makes them buzz with something new—even after all these years. Does this mean fewer sequins onstage? Probably. But it'll likely keep your heart's coals glowing long after the lights come back up.
Follow Sophie Harris on Twitter: @SophieMeve
Buy The Diving Board on iTunes