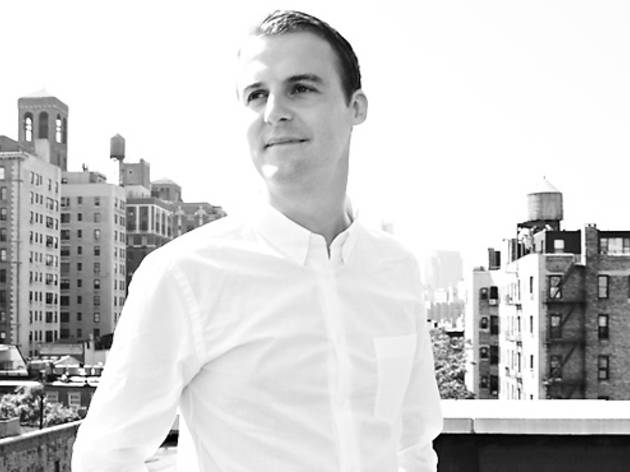 Extreme-poverty warrior Hugh Evans brings the rock to Central Park
The Global Poverty Project founder talks about this weekend's Global Citizen free-concert extravaganza
At a time when most young people are concerned about grades, acne and learning how to drive, Hugh Evans was leaving his comfortable Australian home to spend a year fighting extreme poverty in the Indian Himalayas. A co-founder of the Global Poverty Project, a globe-spanning concern, Evans was a mover behind Make Poverty History, a groundbreaking 2006 concert in Melbourne. Now, he's planting a flag in Central Park with Global Citizen Festival 2012—a festive free concert featuring Neil Young, Foo Fighters, the Black Keys, Band of Horses and K'naan, meant to stir audience activism—on Saturday. We spoke with Evans recently about his path to Central Park.
What initially set you on your philanthropic path?
It started at the age of 14, when I was in school in Australia and a lady came and spoke at our school about issues of global poverty. She was so passionate in the way she spoke that I immediately put up my hand. The following year I applied for a scholarship to go and study in the Himalayan Mountains of India, and I was given the scholarship. So at the age of 15, I trudged off to India for a year by myself as part of a school scholarship, and lived in the Himalayan Mountains of India at a school called Woodstock School in Mussoorie. Every weekend we would come down and work either at the children's orphanage down in Dehradun, in Northern India, or we would go to Delhi and work in the disabled children's school.
These experiences throughout the year shaped my worldview immensely, in that I came to the realization that two-thirds of the world don't live as we live. Two-thirds of the world live in poverty and 1.4 billion people on this planet live in extreme poverty. And that's the sort of poverty we want to see if we can end within our lifetime.
The notion of tackling global extreme poverty seems so huge as to be difficult to conceive on a personal scale. How do you even begin to conceptualize the steps you'd have to take to end it?
Well, I think you've got to break it down into its component parts. We're talking about food security. We're talking about education. We're talking about access to basic healthcare, like the kind of life-saving immunization that will keep a child alive. We're talking about access to clean drinking water and sanitation. And we're talking about access to basic micro-finance and job creation. It's not like we were hoping that every person would have a plasma television; we're hoping that we can assure that a child has a 30-cent immunization and survives. It's very elemental when you're talking about the extreme poor. We're not talking about all types of poverty, because the notion itself is relative' we're talking about those that literally would die for lack of a 30-cent immunization.
So when you think about the kinds of interventions we're talking about through the Global Citizen Festival, we're thinking about how can we work through our partners at the Bill and Linda Gates Foundation and at the World Health Organization, to make significant announcements around the eradication of polio, which still cripples children in Northern Nigeria today. What can we do to insure significant announcements are made around food security in the Sahel and Latin America? What can we do to insure that there are primary-education opportunities for children in fragile states, which are the regions most likely to not have access to primary education? These are the sorts of commitments we're working on at the moment, that we want to see announced at the Global Citizen Festival, and these are the sort of elementary aspects of global poverty that help an individual to break it down.
When I started my journey, I read that quote by Nelson Mandela: "Education is the most powerful weapon which you can use to change the world." So when I was younger, I started a charity, the Oaktree Foundation, which was Australia's first youth-run organization, and what we did was we built schools. We built schools, we trained teachers, we ran HIV/AIDS programs and ultimately we educated about 40 thousand young people in six countries around the world, because we ended up raising many millions of dollars for those programs. But it wasn't until about that age, around the time of the Make Poverty History concert, that I had a bit of an epiphany. And the epiphany went like this: I said to myself, Yeah, I can keep raising money—that's great. But that money will ultimately be a bit of a drop in the ocean for the 1.4 billion people on this planet who live in extreme poverty. So we thought to ourselves, well, how can we get everyone involved to build a movement, and then how could that movement influence governments and world leaders to take the sort of actions necessary to end extreme poverty? That was really why we focus our work the way that we do.
With Make Poverty History in Melbourne in 2006, was that still the traditional model of a fund-raising event? Or had you already turned the corner toward a sort of activism-raising notion?
That was the year we turned the corner. The goal for Make Poverty History was not to raise money; we wanted people's voices. And it was hugely successful, because we managed to convince the Australian government to double foreign aid. I'm not going to claim sole credit for that; that was a team effort. Literally we had a million Australians wearing the Make Poverty History white armband, so we had one twentieth of our entire population behind the campaign. And they were all calling on the government, so the government couldn't possibly ignore it. So when Kevin Rudd was elected in 2007 as prime minister, he stood onstage at our event at the Sydney Opera House, where we projected the words "Make Poverty History" onto the Sydney Opera House, and he announced, "I'm going to double foreign aid." That's an additional 4.3 billion dollars for the world's poorest people. That was the power of Make Poverty History as a coalition, that it had every major organization from OXFAM through to World Vision through to UNICEF—they were all involved. And we saw our role at the Oaktree Foundation at the time to be running the sorts of major events that could mobilize young people in the tens of thousands.
How did you come to the current model, the Global Citizen Festival? What was the route that led to the concert that will be staged in Central Park?
The route to get to this point now is that from 2007 we got a call from the United Nations in New York, who said that they wanted to help us take our work around the world. So the United Nations Millennium Foundation gave us our first-ever grant to found the Global Poverty Project back in 2008. Then the Australian government and the British government got involved, and helped us establish offices in Britain and in Australia, focused on policy changes that related to the end of extreme poverty within those respective markets. And then it was about a year and a half ago now the Bill and Melinda Gates Foundation set us a challenge to work with them on the eradication of polio, and we ran the End of Polio campaign, so if you go to theendofpolio.com you can see all about it. We ended up convincing heads of state an additional 118 million dollars for the eradication of polio, alongside the Bill and Melinda Gates Foundation.
And then that brought us to this point, because a year and a half ago, my wife and I moved to New York City, and on the day we landed, I was doing a talk up at Columbia University, and I met a young man by the name of Ryan Gall, and Ryan shared with me his dream of bringing this to America. My initial reaction was, we don't want to just run another concert—that's been done before. We have to make this revolutionary. And I think that that's why we were so excited by globalcitizen.org, because we sat down with one of our friends from (PRODUCT)RED, a guy by the name of Don MacKinnon. Don helped start up Starbucks's Hear Music and all those sorts of divisions. Don said, "Let's see if we could game-ify this," so that we could use the latest digital technologies that weren't even around in 2007 when we ran the Make Poverty History concert, so the only way that people could enter the concert was through their actions.
And that was the key, because what this does is it flips the whole idea of activism on its head. Usually you think, let's run a rally, get everyone excited. No, with the Global Citizen Festival, what's going to happen is that everyone who shows up will have already taken action. They'll have already spent lots of time considering these issues, learning about our partners. They'll have spent time donating their time on social-media activism and signing petitions. They'll have done this already, and so when they come to the concert, we see the concert is not the end point; we see the concert is a crescendo in this movement that will continue for years ahead.
Isn't it optimistic to think that people will continue that kind of activity once they've gotten the carrot at the end of the stick? Have you seen something that warrants optimism that the activism will extend past the concert, even for just a substantial percentage of the attendees?
[Chuckles] Yeah, there are two things that give me more than hope—certainty. The first one is the fact that our team, we've been analyzing all the data as to how long people have been spending on the site. And everyone who's on the site is on there, and on the page, for longer than the duration of the videos as they play. So technically they could be a slackivist and they could be "click a button, earn a point."
Did you say slackivist?
That's what they call them these days. [Laughs] But the people coming to the concert are not that—they've actually been reading and viewing all the videos and all the content on there, because all the data…we're finding that people are spending on average six or seven minutes per page. Which is extraordinary—that doesn't happen!
And then the second thing to say, and this is what's really exciting, is we have some announcements to make at the concert itself about long-term reward structures to encourage people to be involved. We're working with a range of artists—and we're going to announce this later—to actually make sure this a long-term sustainable thing by donating tickets to future shows on a mass scale, that will occur in a decentralized fashion using the power of digital technology. So we're not going to need to run necessarily this sort of big event anymore, because all the artists who are involved—I'm not talking about the specific ones that are performing on this concert, but some other major, major rock artists have agreed to donate tickets to their shows, moving forward over the years ahead.
We believe that everyone starts the journey somewhere. So you might start just because you want to go see the Black Keys cause they're awesome, right? And you might say, I want to get tickets. Then you start taking action, and we've actually had feedback already from the site; we're getting emails every single day who've said, To be honest, I went to the site because I wanted to get tickets to see the Black Keys, or to see the Foo Fighters. And then they said, When I actually started to learn more about these issues through the site, I decided that I wanted to start a fund-raiser through my school, or do a "Live Below the Line" event in my school.
Global Citizen Festival 2012 takes place on the Great Lawn, Central Park on Saturday 29.
You might also like
Forthright hip-hop troubadour K'naan waves his flag for Global Citizen Festival 2012
The Black Keys: The Ohio duo bursts some rock & roll myths