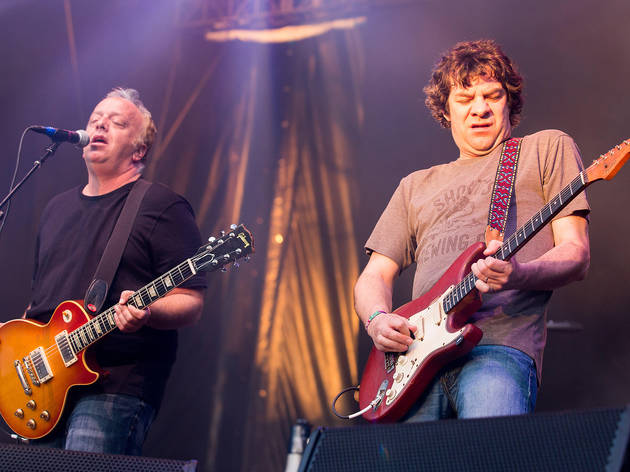 Get to know weirdo rockers Ween
Here are eight things to know about alt-rock class clowns Ween as the duo heads out on its reunion tour
When genre-deconstructing rock institution Ween crumbled in a haze of substance abuse and discord in 2012, the group left behind a not-too-shabby legacy, with nine albums that match warped pop hooks and stoner craziness with incredible musicianship. Over three decades, the New Hope, Pennsylvania, duo of Gene Ween (Aaron Freeman) and Dean Ween (Mickey Melchiondo) fed punk, hip-hop and country into the proverbial blender for a uniquely twisted take on what a rock band could be. Thankfully, time heals all wounds because Ween—Gene and Dean along with longtime members Claude Coleman Jr., Glenn McClelland and Dave Dreiwitz—is reuniting for a tour that visits Terminal 5 for what promises to be three epic concerts in NYC. For newbies, or longtime fans who've fried a few too many brain cells, here are eight things to know about the band.
Ween plays Terminal 5 Thursday, April 14, Friday, April 15 and Saturday, April 16 at 9pm.
Eight things to know about Ween
1. Ween started as a drum-machine–assisted bedroom recording project.
Gene and Dean first met in junior high school in 1984 and quickly got to work producing the zany and mangled pop of early records like 1991's The Pod. Its twisted, loose sound is what the band and its fans describe as "brown," a term with obscure origins that has come to mean pure, unpolished Ween-ness.
2. The band's mascot is a cartoon head known as the Boognish.
As the mythical tale goes, the Boognish, a demon god, first appeared to the musicians to help guide them on their musical journey. Since then, the grimacing face has become Ween's calling card; it's graced several album covers and appears on band merch, from T-shirts to hats.
3. The duo's tunes are a bit weird, but its singular musical vision did score one certifiable hit.
Thanks to major labels looking for the next Nirvana, Ween hit the big time when it inked a deal with the powerhouse Elektra imprint in '92. In an improbable turn, the group became MTV stars with the lo-fi, helium-sucking whacked funk and infectious doo-doo's of "Push th' Little Daisies."
4. Its best record, Chocolate and Cheese, arrived two years later in 1994.
The album is a perfect storm of gloriously schizophrenic ear candy, with breezy rock tunes like "Freedom of '76" alongside black-humor-drenched songs such as "Spinal Meningitis (Got Me Down)" and "The HIV Song."
5. The band has a penchant for treading brashly into dark subject matter.
If you dare to enter Ween's bizarro world, prepare to stomach its trademark politically incorrect subject matter. Don't worry, though; soon you'll be leading sing-alongs of beloved classics like "Bananas and Blow" and "You Fucked Up."
6. Strangely, the band's sole country album is one of its best.
Not only did it go all-out golden-age country on 1996's 12 Golden Country Greats, but the session musicians included grizzled vets from the Nashville scene as well as a vocal quartet famous for backing Elvis. Twangy barn burner "Piss Up a Rope" is worth the price of admission alone.
7. Actually, Ween's whole catalog deserves your time.
On later records, Ween polished its sound without losing its quirky edge. In other words, there isn't a clunker in the bunch. Expect the band to dip into beloved cuts from The Mollusk and Quebec at Terminal 5.
8. After the duo disbanded, its members didn't stop putting out great music.
Tunesmith Freeman served up two solid solo records and fronted his Billy Joel tribute band (no joke), while guitar god Melchiondo revived his scuzzy punk outfit Moistboyz and formed the Dean Ween Group, which is dropping its debut LP soon. Still, as recent reunion shows have proven, there's only one Ween.
Listen to "Push th' Little Daisies"