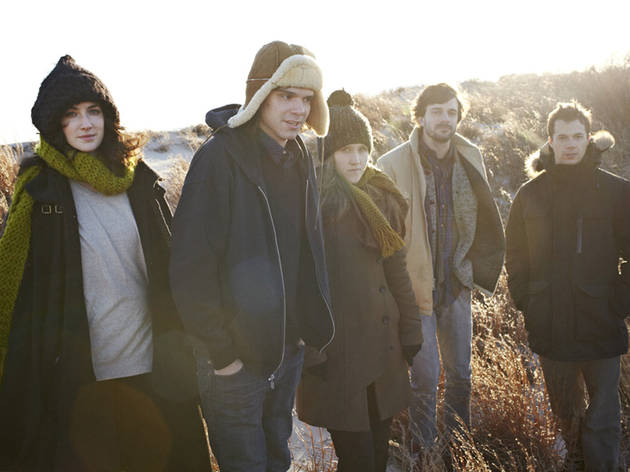 Interview: Dirty Projectors
Dave Longstreth's arty indie-rock band swings for the fences.
Ever since Justin Vernon holed up in a Wisconsin cabin to compose his Bon Iver debut, For Emma, Forever Ago, it's become something of a running gag to write about musicians and their rural songwriting shacks. Yes, it's true that Dirty Projectors frontman Dave Longstreth retreated to an upstate New York house to write and record his band's fifth record, Swing Lo Magellan. Even so, it's the songwriter's most extroverted collection yet.
Formed in 2002 as a vehicle for Longstreth's home-recorded compositions, Dirty Projectors has been something of an enigma, with albums set within conceptual frameworks (2007's Black Flag–reimagining Rise Above) and loaded with dissonant vocal harmonies and crashing polyrhythms. The group, which settled into a six-piece featuring three female vocalists, broke out in 2009 with the ambitious, catchy-as-hell Bitte Orca (and its unlikely diva-ish single "Stillness Is the Move"). Compared with that album's busy sound, Swing Lo seems like a vast landscape: expansive, mystical and heady.
But Longstreth is hesitant to ascribe too much of the direction to the bucolic setting: The reason for escaping Brooklyn was more practical than anything else. "The cool thing about [working upstate] is you can just get into your own head—it can be distracting to write weird, introverted music in the density of New York," says Longstreth, answering questions while simultaneously directing a cab from a midtown radio interview to the band's Williamsburg practice space. "You don't write songs, really, when you're on tour. And then you sit down and the songs are popping out with these new vibes that you didn't even know were going to be there."
Those vibes pick up some of the band's previous threads, like its fondness for West African–inspired guitar licks ("Just from Chevron") and thumping bass ("The Socialites"), but also explore new areas: strummed guitars, studio chatter ("When should we bust into harmony?" someone asks midway through "Unto Caesar"), percussion that sounds like Ping-Pong balls ("See What She Seeing") and a focus on pure melodies. Throughout, there's a sense of freedom, as if a weight has been lifted from Longstreth's concept-heavy head.
He's also introduced new musicians into the mix. Drummer Brian McOmber, whose hard-hitting sound defined the band's last two albums and live show, and vocalist Angel Deradoorian have both taken their leave from the band (though not before McOmber played on the record). Instead, the Projectors will be joined live by a to-be-announced third female singer and drummer Mike Johnson, formerly of Glass Ghost. Of the lineup change, Longstreth says, "Mike is sort of the drummer that's happening in my mind. He's super-bouncy, and just a great groove-and-feel player."
If the sound has evolved away from one concept, Longstreth's busy mind has found other ways to plug in his grand ideas: A deluxe version of Swing Lo Magellan comes with a vinyl single etched with cuneiform lyrics. The frontman has branched out in nonmusical ways, too, directing a short film, "Hi Custodian," in which band members play esoteric characters including a yokai, or Japanese ghost, "a searching character" and girls from the English Midlands.
"We filmed it out in Cali in April, and it ties together a number of songs from the album." says Longstreth. "[The fact that] Swing Lo Magellan is not a concept album really allowed me a certain kind of openness in making up new stories and visuals that go with these songs."
Swing Lo Magellan is out July 10 on Domino. Dirty Projectors play Music Hall of Williamsburg July 9 and Celebrate Brooklyn! (at the Prospect Park Bandshell) July 10.
Follow Andrew Frisicano on Twitter: @apfpower
Buy Swing Lo Magellan on iTunes