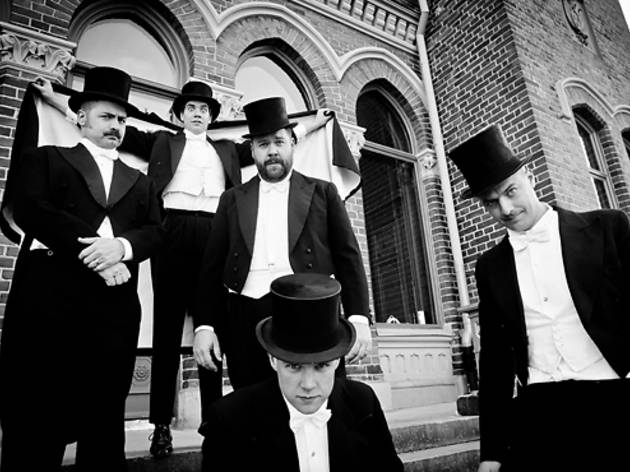 Interview - Howlin' Pelle Almqvist of the Hives
The boisterous Swedish rock star sounds off on his band's new LP and other entertaining matters.
Following a five-year gap since their last record, Swedish garage-rock band the Hives is reignited—top hats, tuxedoes, tails and all. The group just released a self-produced album, Lex Hives, released on its new label, Disques Hives. The album is everything that 2007 R&B-tinged, Neptunes-produced The Black and White Album was not: an energetic, straight-up, unrelenting slab of raucous rock. Calling from the Rock Am Ring festival in Germany, singer Howlin' Pelle Almqvist chatted with TONY about the new release, life on the road and all-around Hive-dom.
TONY: Let's talk about your new record, Lex Hives. I read that it took a year and a half of "thinking." What was your mindset like this time?
Howlin' Pelle Almqvist: A bit more relaxed, and maybe a little angrier. Being on your own label means that you're calling the shots on your own. We've always decided everything, but in the past there have been people trying to get us to do things, or not to do things, whereas this time it was a conscious decision: we're gonna make a record ourselves and we're not gonna talk to anyone about it. It'll just be the five of us making an album, without anyone else involved. That was the big difference. That means we were more relaxed, but also, we had a lot of bad luck and troubles between the time the last album was written and this time, which meant that we were angry. The music, in the same way as when we were teenagers, acted as that place where you release all your frustration.
TONY: What sort of bad luck?
Howlin' Pelle Almqvist: We had some problems with getting ripped off by some people and we had some bad luck with band members' families—stuff like that. There was a lot of everyday life shit going down. And sometimes that's what we needed. I think that's part of the equation as to why bands make a better debut album, or why the debut album can seem more alive. Once you break through, you don't really have anything to push against. In your everyday life, you don't really have something to rebel against, which means that it can be harder to feel passionate about the music. We really had a lot to kick back against—there was a lot of energy coming out of that.
TONY: What made you decide to produce the album yourselves, and how did that go?
Howlin' Pelle Almqvist: We had finished our deal with Interscope. They paid us a lot of money at a time when the band sold a lot of records. We were only signed for two albums and we'd done those two albums. There was an option for them to release a third one, but they would have had to pay the same money as when you signed a band in 2002, and the record industry being 80 percent of what it was in 2002, I guess it didn't really make sense. So we basically didn't have a deal, but we wanted to make an album; we didn't want to shop around for a record label and wait to make the album. By the time we were talking to record companies, we had made the entire thing, it existed, so we just figured, let's put it out ourselves. TONY: How did it go, producing it with five people? Did you have arguments when you disagreed? It sounds like a lot of hands in one pot. Howlin' Pelle Almqvist: Yeah, it is. That was what was fun: the challenge of doing it that way. We had a pretty clear vision of what we wanted to do, and we knew how to do it. We were really trying to make a new debut album. We spent a lot of time honing the songs but very little time in the studio. At the end of the day we all have to feel involved and have a strong feeling that we like the song and that the song has something that our other songs don't. It needs to feel like a new song.
TONY: A five-year wait preceded the release of Lex Hives. Is a there any added pressure that comes with returning after such a long wait?
Howlin' Pelle Almqvist: It builds up. We toured The Black and White Album for a really long time—two or three years. It was the only thing we could do to keep alive. Then we had that bad luck that I mentioned, about six months of bad luck and sorting it our management, things like that. It was easily almost two years of actually making an album. So it was sort of like we made an album and a half—we still have a lot of good songs that didn't make it on this one. I guess that means we're hoping the next one's not in another five years, but it's really dangerous to talk about that. Maybe I'll be talking to you in 2016.
TONY: How does it feel to you that most of the bands you're associated with like the White Stripes and the Strokes have either stopped playing or are now playing something else?
Howlin' Pelle Almqvist: We were there several years before those bands. We were there before, we'll be there after them and we'll be around forever.
TONY: You guys have been playing together since you were 14 years old. That's a long time. What do you when you're not being a Hive?
Howlin' Pelle Almqvist: Well, I'm pretty much always a Hive. It's what I think about most of the time. Most of my life is usually to do with music. I listen to music, I play music, I'm thinking about music.
TONY: There are a lot of references to the past in your songs: old-school blues and rock & roll, and of course the way you dress, which belongs to an entertaining style that has mostly been left behind. Are you a nostalgic person?
Howlin' Pelle Almqvist: No, not at all. It's hard to be nostalgic about something you didn't live through. I feel like during the '50s, '40s and '30s, it was all bad hygiene and no teeth and dying at 45. I'm not that into it; I really like here and now. We don't think of ourselves as a retro band—we see ourselves as doing something classic.
TONY: You have very particular onstage showmanship—you strut, you dance, you banter with the crowd. Were you always like that or is it a style that developed over time?
Howlin' Pelle Almqvist: That was there the first show we ever did. Even before we had fans, that was happening. I always think it's sort of weird when you go to shows and between songs the band acts like you're not there. It always seems more fun when we're actually talking about the fact that it's happening, that we're actually there playing music. It feels good if you're in the crowd and you get acknowledged by the band that you're actually there, at least to me.
TONY: When you guys play, you're really putting on a show.
Howlin' Pelle Almqvist: Yeah, we are when we're on stage. We show up, we wear the outfits, we turn the amps up. It is an event, whether we like it or not. So we might as well act like it is.
TONY: Does the band travel by bus?
Howlin' Pelle Almqvist: Yeah. We like to travel by bus, because I don't like getting up, going to the airport, getting on the plane. If you're on a bus you kind of wake up where you want to go.
TONY: Is it a party bus?
Howlin' Pelle Almqvist: Sometimes. It's a lot of reading. We read a lot for a rock band I think.
TONY: What can we expect from your Terminal 5 show?
Howlin' Pelle Almqvist: You can expect an explosion of lights, sound and energy. But it won't be done with smoke and mirrors—it will all actually be happening.
TONY: So no holograms?
Howlin' Pelle Almqvist: We can't afford it. If we could, we would tour eight Hives bands at the same time.
The Hives play Terminal 5 June 22.
Follow Marley Lynch on Twitter: @marleyasinbob