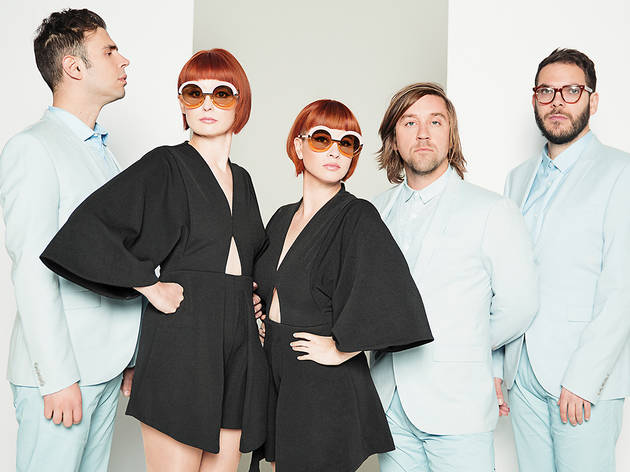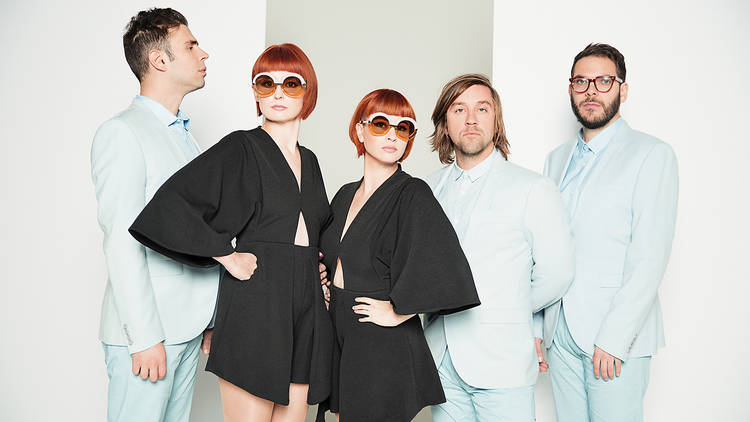 Lucius talks about life on the road, the new album and those matching outfits
Jess Wolfe and Holly Laessig, lead singers of indie-pop outfit Lucius, open up about their new record, Good Grief
Five-piece band Lucius is about to embark on a world tour to showcase its second album, Good Grief, which, not coincidentally, is all about being on tour. Lead singers Jess Wolfe and Holly Laessig spent two years on the road performing their indie-pop debut, Wildewoman, a triumph of sad ballads and folksy tributes to womanhood. After a year spent recording in L.A.'s perpetual sunshine, the former Brooklynites are back with a more upbeat sound, anchored by the same dynamic harmonies. Last summer, the group headlined a big free Celebrate Brooklyn! gig at Prospect Park; they return to NYC for a pair of sold-out shows. Wolfe and Laessig spoke with us about those matching outfits and the band's evolving sound.

Are you ready for the touring lifestyle to start up again?
Jess Wolfe: I've purposefully not thought about it. If it's hard, at least we're prepared for that possibility now. There were so many wonderful parts: It was the first time we got to travel the world and play our music and play festivals and do all these things we dreamed of—but a lot happened that people don't talk about. The hour and a half you're onstage is the reason why you keep going.
Holly Laessig: All those songs [on Good Grief] come from the two years we were touring.
JW: That's what we were living, so that's what we have to write about.

How has your sound grown on your sophomore album?
JW: [We wanted] something as alive as our live show. I think [with] the last album, we were just younger and hadn't had some of that experience. This record's more pop but also a lot darker.

You met at the Berklee College of Music before moving to Brooklyn. How does your friendship shape your creative process?
JW: When we first met, we connected through our similar musical tastes and recognized that we had different strengths that would come together to form one more-powerful unit. But as the years have gone by, we've developed a really strong and beautiful friendship. And the way we're able to connect while we're songwriting and speak on behalf of the other—it's like coffee talk. We've shared so many experiences so we can relate on such a deeper level now. There's never a moment when we feel uncomfortable making a fool of ourselves because we've developed that kind of trust, as musical collaborators and friends.
HL: We do make fools of ourselves.
JW: Oh, yeah. We have so much dirt on each other. [Laughs]

You wear the same outfits at your shows, which you've described as "dressing the sound." What does that mean?
HL: We are visually representing the unifying sound; the two voices, even though they're very different, are together like this third voice, and the five of us together become a machine. We play with symmetry because we play with that in the music. It's an instant representation of that.

You even sing into a single figure-eight microphone.
JW: When you look exactly alike, it's like a mirror image. If I'm squinting my eyes or she is, it's a trip. You feel like you're seeing yourself in somebody, and there's a closeness that's achieved in that, which you can't really put into words. It's feeling like you can transport yourself and your audience and have them feel like they're looking at you as one. I think there's something about creating this world for everybody to go to and be taken by, even for that one-and-a-half-hour show. If it alleviates some pain for our audience, there's magic in that. I think we are drawn to magical experiences.

Lucius plays Music Hall of Williamsburg Thursday, March 31, at 9pm and Webster Hall Friday, April 1, at 8pm.
Listen to "Something About You"