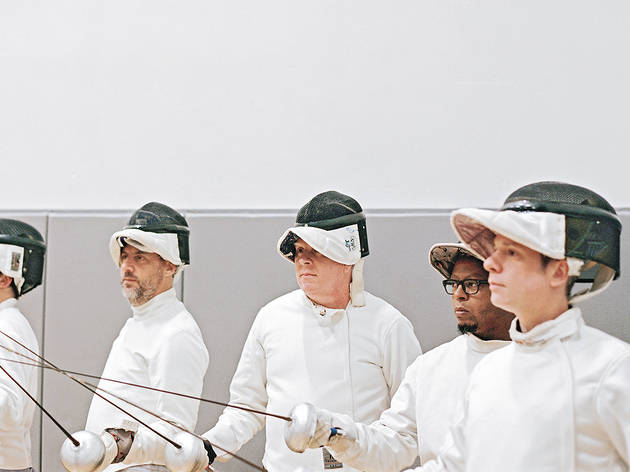 Post-rock titans Tortoise come out of their shell
Tortoise guitarist Jeff Parker talks about smoking up, singing out and teaching an old band new tricks
After a quarter century, instrumental quintet Tortoise is still frying minds with its deconstructions of jazz, dubstep, rock and prog. Earlier this year, the post-rock titans returned with their seventh set, The Catastrophist, a hypnotic, synthesizer-wired postjazz sprawl, swirling with catchy hooks and bass-booming grooves, that is unmistakably Tortoise.

While its reputation reflects that of clean-cut, no-nonsense music nerds, it turns out the Chicago ensemble has a few tricks up its sleeve, with the new record featuring vocals for the very first time on a cover of David Essex's "Rock On." We talked to guitarist Jeff Parker as the band prepares to air those new songs at two concerts in NYC this week.

First off, you weren't an original member of Tortoise. When did you actually join the band?
I was living with them when the first Tortoise album came out. We all shared a loft space in Chicago. It was me, Johnny Herndon, John McEntire and Doug McCombs. I was kind of already in the band because whenever they played in Chicago, I would play with them and I toured with them for Millions Now Living. They asked me to join the band on New Year's Day in 1997.

Did Tortoise blow you away sound-wise?
It blew me away in a way. I was more confounded; I had never heard anything like it. I thought it was very unique and I wasn't quite sure what to make of it. It was kind of like Slint but with no guitars.

Let's talk The Catastrophist. Why did it take seven years to drop a new record?
We toured off Beacon[s of Ancestorship] for a solid four years. The Sea & Cake did two records in between that and whenever that happens John is kind of out of Tortoise commission. The process for us takes some time, too, so that's a factor as well.

Are you perfectionists in the studio? Do you labor over, say, one song?
Somewhat. We're not so much perfectionists in terms of the performance and stuff. Our process is very experimental. It involves a lot of trial and error and trying things in many different ways before we settle on something that's finished.

What's the reason behind naming the record The Catastrophist?
There's a book that [drummer] Johnny [Herndon] read called The Catastrophist. The title is pretty cynical and timely. You can tie it to these crazy times a we live in. Consciously, there was nothing to us calling the record that other than it being compelling.

Tortoise seems to have tons of gear onstage. I assume touring in a van isn't enough.
We'll be on a tour bus full with a trailer full of equipment. Yeah. Truckin.' [Laughs]

Is there a lot to schlep?
It's not as much as it seems. Obviously, it's more than the four-piece traditional rock band. But we've pared it down to something that's functional. When we first starting touring, that's when it was really ridiculous. Once the technology caught up, we were able to sample stuff and just take laptops and hard drives.

Is there music blasting on the Tortoise tour bus?
Not so much now, but there was in the past. The last tour where I remember listening to music together was in 2004, and the big record that we were bumpin' was The College Dropout, Kanye's first record [Laughs]. That record is awesome, man. That's a hip-hop classic.

Your "Rock On" cover is such a radical departure. There's singing on a Tortoise record!
Weirdly, John [McEntire] and Doug [McCombs], completely unrelated, both had the idea to do that song. Maybe they were both listening to the classic rock radio station in their cars at the same time or something. [Laughs]

I read an interview with Herndon in which he said the two were smoking bongs in the studio when they came up with the idea.
[Laughs] He was just fuckin' around. To set the record straight, it was a joke. Doug and John, they're not weed smokers, but there are some other cats…

The perception of Tortoise as serious dudes is out the window. You guys are lighting up!
We definitely don't take ourselves that seriously. We're a bunch of jokers. It's the music, man—we're serious about that. But we definitely have fun with it. There are cats in the band who pull some bongs out every once in awhile. Stoners love Tortoise. I do know that! [Laughs]

Tortoise plays Le Poisson Rouge Wednesday, March 16, and Littlefield Thursday, March 17, at 8pm.
Listen to "Yonder Blue"