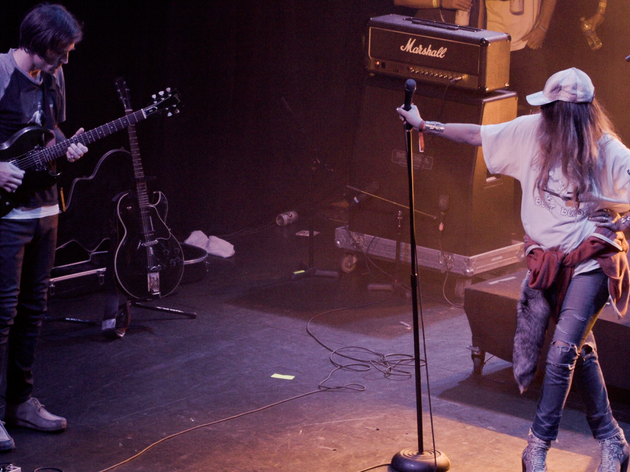 Reunited scuzz rock duo royal trux cashes in
After a decade apart, Royal Trux is back together and, as long as the money's good, doesn't show signs of slowing
New York City has seen its share of legendary art-rock power couples—Sonic Youth's Thurston Moore and Kim Gordon, Yo La Tengo's Ira Kaplan and Georgia Hubley—but none quite like guitarist Neil Hagerty and singer Jennifer Herrema, the wasted architects of vomit-blues band Royal Trux.
From 1988 until the early '00s, Royal Trux was as crucial as fellow indie-rock pioneers Pavement and Sebadoh, recording trailblazing records for independent Chicago label Drag City before cashing in on the post-Nirvana splurge by signing to Virgin Records. The group's output can be sliced into two underground-rock-defining halves: its early years laying down bedroom-fi, junkie-assed sonic fuckery and the latter years crystallizing its Stones-damaged, arena-ready boogie-rawk. Ultimately, substance abuse doomed both band and relationship, leaving the duo barely on speaking terms for more than a dozen years.
That is, until a festival slot in Herrema's backyard (literally, she walked to the gig) presented itself. Hagerty and Herrema admit to having so much fun at August's Berserktown II festival in Santa Ana, California, that they decided to bring their unthinkable reunion to the place where it all started: New York City. As they tell it, the paycheck ain't too bad, either.
Rumor had it that the West Coast gig would be a one-off. How did it come about that you'd play in NYC?
Hagerty: Well, it's New York—that's everything to me still.
Herrema: We started in New York City and that is like the home of the band. It's not our home but we kind of laid down our foundation and philosophy in New York City. So when we were offered this show [at Webster Hall]—for good money—we were like "Yeah, we should do New York."
Some accused Pavement of reuniting solely to cash in. Is Royal Trux's reunion about the payday? Nostalgia? What gives?
Hagerty: Yeah, the money was prime. It wouldn't have happened without a certain price tag. The money had to balance out how much I didn't want to do it. But once it was on it had to be good. We are lucky we weren't really beloved the way Pavement or a lot of others were; we weren't really that big. So there isn't much to support in the way of nostalgia for the era, just the music and songs the way they've sort of saturated over the years since we broke up. It's pretty cool—just gotta go out and play the tunes right.
Herrema: We've been offered really good money before but when the Berserktown thing came up—honestly, it was one of those bizarre moments where everything was perfect, the nature of it and us headlining that type of crazy and inclusive festival was perfect. Once we'd done that, we got this offer from New York. It's good money; it's not Berserktown money. But we had such a good time that when we got the offer from New York it was like "We should definitely do that."
After seeing so many bands from the Royal Trux era reunite, did getting back together occur to you?
Herrema: Nah, I never really even thought about it. We'd been offered festivals and money before but it was just kind of like we hadn't even talked, and I didn't know even where Neil lives. It never really crossed my mind that it would actually happen. But then it was almost like it had to happen because the planets aligned and it was just perfect. Very strange.
Let's talk the early days. Where in NYC did you set up shop?
Hagerty: We were there 'til about 1990. We lived on the Lower East Side, midtown, Williamsburg, Greenpoint, Clinton Street and even Soho. I thought I'd gotten to the city too late although I saw Pharoah Sanders, Suicide, The Feelies, John Cale and Bo Diddley play.
Herrema: I lived at the YMCA for a long time and we were on 13th between B and C when the [first] record came out, in a basement that was like one room. It was so assed-out that there was dirt coming through the concrete [Laughing]. I also remember this old building by Tompkins Square. I think it was an abandoned old church or school. We had a key to it because of Jemeel Moondoc, this guy who's a jazz performer. Jemeel was our bro and he had keys to this big, old building. He gave us a set and we could go in and do whatever we wanted. That's kinda where it started.
What about memorable shows from way back when?
Hagerty: We played at the Limelight in a little chillout corner and in a bar across from where Blues Traveler would play. We'd get the close-out slot at CBGB, after the headliner, where they put the worst bands. We did open mic at the Bitter End, basement parties at "Alchemy Magick" joints where they had the Tree of Life painted on the floor, a thing out in Brooklyn that the Black Rock Coalition was running and we played up at Vassar once.
Herrema: I do remember one show. Neil had disappeared and I couldn't find him. I was down by the park and didn't have money for a cab and I certainly didn't have a car. I had this shitty little amplifier—I was playing guitar at the time. I put the amp on my skateboard, tied some string and dragged it all the way to CBGB. I thought Neil would show but he didn't. I did it by myself, a solo show. I played songs from the first record, which is where they kind of came from: me scratching out things in real time. He showed up right at the end. He did it on purpose, I know. I didn't want to play guitar but he was like "You should." He was trying to teach me something. He taught me a lot for sure.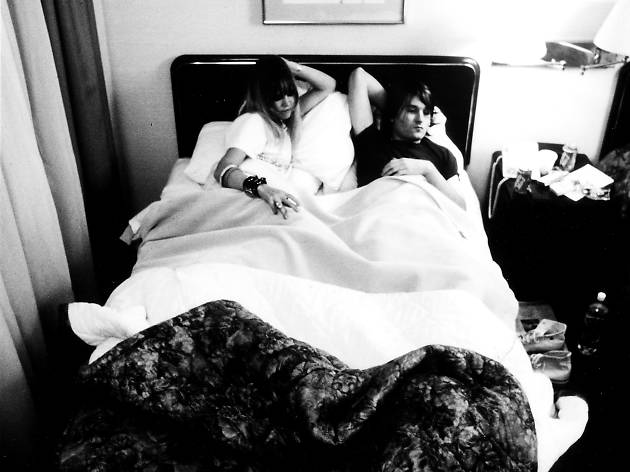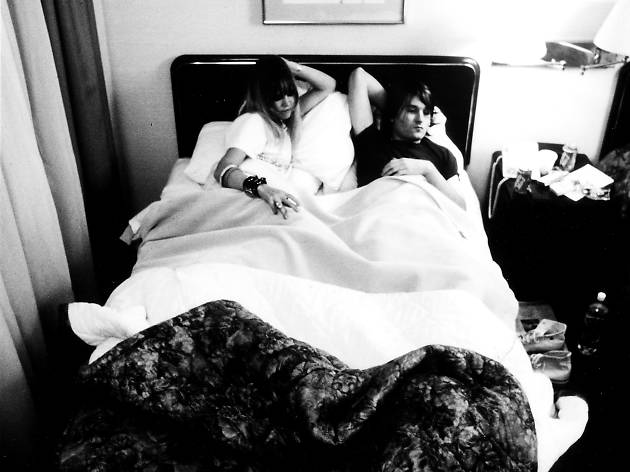 Photograph: Patsy Desmond

What was the vibe like leading up to the first reunion show?
Herrema: I hadn't seen or talked to Neil for like twelve or thirteen years. We met at my studio in Costa Mesa and he walked in the door, and it was as if no time had passed. He looked the same, everything was the same. It was pretty bizarre—everything in the way that we work together was the same, and of course we argued [Laughing], made up and organized.
What was that first rehearsal like?
Herrema: With Royal Trux we had played with so many different musicians over the years. I picked Brian [McKinley, Black Bananas bassist] and Neil picked Tim [Barnes, drummer]. I knew Tim but I'd never worked with him or really met him. It was just one of those old school rehearsals where there's strangers in the room and Neil and I went back to the exact same dynamic. It was perfect. Everything about it was just like before. It was good vibes. It wasn't weird, it was almost just like we were rehearsing again as if we had just been doing it the week before. It was kinda bizarre like that.
How much practice for the reunion show did you actually do?
Herrema: We only rehearsed for a day and the same thing is going to happen [for the show] in New York. We might get a few hours of rehearsal in but that's it. It was just fun. We've never been that way so it was easy to continue on that path of what will be will be, just try to enjoy ourselves and actually listen to each other in real time and see what goes on.
Were there jitters that first time you and Neil got together after barely having any contact for so many years?
Herrema: Nah, I wasn't nervous at all. I'd known Neil like the back of my fuckin' hand. Then again, a lot of time goes by but I knew he wasn't gonna be a different guy. He's just gonna be Neil. And I was right. The same could be said for myself. Yeah, there was no real stress; it just all fell into place pretty naturally. There's a chemistry there that doesn't exist with anybody. There's a similarity and then there's a yin and yang thing. It's interesting and it's always been that way.
Neil, what was going through your mind onstage at Berserktown, playing songs you haven't played in forever?
Hagerty: Nothing really was going through my mind—just trying to play the songs right and not fuck up. It was cool because all we had to do was play the songs good. Nothing to prove anymore.
Were you just going through the motions or did revisiting those old Trux tunes and playing with Jennifer again make you feel nostalgic?
Hagerty: No, because now everything belongs to the listener. All we had to do was respect the tunes and play them, be present. It was all good.
How did you decide on the set list for the Berserktown gig and the one coming up in NYC? That set list was pretty across the board culling from the Trux career arc.
Hagerty: We tried to get every era in there, a couple songs per album. I made a list and Jennifer made a list and we started with the songs that were on both lists and then negotiated further additions. Some things got dropped and added. For the NYC show it's a different set, a couple things we didn't do last time.
Which tunes do you want to play this time around?
Herrema: "Platinum Tips"—we definitely have to play that. That song is so fuckin' good. That's a definite. I wanted to do "Pol Pot Pie" but I don't know if we're going to be able to that one.
What comes next for Royal Trux after the Webster Hall show?
Herrema: That's the whole thing: because the show we did [at Berserktown] was so much fun, so easy and so natural, we are going to play Levitation [in Austin] next year.
So the reunion continues.
Herrema: When things come up. It's a case by case basis, for sure.
Finally, how does it feel that people are still so stoked on Royal Trux?
Herrema: It's cool. It makes me feel great that people have understood the influence, stayed the course and are not opposed to recognizing because I do feel like we've done a lot for music. But that doesn't necessarily mean that people are gonna give a shit. So I do feel really lucky that people are cognizant, do give shit and do recognize.
Royal Trux plays Webster Hall Saturday, December 19 at 8pm; $25.