Summer concert survival guide
A music writer's tips on getting through the season.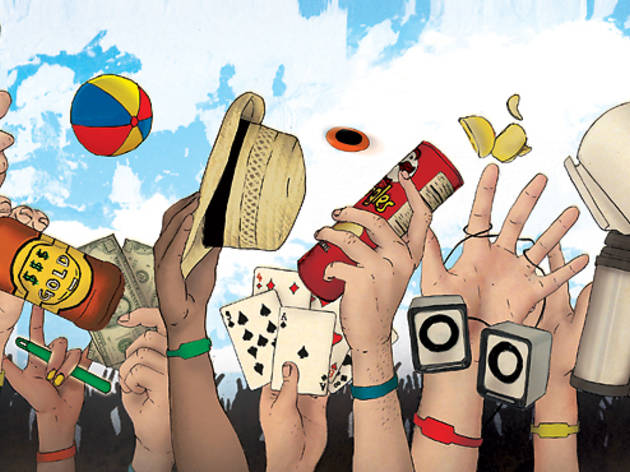 Summer brings with it a surge of sunny, musical revelry. But before you start conjuring up images of carefree frolicking to buzz bands and big names, be prepared: Following a few tips can mean the difference between triumph and dashed hopes during this jam-packed time of the year.
RECOMMENDED: Full coverage of concerts in NYC
1 Balance your books
The array of choices may be tempting; be careful not to drain your bank account—don't forget that even during the summer, you're required to pay rent (one-percenters may skip to tip No. 2). For starters, make sure you balance your calendar with free shows as well as hot-ticket concerts. Also, factor unavoidable extra costs into your event budget. Even those gratis summer gigs can take a sneaky toll on your wallet, from transportation (if you're heading to one of the many festivals on Randalls Island, for instance, you may have to shell out for a ferry ticket) to the obligatory ice-cold brew (expect prices to be hiked).
2 Treat your ears—for free!
Speaking of free shows, that exceptional breed of seasonal entertainment requires a special approach. The downside to awesome programs like Celebrate Brooklyn!and SummerStage is their popularity—expect long lines and even the possibility of being turned away. The best way to guarantee admission is to arrive early, so consider making a day of it. Bring a blanket for lounging, portable speakers, snacks and activities to help while away your afternoon in the sun; a frisbee, a deck of cards or a smuggled hip flask go a long way toward making you feel like you're not just waiting around. Lastly, crowds can make meeting friends tricky and cell phone service can be spotty, so plan to enter with your whole crew where possible.
3 Nail the nitty-gritty
There are a few practical considerations that are critical to any audacious concertgoer's survival. The oh-so-joyous outdoor season makes taking care of certain, uh, duties somewhat challenging: that's right, 'tis Porta-Potty season again! Bringing your own hand sanitizer and toilet paper will make latrines more bearable, as these supplies inevitably run out. Also, bring cash but leave valuables at home—an epic dance party probably isn't the place for those designer sunglasses. And we don't want to sound like your mother and remind you to wear sunscreen and drink water…but just do it, okay?
4 Flaunt an ace ensemble
Even the most inherently fashionable New Yorker can be stymied by these outdoor occasions. To cope with brain-melting heat, layering is key, and even more so when spending the day (and night) outside: Ladies, try a swimsuit under a tank top under a button-down. Lucky gents, you may lose the shirt under appropriate circumstances. Choosing the right shoes is critical—remember the three Cs: comfy, cute and close-toed (to avoid tootsie-trampling). If you're bringing a bag, make sure it's a light one so you can keep your dancing streamlined. Our preference for guys and gals alike is that ubiquitous festival accessory, the fanny pack.
5 Roll with the punches
After all these carefully investigated and field-tested tips, our final—and most important—piece of wisdom is to be ready to throw your meticulous planning to the wind. Attired for an afternoon in the sun? You could get caught in a sudden summer rainstorm. Longing to hear your favorite band's breakthrough song? You might be stuck in that interminable bathroom line when it plays. Banking on that alluring free gig? Have a backup plan in case it reaches capacity, even if that means aborting the mission and enjoying the sounds from outside the venue. We don't mean to crush your dreams, but a flexible attitude is the best thing you can bring to this glorious and unpredictable season.
Hopefully, your adrenaline is pumping in anticipation of the sonic delights ahead of you (mine is). Now that you're ready, grab your calendar check out our summer concerts in NYC feature to plot out your show schedule. Let the ticket snagging, sweat-soaked dancing and alfresco listening begin!