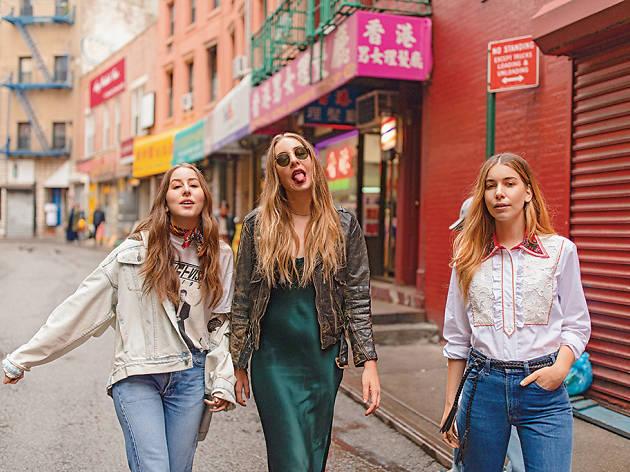 The Haim sisters are about to have the best summer ever
The power trio talks Prince, Taylor Swift and its highly anticipated second album before rocking Gov Ball this summer
It's the day after the Met Gala, and the Haim siblings—Este (30), Danielle (27) and Alana (24)—seem a little sleepy. But who could blame them? In the last 24 hours, they've flown from their hometown of L.A. to NYC to attend that super-exclusive affair (Vogue named them as some of the best dressed), gone from the red carpet to a slumber party at their buddy Taylor Swift's apartment—where they subbed Rodarte dresses for onesies—and then rushed downtown to our photo shoot and interview. And oh, yeah, they're also putting the finishing touches on their band's sophomore album, set to drop this fall.
This busyness is not uncharted ground for the group. Since the success of Haim's 2013 debut, Days Are Gone, it's opened for Swift's 1989 tour, been nominated for a Best New Artist Grammy, appeared on SNL and Late Show with David Letterman, and hosted its own Beats 1 Radio show, Haim Time. In a way, the sisters have been preparing for this job since childhood, with a group CV that includes a cover band with their parents, a (brief) stint in a teen-pop act and, for middle sister Danielle, a gig as the touring guitarist for the Strokes frontdude Julian Casablancas. For their own project, the Haim sisters incorporate poppy '70s-rock vibes with the airiness and rhythmic sense of alternative R&B. It's intensely catchy stuff, buried in a puzzle of interlocking beats and grooves that can only come from a band with members who can read each other's mind. When hanging out with them, that telepathic communication is evident: They finish each other's sentences and, when asked for their favorite summer songs, break out into three-part harmonies. (Let's just say they're really into Daft Punk and Beyoncé.)
What, then, is there to expect for the group's new record? Well, Haim is working with producers Ariel Rechtshaid and Rostam Batmanglij ("our dream team," says Danielle), both known for crisp '80s-nodding work with the likes of Charli XCX and Carly Rae Jepsen. But otherwise they're very tight-lipped about the album. After declining my suggestion to order happy hour beers, the trio settles in over lemon chicken and grilled cheese, debating the merits of Kraft Singles versus cheddar, fangirling over the bands they're excited to see at Governors Ball (at which they're playing June 4) and, yes, even talking a bit about their own music, too.
Have you had a chance to hang out in NYC before?
Este Haim: I feel like when we're here, it's like an eating tour—the best restaurants of each part of the city, every different borough.
It's too bad you guys didn't get any dumplings or anything after our shoot in Chinatown.
Alana Haim: Joe's Shanghai is my favorite.
Danielle Haim: That's what we should do after here.
I've never been there.
Alana: Really?!?
My girlfriend always talks about it.
Alana: It's so good. Years ago, when I came to New York by myself, my friend took me there. It was like a three-hour wait, and I was like, "Dude, we're not waiting three hours." She was like, "I'm telling you, it's worth it." I stayed, and I'd never had soup dumplings before. Best thing ever.
Danielle: My best friend lived here when she was going to college. I was also touring at that same time with Julian Casablancas, and obviously he's from here. He showed us all around New York.
Not bad—a guided tour of New York by a member of the Strokes.
Alana: I don't want to be so emotional about it, but they're the first band that changed what I thought about music.
Danielle: Definitely made us want to move to New York.
Este: That and Felicity. It was like for every girl my age, that was the reason why she moved to New York, to be Felicity.
That's the show where she changed her hair and it got canceled?
Alana: Wait, she changes her hair?
I don't know if that's really true.
Alana: No, dude, oh, my God, spoiler! I'm only on season two right now.
Sorry! So how did it go down last night at the Met Ball?
Este: I felt like I was just floating the whole time. I don't think my feet touched the ground once. It was like being in a dream.
Danielle: Yeah, we're a band, I've never worn a dress, but I was like, I'm down for the cause.
I always wonder how you eat dinner in, like, this fancy…
Este: Just do it. I ate everything.
What happens if you get mustard on your million-dollar dress?
Este: Really strategic napkin placement.
Alana: I was just surprised I didn't trip once.
Este: I did.
Alana: Este tripped the second she got there. Oops!
Did you hang out with Beyoncé?
Danielle: We hung out with Claire [Boucher], Grimes.
Alana: I didn't see Beyoncé. All the festival musicians kind of stuck together. Florence Welch danced really hard; at one point in the night, they had a whole section where they were playing all the Prince greatest hits, and us and Florence and Grimes were jumping so hard—in very expensive gowns and very expensive shoes.
Este: And very heavy earrings.
I want to ask you guys about Prince, because I know you're huge fans.
Alana: We've lost so many amazing artists this year, it's just like a bullet every time. But with Prince specifically, when I saw the news, I was like, "There's no way." I told Este, and Este was on the freeway crying.
Este: Probably the worst time someone could have told me something like that: While I'm driving. I had a really, really visceral reaction. He was, like, everything to me. I've seen him over 10 times. [I made music] with the hopes that maybe one day he'd hear it and be like, "These girls are okay." That was honestly my evil plan.
"I was literally back in my bunk bed with my Power Rangers stickers." —Alana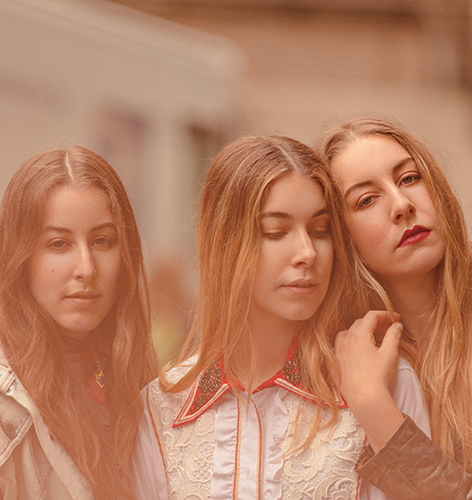 Photograph: Ben Rayner, Stylist: Rebecca Grice Make-up: Katie Mellinger Hair: Candice Birns


I saw a video of you onstage with Prince at the Saturday Night Live 40th Anniversary Special. How did that happen?
Alana: We became really good friends with Maya Rudolph. She's in a Prince cover band called Princess. At the SNL40, she grabbed us and was like, "Let's do a Prince song."
Danielle: I was about to put on a guitar, and Jimmy Fallon looks over and says, "I hear Prince is in the building." And everyone shuts up like, "No, really, if Prince is in the building, come to the stage right now," and literally a sea of people parts, and Prince just comes up with his band.
Alana: There were like 30 different emotions going on in our brains.
That's huge. Another big moment has to be opening for the 1989 tour. Is there anything that you picked up on from watching Taylor Swift up close?
Danielle: Something that she does really well is make a huge venue feel small, like the part of the show when it was just her and the guitar, and the whole stadium was singing along.
Playing in front of that many people on that tour has to be daunting. Is that the moment you realized you made it?
Este: We've made it? I don't think that we've reached that moment.
Danielle: But I definitely think when we got the call to play SNL, that was a moment where we were like, "I can't believe this is happening." We watched it every Saturday [growing up].
Este: I dressed like Mary Katherine Gallagher, like four years ago.
Alana: Este, when she accepted her eighth-grade diploma, they were like, "Este Haim." She got her diploma and went, "Superstar!" We were dying.
Este: The women on SNL were so irreverent and were having the best time. Seeing someone that's confident and having fun is the most attractive thing you can find in a human being.
I think that's part of what people love about you.
Este: That's something that we find really attractive in performers and people in general: having the confidence to be who you are and not being apologetic about it.
You guys haven't released much new music since your debut in 2013—people are looking forward to the new stuff. You've kept the demand high.
Este: Always leave them wanting more.
It says something about how good the first record is.
Este: Well the first record was seven years of various points of our lives and dealing with relationships and heartache and breakups. There were three different perspectives from three different points in a girl's life. And this is kind of the next chapter in that story.
Where do you start with writing a new record from scratch?
Alana: You just gotta keep writing. We came back from touring for two-and-a-half years. We went from going like 100 miles an hour then back home to being like…
Danielle: Living in our parents' house.
Alana: I was literally back in my bunk bed with my Power Rangers stickers on the side, and I was like, "I'm not waking up for sound check, I'm not in, like, a moving bus." I was waking up, and my mom was like, "Hi!"
How's recording going?
Este: It's going great. I just want it to be finished so that we can tour.
How do you know when a song is done?
Este: That is the age-old question.
Alana: You never really know.
Este: I think when I play it for my neighbor's dog and he bobs his head. Because he loves music. If Charlie likes it, it's a good song.
Are you in the studio every day, just working, like a day job?
Este: We're doing different things, but we definitely get dressed to go to work and focus on that. This process is more creative in the sense that we don't necessarily know where all the little pockets are that we're trying to fill. So it's been a lot of fun, experimenting with different things, playing with different instruments.
What are the new instruments that you've been playing?
Este: I wouldn't say instruments, it's more like sounds. I mean there's not going to be a sousaphone. I'm sorry.
Alana: I'm gonna come out with a tuba.
Este: There are no tuba players.
Alana: I've always wanted to play a wind instrument. Maybe on record three, I'll come out with a trumpet or a tuba.
Este: Bump it with a trumpet.
Alana: That'd be so awesome.
Este: I know how to read tuba, because I read bass clef. But I played flute in elementary school. I was part of a group of girls called the Tutty Fruitys.
Alana: You're always a Tutty Fruity at heart.
Haim plays Governors Ball Saturday, June 4, 2016.
Designer credits: Este: Slip dress-Nili Lotan, Necklace-Ariel Gordon, Leather-Stylist's own, Boots-Acne Studios, Sun glasses-Ray-Ban, Alana: Jacket-Marc Jacobs, Jeans-vintage Levis, T-shirt-CHAPEL, Gold chain-Ariel Gordon, Scarf-vintage, Versace Ring-Maya Brenner, Boots– Acne Studios, Danielle: Jeans-vintage Levis, Boots-Acne Studios, Top-Miu Miu, Belt-B-Low The Belt
Check out the best concerts
Find out about recently announced concerts in NYC with our calendars and make sure you never miss out on a show