The Rooftop at Time Out Market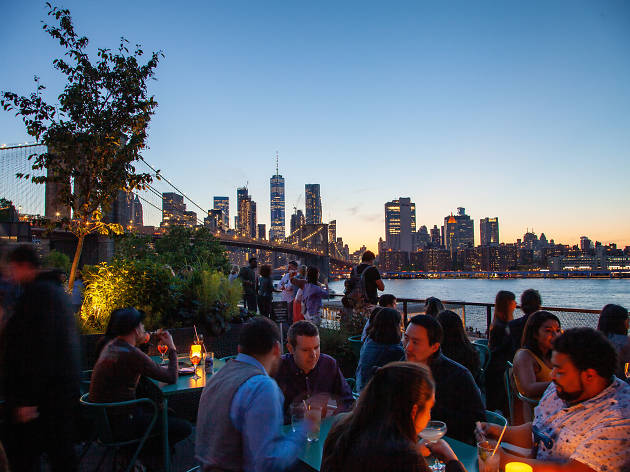 Time Out says
We curated every last detail at the Time Out Market: the food, the cultural experiences, the drinks, the space—everything including the breathtaking view, which is the perfect backdrop for the "best in New York City" experience.
At The Rooftop at Time Out Market you can discover impressive bites from culinary rockstars Patsy Grimaldi, Ivy Stark, Meir Adoni and David Burke, while relaxing on mid-century modern suave caramel leather banquettes or sea foam seats on the outdoor terrace. Post up for acts selected by our team at the stage, complementing the entertainment of the breathtaking, sweeping views of the Brooklyn Bridge and the Manhattan skyline, perfectly framed by the grand windows.
The Time Out Market has three bars, but the upstairs is perhaps the crown jewel, or at least the maraschino cherry on top. Yeah, we could just sling standard drinks and spritzes, but we're too picky. Working with our 2018 Time Out Bar Award winners—Ignacio "Nacho" Jimenez from Ghost Donkey and Takuma Watanabe from Angel's Share—as well as Brooklyn Brewery, we created a kickass menu of signature cocktails and brewskis made just for our market, with rotating cocktails that bring seasonality back to the bar space and tell the history of Brooklyn through its local-focus.
Details
Users say