Things to Do
The best things to do in NYC, including popular events, festivals, attractions and tours, free activities and entertainment. See upcoming events and what's on in New York today.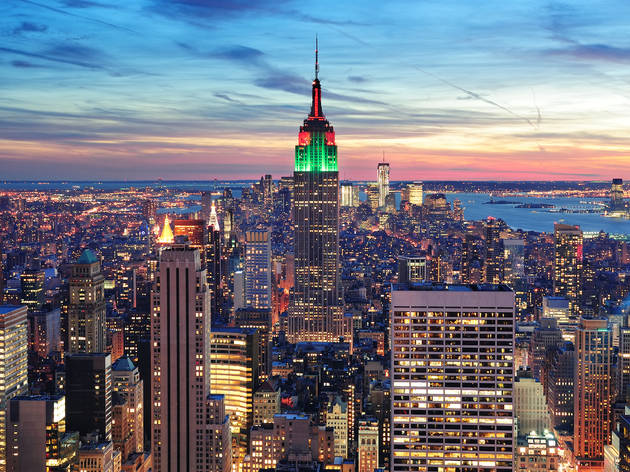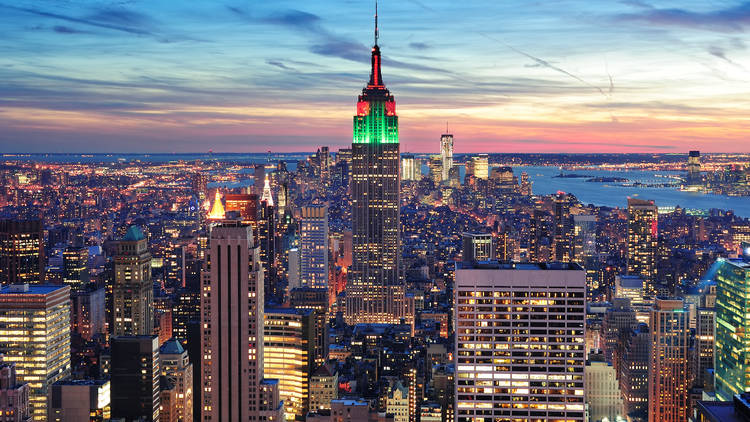 The best things to do while staying home this week
Many performances, museums and venues have been closed and canceled so we've come up with a list of fun things to do while you're self-quarantining. Being stuck inside doesn't mean that you have to miss out. With social-distancing in place, many of New York's artists, comedians, museums, businesses and venues are taking to the internet to provide entertainment, services and fun. Check out the light show from the Empire State Building, free NY Phil performances and learn how to bake with Milk Bar's founder. RECOMMENDED: Full list of the best things to do in New York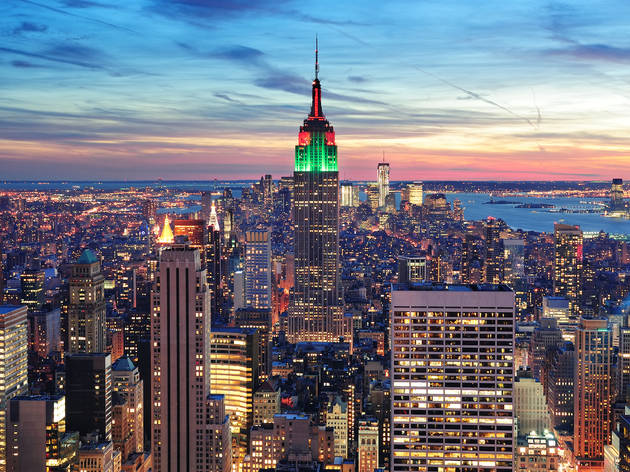 Empire State Building announces new nightly light show to raise New Yorkers' spirits
The world famous tower lights atop the Empire State Building, which routinely display combinations of colors to mark various occasions and holidays, has been relatively quiet of late, lit mostly in white while the city has gone into lockdown. This staid interlude, though, is about to end in a big way tonight at 9pm when the ESB begins a nightly program of light and sound shows in collaboration with iHeartMedia's Z100 radio. The station will simulcast Alicia Keys' "Empire State of Mind" as the ESB illuminates the skyline in a range of hues synched to the song. Designed by lighting artist Marc Brickman, the show is meant to lift the spirits of New Yorkers as they shelter in place, and will kick off each night at 8:55pm with spotlight interviews of first responders—doctors, nurses, EMT crews and other clinical personnel—who are on the front line in the war against COVID-19. The program will replay on Saturday, March 28, and then again from Monday, March 30 through Thursday, April 2. On Sunday March 29th, the ESB will dynamically pulse like a heartbeat from 9pm to 10 pm in support of The iHeart Living Room Concert for America being broadcast in that time slot by Fox. New shows will premiere every Friday night starting April 3. The organizers are reminding viewers to maintain social-distancing protocol if they're viewing the event outdoors. Or if you prefer to remain indoors, you can stream the show live on the ESB's Facebook page.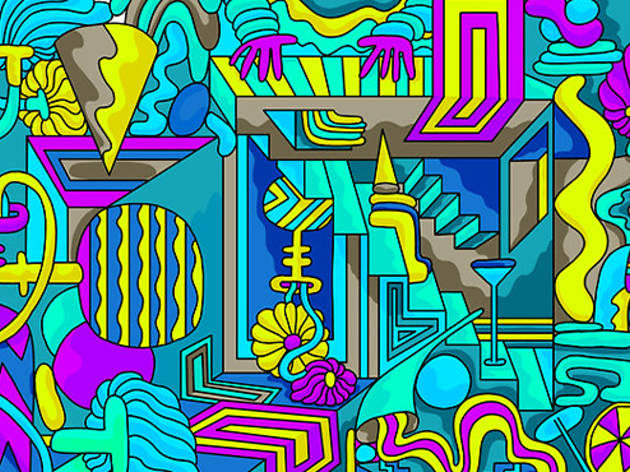 These NYC-based artists are making free digital coloring books
The golden age of adult coloring books is here, and right now especially, folks need to put colored pencils or crayons to paper and focus on something playful. Even if you're a pretty subpar artist, the act of scribbling inside the lines here is a triumph in and of itself. Coloring allows you to mindfully engage enough with one task to occupy your mind, without feeling anxious that you have to be productive while cooped up inside your apartment. Incredible NYC illustrators have taken their doodling and artistic abilities to create digital coloring books ready to download and print at home, so you can decompress while adding some color to your life. Emmy-award winning animator and artist Mike Perry  Fans of Comedy Central's Broad City should be familiar with Mike Perry's psychedelic work. For the uninitiated, his vital animated illustrations for the show are found at the beginning of each episode, setting the scene for what you're about to watch. Perry created a 150-page coloring book in 2017 filled with his hand-drawn animations inspired by the show. It allows you to feel like you're a part of Abbi and llana's crazy world and color it into 2-D. Beyond Broad City, Perry's years of art can be found inside studios from NYC to LA, and even as murals in the community. Now, while self-isolating, the Brooklyn-based artist has given the gift of more drawings for us to color, this time inspired by his personal life, free for download here. There are 70 whole pages in the PDF. Mike Pe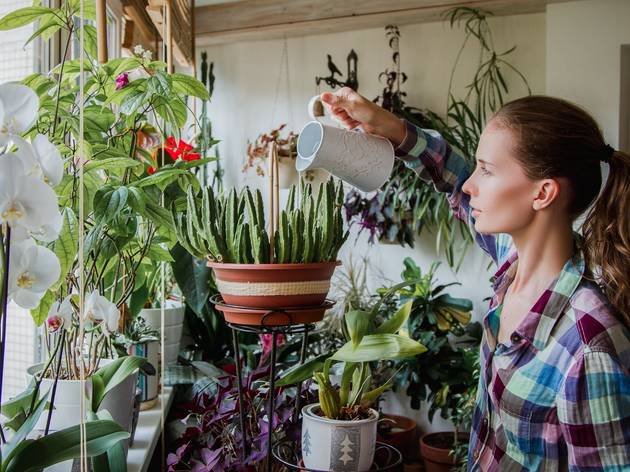 Nine tips on how to create the quintessential NYC balcony garden
You don't need to put off making your own mini-garden anymore—with more time at home, you can grow your own veggies within arm's reach. Being able to produce your own food without having to go to the grocery store is an attractive idea right now and harkens back to the old "victory gardens" of World War I and II, when people at home grew their own food to supplement their rations and boost morale. While fire escape gardens are technically illegal to have—firefighters need a clear egress there–you can use an outdoor patio, balcony or window boxes to curate your little patch. But how do you even start, especially given we're not supposed to go out for tools? We spoke with gardening experts from the New York Botanical Garden, the Brooklyn Botanic Garden and NYC Parks' GreenThumb program for tips to help you produce your first potted farm. 1. Sew seeds that do well Firstly, you'll want to plant the right veggies to increase your chance of running a successful garden. Usually, tomatoes, peppers, lettuce, herbs, pole beans, eggplants, chard, radishes, lemons do well, but you'll want to read up on where to plant them, because some pairings can actually be harmful to their growth. 2. Use seeds and stalks from leftover veggies Getting out to the store to pick up seeds isn't really an option right now, but luckily experts say that planting the seeds and stalks from leftovers can work! This includes seeds from tomatoes, legumes, pulses (beans) grains (quinoa and amaranth), squash, pep
These cartoons perfectly capture what life feels like in New York right now
If you're like us and quarantine memes are giving you life right now, check out Fort Greene resident and cartoonist Arielle Royston's drawings.The 29-year-old product designer is using her at-home downtime to churn out a new cartoon every day, depicting this new world we live in, from the tragicomic ways we spend our time at home and weirdly dating on Zoom to clever perspectives on what's going on in the news. Photograph: Courtesy Arielle Royston   Photograph: Courtesy Arielle Royston "I love to run and often come back with a ton of ideas," she tells us. "The constant flood of scary news headlines, mixed with memories of my former fast paced, busy life, inspires me to make content people can relate to. Plus, I live in NYC, and it's hard not to be inspired by the energy of the city and crazy things we see here." Photograph: Courtesy Arielle Royston She tackles some heavier subjects with humor, hoping to give people a reprieve from the news. "Laughter–even for a few seconds–can help us feel good during a terrifying and uncertain time," she says. "Plus, right now, we're all bored and glued to our phones, so content production needs to be at an all-time high!" But how is she being so productive, creating a cartoon a day, when fear can shut down motivation? "Like many people are experiencing, Coronavirus has me reaching record levels of anxiety, and I always get extra creative when I'm anxious," she says. "Typically bad break-ups fuel my anxiety-induced creativity, but I've
The best things to do in New York
What's happening at Time Out Market New York?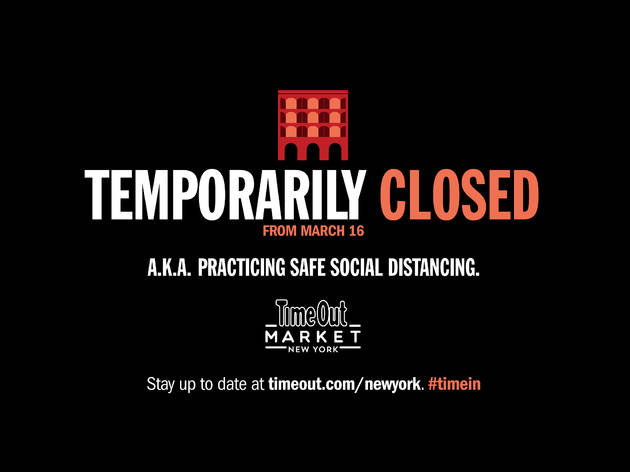 Time Out Market New York will close temporarily from March 16
Your safety means a lot to us.  That's why, in addition to changing our logo and shifting our mission, we've decided to close Time Out Market New York temporarily. The market will remain closed for as long as needed to help NYC in its ongoing efforts to fight the spread of coronavirus.  We've made this difficult decision after monitoring the latest developments and receiving input from health authorities and the city government. The wellbeing of our guests and staff is the most important thing for us, so this seemed like the right way forward.  "These are unprecedented times and nothing matters more than the health and safety of our guests, teams, concessionaires and the local community as a whole," says Didier Souillat, CEO of Time Out Market. "We have decided to temporarily close as it is our responsibility to do our part to protect everybody—we are looking forward to reopening when it is safe and to once again welcome guests to Time Out Market." The market will be closing after dinner service on Sunday evening, March 15. We hope to reopen soon, and will let you know as soon as we can when that will be.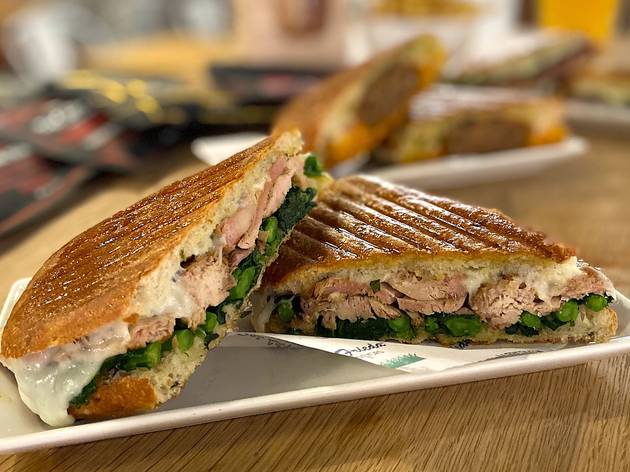 Pat LaFrieda opens pop-up Meats at Time Out Market New York
Pat LaFrieda's name is all over the city when it comes to the best steak restaurants and best burgers in NYC. But there's one dish the king of meat—who operates his eponymous Pat LaFrieda Meat Purveyors on the first floor of Time Out Market New York—has yet to conquer: paninos. The Brooklyn native opened a pop-up called Meats on March 6th on the first floor of Time Out Market with a nod to his Italian roots. Panino literally translates to "a little bread" and is often used to refer to a rolled sandwich filled with meats, veggies and cheese. Photography: Time Out / Savannah Wasserman At LaFrieda's pressed-sandwich concept, he's offering three choices: Prosciutto de Parma Panino ($17): imported prosciutto, provolone cheese, arugula and balsamic reduction Italian Stallion Panino ($15): grilled chicken, sautéed broccoli rabe, fresh mozzarella, roasted garlic aioli Grandpa's Meatball Panino ($15): all beef LaFrieda meatballs, housemade marinara, fresh mozzarella, fresh basil We have no doubt that LaFrieda will also master the panino (we were fans of the slow roasted pork shoulder sandwich he debuted recently). But if you're missing some of the greatest hits, just add an order of the seasoned house fries ($7) and take in the waterfront views of Dumbo and Manhattan—another hit you'll only find at Time Out Market New York.  Meats will be open noon-8pm Monday-Thursday and Sunday. Noon-10pm on Friday and Saturday. Photography: Time Out / Savannah Wasserman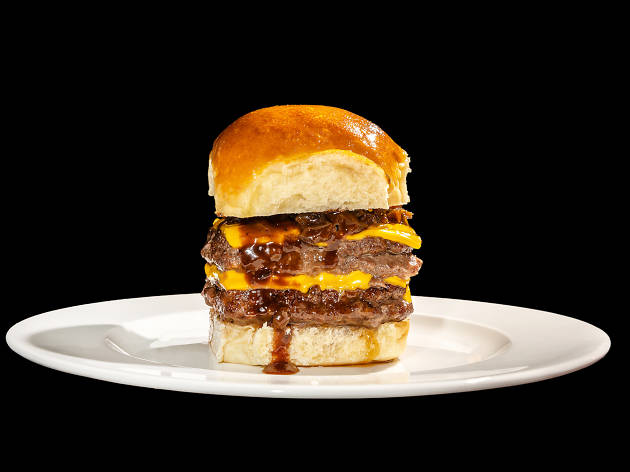 Time Out Market New York launches $12 lunch deal with Bessou, Alta Calidad and more
Dumbo isn't the easiest place to find affordable lunch options, what with all the tourist traps taking advantage of the crowds. With that in mind, we've launched our own lunch specials at Time Out Market New York. It's one of the best deals in the neighborhood for both those that are new to the area and those who've loved it for a long time. From Monday through Friday, 11am until 3pm, participating vendors will offer a signature dish with a complimentary soft drink (and some with other bonuses), for $12. Here's what we're offering: Bessou What's the deal? Japanese chickpea curry rice bowl with a side of chicken karaage.  Mr. Taka Ramen What's the deal?  Spicy Tantan Men (soupless ramen) with wavy, flat noodles, ground pork, scallions, leeks sesame and spicy oil. The dish also comes with a house salad or soba noodles as a side.   Photograph: Courtesy Time Out Market New York Alta Calidad Taqueria What's the deal? A quesadilla-roti (corn or flour) with chips and salsa. View this post on Instagram A post shared by Alta Calidad Taqueria (@actqloves) on Dec 3, 2019 at 2:13pm PST   Pat LaFrieda  What's the deal? Signature slider and fries.  Clinton St. Baking Company What's the deal? A "B.E.L.T": Double smoked bacon, free range eggs, lettuce, tomato and mayo, on sourdough toast.     Avocaderia  What's the deal? Rotating salads and toasts that will change daily. Mondays will bring a seasonal salad, Tuesdays it
Discover the best thing to do in North America
See more