The best things to do in Jersey City, NJ
Hop over the Hudson to discover all the incredible things Jersey City has to offer, from parks to bars and restaurants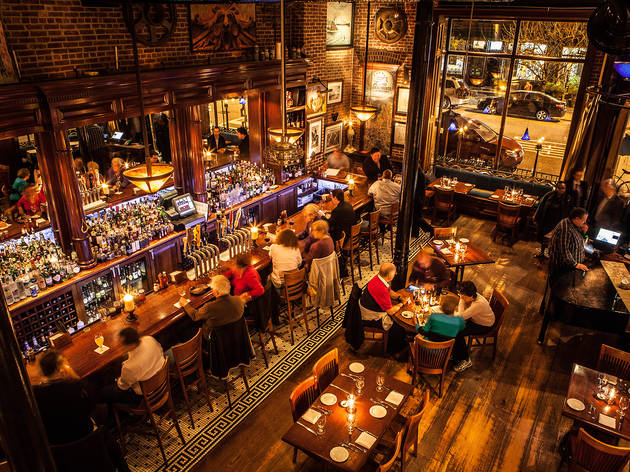 Situated just over the Hudson—although it feels like miles away from Manhattan—Jersey City, NJ, is a waterfront gem with more appeal than most New Yorkers may realize. In fact, it's one of the most popular towns in the Garden State. From the best bars with the prettiest views to great things to do outside and a weekly free street summer music festival, there's more to Jersey City than meets the eye.
RECOMMENDED: See the essential guide to New Jersey
Best things to do in Jersey City, NJ
Museums, Science and technology
Whether you're traveling with kids or if you're a full-grown science fanatic, LSC has an exhibit, event or show that is right up your alley. Check out the IMAX theater, dinosaur dig, virtual reality and the biggest planetarium in the western hemisphere. Sign up for a lecture or take a tour through the Center.
This old-fashioned biergarten is the only hot spot on this side of the Hudson for craft beer, good food and a great time. Fill up a stein with one of the 144 brews on tap, grab a bite of traditional European fare from the walk-up window and take a seat at the massive patio's big community tables.
3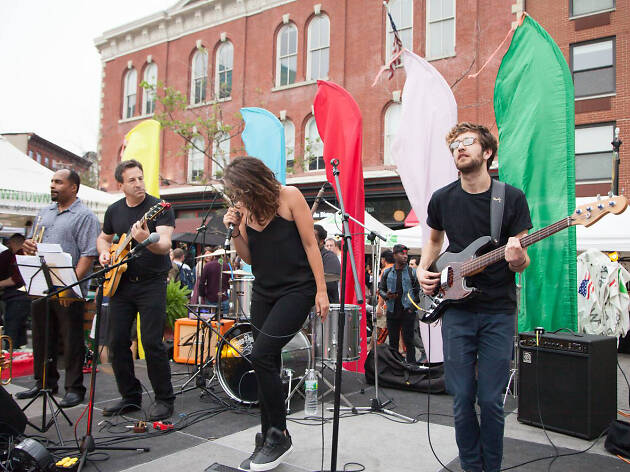 Photograph: Courtesy Groove on Grove
All summer long, this weekly street festival features music, food and beverages, unique performances and an urban community feel. Best part? It's absolutely free to attend on the Grove PATH Plaza. Swing by every Wednesday from 6—9pm for concerts and people-watching from May to September. Grove Street PATH Plaza (jcdowntown.org)
Attractions, Parks and gardens
The sprawling waterfront park has been an important piece of real estate to the NY Harbor area for centuries, but the scenic spot has since been beautified as New Jersey's Bicentennial gift to the nation on June 14, 1976. Enjoy skyline views at a stone's throw from the Statue of Liberty, water sports, a picnic and other outdoor adventures.
Skip over the river to enjoy the view of Manhattan from the other side. Situated right along the Hudson river and boasting a spacious floor plan, sky-high ceilings, multiple dining rooms, tasting menus and event rooms, Battello is the perfect dining and drinking destination.
6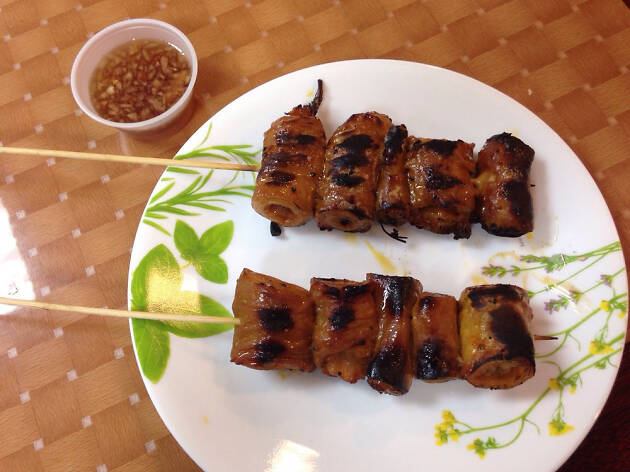 Photograph: Courtesy Yelp/Bhey J.
Chinatown and Little Italy are swell, but Jersey City offers an authentic slice of the Philippines right in the neighborhood. A vast number of Filipinos call JC home—nearly 20,000 folks—and cafes, grocers, restaurants and cultural hot spots make Little Manila feel like the capital city itself. Newark and West Side Aves.
Restaurants, Contemporary American
Named with a nod to Princeton grad and Continental Army officer Henry Lee III, the Light Horse Tavern specializes in modern menu items with seasonal ingredients. Take a seat for a drink or settle in to indulge in the raw bar, classic and specialty dinner menus, daily specials and an atmosphere of effortless elegance.
For five decades, Torico has been feeding Jersey City with the best of the best. What started as small deli is now a favorite spot for homemade ice cream. It only took the spot 50 years to perfect the recipe and use real fruit and tropical flavors to make their 65 flavors, which run the gamut from traditional to out-of-this-world original.
Have a little literature with your drinks at Dullboy, an artfully-decorated cocktail bar specializing in craft cocktails and the best spirits. The name nods to The Shining, and the themed bar acknowledges Hemingway and Bukowski, among others. Sip something classic or a little more adventurous from the diverse drink menu.
After a night spent enjoying all that Jersey City has to offer, mornings call for some caffeine. Start your day with a strong coffee or espresso beside your bagel or breakfast pastry, or make a lunchtime pitstop for wraps, sandwiches and a drink on the quaint patio area.
11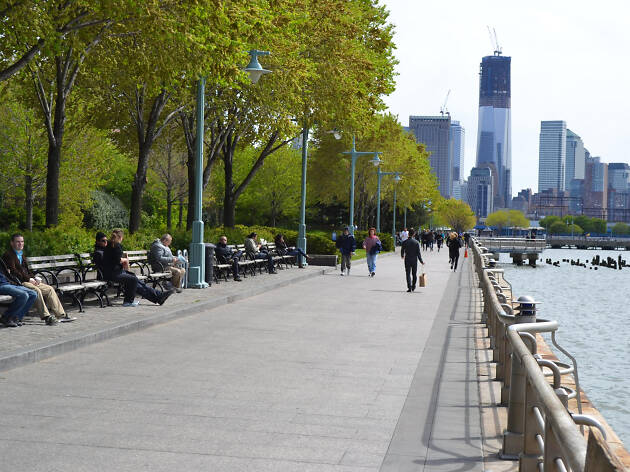 Photograph: Courtesy CC/Flickr/Matt Kane
Hudson River Waterfront Walkway
Who can argue that sometimes the best—and most peaceful—way to experience Manhattan is from afar? The waterfront walkway gives you the chance to escape the city but still admire the sight of it, and enjoy a scenic, beautifully-landscaped walkway for a casual stroll or an energetic run or bike ride. (hudsonriverwaterfront.org)

Photograph: Courtesy CC/Flickr/Matt Kane
Looking for more of Jersey City's best?
Top-notch restaurants and bars are cropping up across the Hudson, making the Garden State more appetizing than ever