Rocky Rakovic is Time Out's former Director of Brand Activation. Violet
Growing up in Rhode Island, I drank coffee milk (think chocolate milk but with coffee syrup instead of Nesquick) alongside my school lunches in kindergarten, ate clam cakes (basically a savory beignet filled with chopped clams) by the half dozen on warm summer nights and grabbed a slice of pizza hot off the grill instead of fresh out of the oven.  But, entering adulthood, I felt that Little Rhody wasn't big and exciting enough for me, so I moved to NYC where I quickly learned that the Ocean State's culinary creations are hard to find outside its 1,212 square miles. And so I was surprised to catch wind of Violet, an homage to RI cuisine in Alphabet City from the Pizza Loves Emily group.  Just a guess, but such a concept was probably not the result of market research on the big bucks to be raked in from feeding expats of the country's smallest state. No, this seems like genuine passion project for owners Emily and Matt Hyland, who attended school in Providence. But I, for one, was there to experience the comfort of home cooking.  The place was buzzing like a five-year-old hyped up on coffee milk late on a weeknight. I tried to catch a "chowdahead" accent among the patrons, but I couldn't identify any "swamp Yankees"; instead, a hip downtown crowd was getting what was perhaps their first taste of the grilled pizza that Providence's Al Forno restaurant perfected. Here's how simple it is to make: Slap the dough on the grill until it's crisp, then flip it over and add toppings whil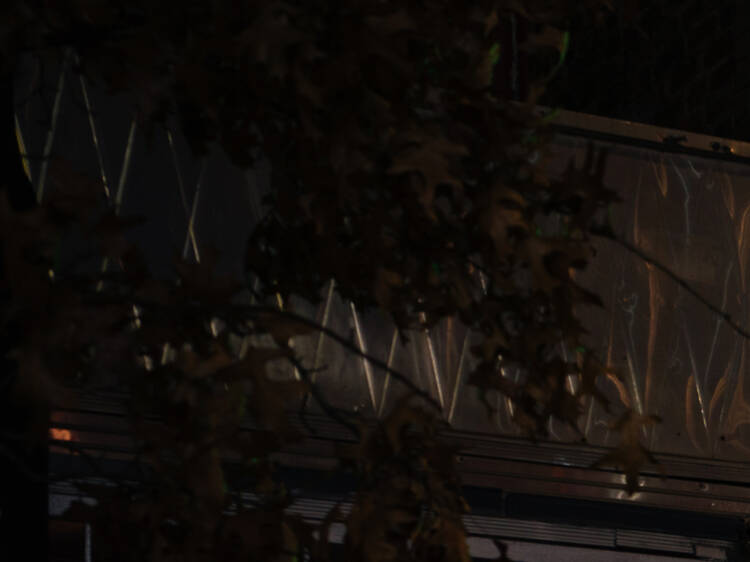 Mister Paradise
The name Mister Paradise sounds like it would be perfect for a bombastic WWE heel-face turn (a character the audience is supposed to hate but ends up loving), and that's quite fitting for the East Village bar, which has both pomp and substance. While the space is gorgeous, and the cocktails are complex (Party Lobster: blanco tequila, mezcal, Campari, watermelon, lime, fermented habanero and garlic) it is all entirely amusing and accessible. Not to be missed are the french fries, which can be ordered with sea-urchin aioli or whipped foie gras mousse—sophisticated, surely—but the fries were modeled on those the staff were eating from a place across the street during the build-out, and that little spot is called McDonald's.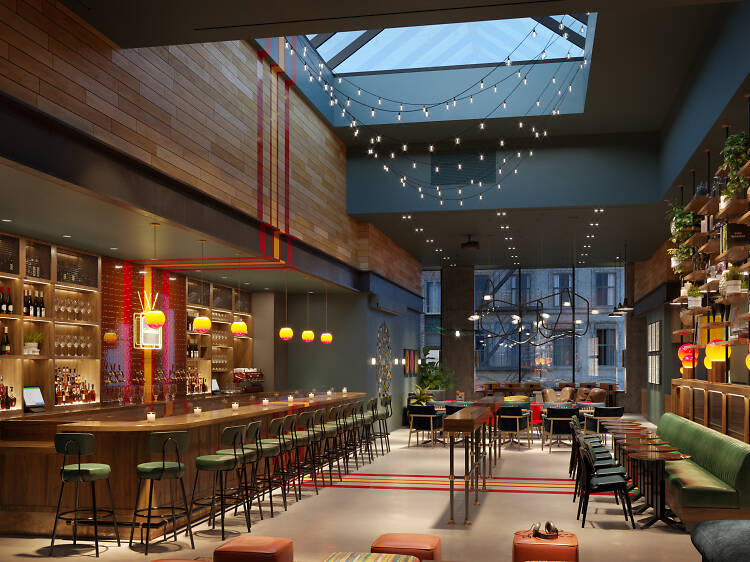 Recreation
The Moxy's Recreation is the tucked-in polo shirt of bars. It's not our style—both sartorially and venue-wise—but there was a large crowd that certainly seemed to be enjoying it on the weeknight when we went, so if that's your look, then go for it, sport. Inside the Financial District hotel, elevator doors open to a 5,000-square-foot area that, during bankers' hours, is a communal workspace, but by happy hour it becomes a bar and the preferred fuel changes from coffee to cocktails. The intent was to make Recreation feel like "the ultimate living room for the neighborhood," with shuffleboard, Skee-Ball and Ms. Pac-Man in digs hugged by warm wood and throwback, yellowish lighting. That sounds good on paper—and looks great in photos—but, in person, it felt as if Refinery29 Rooms had built a 30th facade called "Cool-Guy Man Cave" and dropped it in Manhattan. The on-tap cocktails and shared plates do have the going-over-to-a-friend's-house-to-watch-the-game vibe—that is, if your friend is adept at mixing a pitcher of margaritas (note, however: there are no TVs at Recreation). Curiously, even though the cocktails were premade, the service crawled, but the snacks were dad-on-Pinterest-level cute: We are now adding the everything-bagel–inspired flatbread and the chicken-and-waffles on a stick to our Super Bowl menu. In a room off the bar sits a slick, single-hoop basketball court. A private holiday party was underway—the space is open to the public, when not rented—but we crashed it.