Heads up! We're working hard to be accurate – but these are unusual times, so please always check before heading out.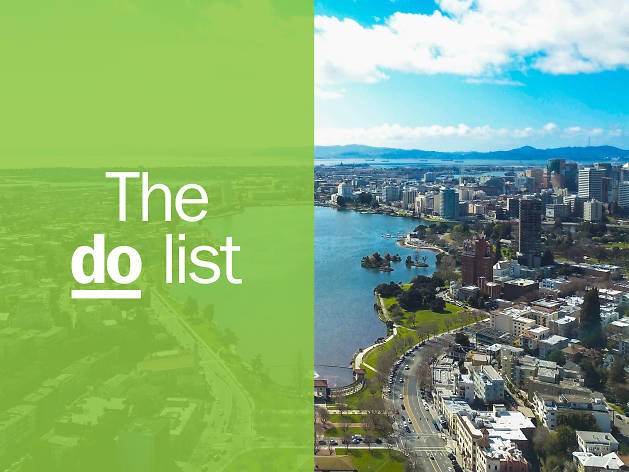 The 11 best things to do in Oakland
Scenic hikes, splashy block parties and mind-blowing meals are just some of the best things to do while in Oakland
No trip to the Bay Area is complete without time spent in San Francisco's sister-city to the east, Oakland. From the vital art scene to the globally-inspired food, there's a reason all your SF-based friends are suddenly relocating to the East Bay. Storied redwoods, city-wide block parties, waterfront wineries, and mindblowing Oakland restaurants featuring all regions and ethnicities (special shout out to all the great Ethoiopian restaurants in Oakland) are just some of the best things to do in Oakland, California.
Done something on this list and loved it? Share it with the hashtag #TimeOutDoList and tag @TimeOutEverywhere.
Find out more about how Time Out selects the very best things to do all over the world.
Best things to do in Oakland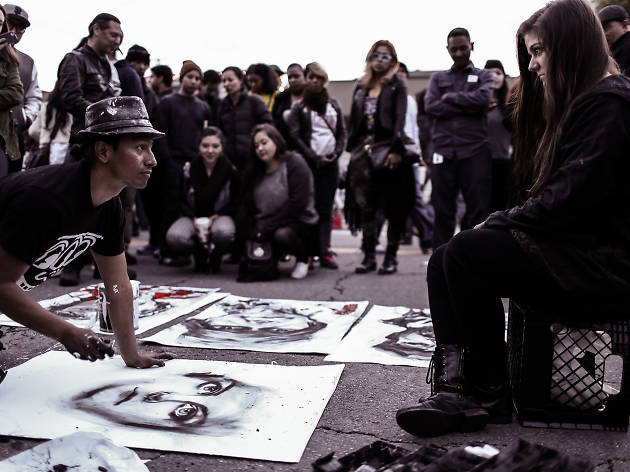 Photograph: Flickr/Amir Aziz
What started out as a small gallery walk over a dozen years ago has since morphed into a vibrant block party of food, music, crafts, and immersive art. The monthly event spans five blocks of Telegraph Avenue and features artists, street performers, galleries, DJs, poets, drum circles, and more. Local restaurants serve wide-ranging fare spanning tamales and fried chicken to barbecue and burgers, and drinks are available in the Sake Garden at 26th and Telegraph (or the many bars along the strip). The free event is a great way to plunge into Oakland's thriving art and culture.
Temescal Alley is lined by colorful doorways, each opening to another local indie business. Pop into Crimson Horticultural Rarities, a Secret Garden-like nook filled with plants and succulents of all varieties, as well as covetable housewares and gifts. Try on precious baubles at Marisa Mason—known for her handmade boho brass, turquoise, and leather jewelry—and jewelry by New York and California designers at Esqueleto. Ali Golden makes NorCal clothes perfect for foggy-weather layering, while the sweet-smelling Homestead Apothecary is stacked with jars of exotic herbs and spices. In addition to purveyors of clothes, accessories, books, and housewares, you'll find cozy spots for ice cream, pastries, and coffee when you need a pick-me-up.
To immerse yourself in Oakland's rich history, look no further than its theaters. Built in 1928, The Fox is a cinema-turned-stunning concert venue. The original details were carefully restored in a renovation that reopened in 2009 with a new state-of-the-art Meyer sound system. The venue draws classic and contemporary acts like Animal Collective, Beach House, David Byrne, Lily Allen, Joan Baez, and Neko Case. Three blocks away, gaze upon the Art Deco glory that is the Paramount Theatre. Built in 1931 by famed San Francisco architect Timothy L. Pflueger, the theater was restored to its original splendor in the '70s. The storied spot is a delightful mix of highbrow-lowbrow culture. It's the home of the Oakland East Bay Symphony and the Oakland Ballet, but it also screens cult movies like Animal House, Spinal Tap, and The Breakfast Club.
Lake Merritt is the oldest designated wildlife refuge in the US, and throughout the year, it's become home to over 100 species of birds. Wander the surrounding park's array of gardens, which include a bonsai garden, an edible community garden, a Japanese garden, a Mediterranean garden, a succulent garden, and more. The lake is a popular meet-up spot for various sporting and athletic clubs, from croquet and lawn bowling to biking and rowing. Boat rentals are available, and free concerts often take place on the shore. On hot weekend days, join the throngs of Oakland residents settling in the grass with picnic blankets and portable grills.
The exhibits at the Oakland Museum of California are unfailingly fresh, whether examining the art and culture behind West Coast hip-hop or reveling in the strong lines and fine grain of famed NorCal sculptor J.B. Blunk. The museum's permanent collection encompasses more than 1.9 million pieces and includes artifacts, ethnographic objects, photographs, original artwork, and natural specimens. Admission is half-price every Friday from 5pm to 10pm, when Off the Grid food trucks congregate outside.
Boisterous, eclectic Swan's Market is a mishmash of the old and the new. You'll find casual seafood spots alongside traditional Mexican fare and late-night sausages and beer. Order udon, curry and rolls at the counter at B-Dama, a traditional Japanese spot with sake and Japanese beer on tap. Cosecha makes handmade tortillas, pastries, and fish tacos from scratch every day, while The Cook and Her Farmer shucks fresh oysters. Whatever you're in the mood for, order at the counter and chow down at one of the hall's communal tables.
Just a few miles from downtown Oakland, you'll find yourself in the hushed sanctuary of Redwood Regional Park. The natural grove is lush with 150-foot sequoias, evergreens, and grasslands. The park's 1,830 acres are crisscrossed by hiking trails and populated by a woodland menagerie of rabbits, deer, and squirrels and Redwood Creek is rife with rainbow trout. You can reserve a picnic site for larger groups, or book an overnight campsite. For a vastly different terrain, trek to Sibley Volcanic National Reserve, formed by lava from a 10-million-year-old volcano. It's peak, Round Top, is one of the highest points in Oakland. Take the Round Top Loop Trail for panoramic views.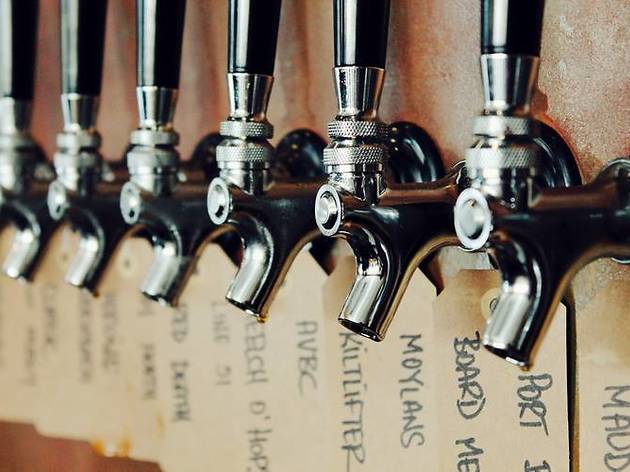 Photograph: Courtesy Lost and Found
8. Sip from Oakland breweries
Oakland has some of the best beer bars in the Bay Area. Start at the Trappist, a 10-year-old mainstay that's known for stocking unusual brews from around the world. You'll find 25 beers on tap, plus dozens of others on the sprawling bottle list. If it's sheer variety you're after, head to Beer Revolution, which boasts more than 50 brews on tap and a lively back patio. Get cozy in the fire-pit equipped beer garden at Drakes, where there are 32 beers on tap and live bands several days a week. And sample fare from local breweries at Lost & Found, a stylish bar with a light-strung patio.
This once sleepy strip has been transformed by the impossibly stylish duo of Dana Olson and Karen Anderson-Fort. Anderson-Fort launched Mercy, an expertly curated vintage shop, in 2009. The racks are lined with timeless gems spanning the 1920s to the '90s, including labels like Yves Saint Laurent, Kenzo, and Comme des Garçons. Meanwhile, Olson opened Good Stock in 2011, a boutique specializing in handmade jewelry, handbags, sunglasses, shoes, and beauty products. In 2013, the pair teamed up to open Neighbor on the same block: an Instagram-worthy general store selling home decor, kitchenware, planters, toys, gifts, and furniture. Don't miss the twinkly backyard, the site of regular pop-up shops and artisan workshops.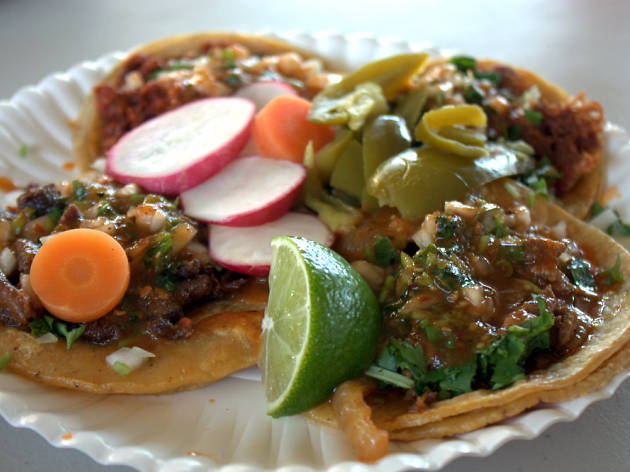 Photograph: Flickr/Krista
10. Go on a Fruitvale taco crawl
Some of the Bay Area's best street food is found along this taco-lined stretch of East Oakland. Start with carne asada and carnitas tacos at Mi Grullense, before heading to Aguachiles El Tamarindo for avocado-topped ceviche tostadas. Next, try the lengua tacos at Tacos Sinaloa, and the deeply flavorful barbacoa tacos at the Pipirin food stand. Just save room for a crispy, sugar and cinnamon-dusted treat from Churros Mexicanos.
This historic, park-like property offers sweeping views of the region, and serves as the final resting spot for a litany of Bay Area luminaries. A brochure will lead you to the graves of famed architect Bernard Maybeck, civil war veterans, and even "Trader" Vic Bergeron, the inventor of the Mai Tai. Don't miss Millionaire's Row with apartment-sized mausoleums for former moguls such as Southern Pacific Railroad founder Charles Crocker. For bonus points, wander the exquisite, indoor-outdoor Chapel of the Chimes designed by Julia Morgan, the famed architect of Hearst Castle who is also interned at Mountain View.
In need of some fuel?
Oakland is a city where you can travel the world from the dinner table.