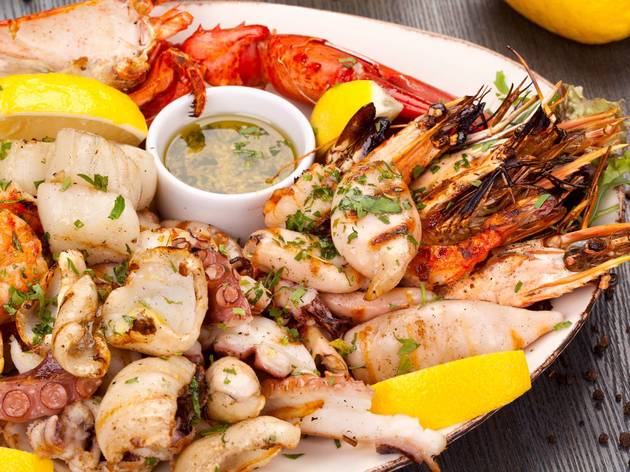 The 12 best seafood restaurants in Orlando
Although smack-dab in the middle of the state, the best seafood restaurants in Orlando are all about delicious freshness
We know what you're thinking: seafood restaurants in Orlando? Isn't the city smack-dab in the middle of the state? Located 90 miles from both the Atlantic Ocean and the Gulf of Mexico, the City Beautiful is just about as inland as you can get—but don't let that fool you into thinking you'll have to drive to the coast to chow down on fresh seafood.
There are plenty of restaurants throughout the greater Orlando area serving the highest-quality catches out there in creative (and, not to mention, mouthwatering) ways.
Beyond filling their menus with locally and sustainably sourced ingredients like Florida spiny lobsters and Jacksonville-farmed shrimp, chefs at these eateries are also infusing their own signature spins onto classic dishes, making the local seafood scene infinitely more exciting than your average beach bar fare. Basically, devouring some fish while in town is one of the very best things to do in Orlando.
Ready to eat?
RECOMMENDED: Our guide to the best restaurants in Orlando
Seafood restaurants in Orlando
When eating at Winter Park Fish Co., you'll feel like you're dining in a fish house that's just steps away from the ocean. In reality, you're sitting along of the most bustling streets in Orlando. It's exactly what a fuss-free restaurants should look like: beachy exterior and laid-back, Key West-esque interior. Combine that with a daily changing menu and you'll understand why there's often a line down the wooden ramp out front. Start with the house-made dips like the fresh spiced ahi tuna salad or split an order of fried rock shrimp tacos. While the entrée selection includes seafood staples like fish and chips and grouper sandwiches, the winning order is one off the market fresh fish menu: pick a fish, select your prep method, add desired toppings and those sides and you're in for a treat. Word of advice: definitely order the hush puppies.
Reel Fish Coastal Kitchen + Bar
For quality home-cooked seafood in elevated settings, make a reservation here pronto. The menu offers traditional fish camp fare with a contemporary Southern spin, including pecan-crusted rainbow trout with Southern green beans in a bacon broth or shrimp rigatoni.
This boat-shaped oyster bar is about as no-frills as you can get, which is exactly why locals have been coming here since it first opened in 1950. For the true Lee and Rick's experience, grab a stool at the concrete raw bar that has a built-in trough for shell disposal, watch the shuckers at work and order a bucket of raw or steamed oysters along with a cold beer to wash them down.
Sometimes you just want a steaming bowl of New England clam chowder. Next time that craving strikes, get in the car and head to this aptly named restaurant. After fleeing South from Massachusetts, owner Stephen Gresek, opened this affordable spot to get his seafood fix the Boston way. Everything is flown in straight from the Northeastern coast, so nothing will be pre-breaded or frozen before hitting your plate. Fried food at its very finest.
FishBones strikes the perfect balance between the classic feel of a chophouse and the breezy ambiance of a Key West fish house, making it the ideal destination for birthday celebrations and client dinners alike. Sustainably sourced seafood arrives daily and, if you're feeling up for a challenge, the menu even offers all-you-can-eat jumbo fried shrimp or stone crab claws. You can't go wrong with the Caribbean lobster tail and, if you're more of a meat-lover, get the prime rib that's slow-roasted for twenty-three hours.
Where's a better place to chow down on a lobster corn dog or shrimp and grits than on a full-blown riverboat? Leave it to Disney to create a floating dining concept, so guests can eat and drink while soaking up water views from the docked vessel's roof deck. While you may have to fight the crowds, post up outside to see the sunset (there's live music on the weekend, too) or hit up the Sunday brunch for the signature Bloody Mary, fully loaded with king crab, jumbo shrimp and candied bacon, of course.
Meet the surf and turf eatery that's all about boat-to-grill, the seafood version of the culinary concept of farm-to-table. Cooking the majority of the food over a wood fired grill made up of local oak and citrus is MoonFish's way of ensuring patrons will keep coming back. Beyond the freshly seared cuisine, sample a roll or sashimi from the sushi bar, wow your palate with a seafood tower or opt for the chef's platter.
Only true locals know how to find this petite oyster bar tucked away in a courtyard behind Winter Park's Park Avenue. Short for Atlantic Beer & Oyster, ABO's name says it all: the spot is known for beer and oysters. With everything locally sourced, freshness is guaranteed no matter what you order, and the weekday happy hour (Gulf oysters for $1.50!) is a can't-miss.
Although Orlando is home to a lot of mediocre hotel restaurants, this romantic gem inside the Wyndham Grand Orlando Resort Bonnet Creek is anything but. Beyond its airy atmosphere that includes an open kitchen and ice-filled displays brimming with fresh oysters and snapper, the restaurants serves Southern fusion dishes like she-crab and corn chowder, smoked mackerel toast and crab-crusted grouper.
It's all about the Shabang sauce here. The house-specialty is what makes the boiled shellfish here the best you can get in Central Florida. The sauce has developed such a cult following that it's now being bottled, so you can take one home with yourself. The Vietnam-born owners moved to Orlando from New Orleans in 2010. That same year, they opened this Viet-Cajun dining concept that now has four locations. Serving everything from crawfish and gumbo to po' boys and beignets, this hole-in-the-wall joint leaves your hands messy and your stomachs full.
For over fifty years, the family-owned Lombardi's Seafood has been the place for locals to buy fresh seafood. As soon as you step inside, you're greeted with the salty smell of sea and plenty of glass display cases showing off everything from stacks of rainbow trout to stone crab claws. Beyond the market offerings, grab a seat at the café and order a seafood basket or sandwich. We're partial to the grouper.
What started out as a food truck idea between two friends has become one of the most successful poke bowl businesses in the City Beautiful. With locations in downtown's Market on Magnolia, Winter Park's The Local Butcher & Market, and Sanford's Tuffy's Bottle Shop, you can now build your own bowl or order one of the signature creations without having to religiously check the truck schedule. We can attest that the 33 different topping offerings over rice or mixed greens will have you more or less addicted to eating one at least once a week.
Ready to hit the town?
Unlike Miami and Las Vegas, you won't find a plethora of over-the-top, pretentious bars, clubs and lounges around here. Even the swankiest clubs in Orlando boast a laid-back, welcoming vibe—much like the city itself.