Heads up! We're working hard to be accurate – but these are unusual times, so please always check before heading out.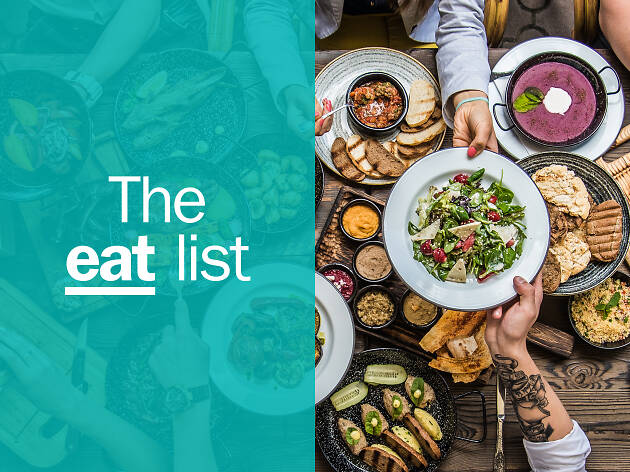 The 27 best restaurants in Orlando
One of the best restaurants in Orlando is hidden behind a seemingly underwhelming commercial building
At first glance, the best restaurants in Orlando may appear to be a string of strip mall eateries, fast food joints and cheesy tourist traps. While there's no denying Central Florida has an overabundance of all of those things, the City Beautiful has more to offer than meets the eye—it's just a matter of knowing where to go.
Over the past decade, there's been a restaurant renaissance within Orlando with the buttoned-up chophouses and cookie-cutter cafes on the rise in the nineties and early aughts giving way to out-of-the-box dining concepts, unexpected takes on American classics, niche specialty spots and an overwhelming focus on sustainability inspired by the farm-to-table movement.
The driving force behind the city's foodie revival are the many chefs that call Orlando home. From James and Julie Petrakis, the duo behind The Ravenous Pig and Cask & Larder, to Brandon McGlamery, the mastermind who created hotspots like Luma and Prato, to Sonny Nguyen, the founder of Domu, there are a number of culinary movers and shakers that are raising the bar in terms of food quality, ambiance and service. Orlando's diverse culture is another major influencer, leading to the rise of authentic places serving global grub.
Whether you're looking to dine on fancifully crafted tasting menus, extraordinary seafood, split tapas with friends or grab a quick bite before venturing out to the best bars and clubs in the area, these are our favorite places to eat out in Orlando.

Eaten somewhere on this list and loved it? Share it with the hashtag #TimeOutEatList. You can find out more about how Time Out makes recommendations and reviews restaurants here.
Restaurants in Orlando
Photograph: Courtesy Yelp/Sharon G.
What is it: A stylish spot with industrial chic warehouse vibes, Italian food and a buzzing bar with craft cocktails.
Why go: We're pretty sure that pizza is a superfood, especially when it's coming from Prato's wood-fired oven. Enjoy the al fresco dining along Park Avenue or relax inside (although the huge floor-to-ceiling windows and plant-covered wall will make you feel like you're outdoors anyway) with a menu that featuring the likes of pretzel-crusted calamari, oversized meatballs, hand-stretched pizzas and the can't-miss mustard spaghettini cacio e pepe.
Photograph: Courtesy Yelp/Hieu L.
What is it: Inside a stark, all-black, boxed-shaped building is Kadence, a sushi experience so popular, you have to pre-pay to even get a reservation (bookings are available the first of the month for the following month).
Why go: No rainbow rolls here. When you take a seat at the nine-person sushi bar, watch the owners prepare a multi-course sushi and sashimi tasting. Because Kadence is fashioned after the Japanese tradition of omakase—where you leave your meal to the whims of the chef—you don't have to stress about what to order. Can't snag a res? Opt for a take-out chirashi bowl that comes in a reusable box that's so pretty, they'll charge you if you don't return it in a week's time.
Photograph: Courtesy Yelp/Linda L.
What is it: Adjacent to Orlando's East End Market, this ramen hotspot quite literally brings the heat with its homemade noodles, savory broths and assortment of small plates.
Why go: When it opened its doors in 2016, Domu single-handedly brought ramen back on the map within the Orlando food scene. Four years later, its steaming bowls of noodles are still being slurped down at a record pace, leading to new locations in Dr. Phillips and Jacksonville as well as a fast-casual concept called Domu Chibi. Beyond ramen, this hip Asian kitchen also serves killer kimchi butter wings and lobster buns. If you head there for brunch, get a boba-mosa (champagne mixed with the flavored tapioca balls typically found in bubble tea).
What it is: The always-packed downtown restaurant bar is known for creative takes on American fare. And, as its name suggests, it's not a successful visit unless you sip one of the signature mule cocktails.
Why go: The weekend brunch scene is a spectacle in itself with crowds of guests waiting eagerly out front to down unlimited mimosas and soothe their hangovers with entrees like the Who Woke Up First, a gluttonously good sandwich that consists of funnel-cake fried chicken topped with bacon, egg and cheese between two cinnamon sugar pastries.
Photograph: Courtesy Yelp/P. Luly W.
What is it: The Euro-American gastropub, helmed by chefs James and Julie Petrakis, opened back in 2007—right at the forefront of Florida's seasonally-inspired cuisine movement that has yet to lose steam.
Why go: With a James Beard nomination under their belt, the chefs have truly turned The Ravenous Pig into a must-visit for both locals and tourists. What to order? Start with the ever-changing charcuterie board or Gatherer salad before moving onto the blue cheese and caramelized onion-topped burger. If you still have room, end your evening on a sweet note with the Pig Tails, cinnamon sugar fritters with chocolate dipping sauce.
6. Christner's Prime Steak & Lobster
What it is: While some steakhouses try too hard to stay cool with the times by modernizing their décor or taking creative liberties with the menu, Christner's is all about doing things the old school way—and cooking up the best cuts of meat in Orlando.
Why go: Three words: order the filet. Trust us, you won't find a better steak. Plus, between its bustling dining room, animated bar scene and myriad of private rooms, it's the type of restaurant that your date, family, clients and even Tony Soprano would feel at home in.
What it is: This Southern-inspired kitchen hasn't met a comfort food it doesn't like, so prepare for buttermilk biscuits, pimento cheese, homemade chicken pot pie and plenty of freshly baked pastries.
Why go: Do you think of bacon as a food group? Then this daytime eatery is for you. With a breakfast-all-day menu that includes an egg sandwich called 7th Trimester smothered with mac 'n cheese and potato chip bacon crumble and lunch items like a meatloaf sandwich, you'll be going back and forth on what to order until reaching the counter.
What it is: This two-story Italian mainstay features a market and a café downstairs, plus a white tablecloth restaurant upstairs. Both floors serve traditional food that's so good, even your Italian grandmother would approve.
Why go: While you can't go wrong on either level, the more causal café serves some of the best pizza in town. Whether you're eating in or picking up a pie to go, take advantage of the market's curated selection of over 300 vinos, Antonio's homemade pasta and sauces, or authentic Italian brands you'll be hard-pressed to find anywhere else in Orlando.
What it is: While we typically don't like to include chains in roundups, any local will tell you that Hillstone in Winter Park is one of the best—and liveliest—dinner places in all of Central Florida, despite its usual hour-plus wait.
Why go: Located right on Lake Killarney, the view of the lake at sunset is one for the 'gram. With dock seating and a backyard filled with Adirondack chairs and firepits, grab a glass of wine and order the spinach dip for happy hour or a pre-dinner treat.
Photograph: Courtesy Yelp/Matthew H.
What is it: Expect a family-style food hall bursting with traditional Neapolitan-style pizzas.
Why go: As most Italians will tell you, it all starts with the dough… and Pizza Bruno's chewy yet crispy, fire-kissed crust is absolutely delicious. Remember: the simpler, the better. Order yourself a pizza Margherita and revel in the taste of glory in your mouth. And if you're a garlic lover, get the garlic knots that come with the most unbelievable dip that you'll want to devour by the spoonful.
What it is: Upscale American in a sleek setting with an always-crowded bar and an outdoor seating area primed for people watching.
Why go: While the complimentary truffle popcorn is reason enough to stop in, the fresh, locally sourced food put out by chef Brandon McGlamery is what has people coming back for more. For a blowout celebration, rent out the private cellar room in the wine vault or keep things more casual by posting at the bar and ordering the deliciously potent White Linen cocktail and a margarita pizza.
What it is: The definition of a true neighborhood restaurant. After all, it's the only commercial building on the block.
Why go: As soon as you step inside Maxine's On Shine, you feel like you've entered your eclectic aunt and uncle's home. The walls are adorned with local artists' work, the place is frequently visited by musicians who play live and the kitchen serves home-cooked favorites like skillet lasagna and a juicy brisket burger. The husband and wife duo behind this local haunt is always buzzing about to check on guests.
Photograph: Disney
What is it: If you're celebrating a special occasion, dinner at the opulent Victoria & Albert's in Disney's Grand Floridian Resort will no doubt hit the spot.
Why go: This fine-dining institution is just as much about the experience as it is about the flavors delivered. Think modern American cuisine blending ingredients from around the globe and a selection of more than 700 wines. At Victoria & Albert's, obliging maître d's and chefs in white robes are there to meet your every need.
Photograph: Courtesy Yelp/Kristin S.
What is it: This historic home is now an upscale Italian restaurant overlooking the lake, ideal for a romantic date or an indulgent meal with friends.
Why go: Everything is prepared from scratch by the Roman purveyors helming the eatery. For over forty years, this mom and pop shop has flourished as a result of its commitment to quality and fresh ingredients. Expect views and provisions that are hard to forget.
Photograph: Courtesy Yelp/Juliana C.
15. Black Rooster Taqueria
What is it: Tacos, tacos and more tacos in a So Cal setting.
Why go: If we were to describe Black Rooster in one word, it would be vibrant. The walls are covered in artwork by local artists, the array of tacos, bowls and salads is multicolored with bright pink pickled cabbage, radishes and guac. Even the drinks add flashes of the rainbow, especially if you order a Jarritos fruit-flavored soda.
Photograph: Courtesy Yelp/Andrew H.
What is it: 4 Rivers Smokehouse started out in a garage by a man determined to bring Texas-style BBQ to Central Florida. Now it has such a cult-following, you'll see the restaurant's logo on bumper stickers all across town.
Why go: Tender, smoky meat with country sides like baked cheese grits and fried okra will keep you coming back for seconds… and thirds.
What is it: An Orlando staple since 1947, this classic steakhouse is where to head for a memorable cut of meat in an understated atmosphere of checkered tablecloths and framed photos of the city's early years.
Why go: You can't beat the fantastic flavors exploding from the juicy meats paired with the extremely reasonable prices. Every steak comes with a house salad (try it with Italian dressing and blue cheese crumbles) and a choice of sides. The place draws a crowd, even on a weeknight, so grab a drink at the bar and settle in by the indoor fire pit until your table's ready.
Photograph: Courtesy Yelp/Jade R.
What is it: This is a traditional Cuban deli that serves authentic recipes with both indoor and outdoor seating.
Why go: You never knew beans and rice could taste this good. Locals have been loving the eatery for fifteen years, because there is no better place to swing by when you're hungry: prices are low, portions are big and the Cuban sandwich will change your life.
What it is: Don't judge a restaurant by its cover. In this case, an underwhelming cement exterior behind which sits a sushi hotspot beloved by all.
Why go: Having immigrated to Central Florida from Laos when he was a child, owner Henry Moso opened Kabooki Sushi at just 22. With his inventive approach to Japanese cuisine, you won't find any rolls swimming in spicy mayo. Instead, you'll be presented perfectly constructed bites served at room temperature to enhance the fish's texture and taste.
Photograph: Courtesy Yelp/Tiffany H.
What is it: Internationally inspired tapas served in an art-filled restaurant with an open-air patio that's made for drinking pitchers of sangria.
Why go: Although the original was in Key West, Santiago's now boasts two additional locations in Orlando, each with a particular personality. This communal spot embodies the sharing mentality behind Spanish-style small plates. Come here with a large group to sample the breadth of the menu but make sure not to leave before really delving into the space's look. The reclaimed wood bar top, stained glass windows, Gaudi-esque furniture and one-of-a-kind artwork all over the restaurant make it that much more special.
Photograph: Courtesy Yelp/Mira B.
What is it: Bahn Mi Na Trang is nothing to look at—a small, unassuming operation nestled between a string of Vietnamese businesses in the heart of Orlando's Little Saigon. But step inside and you'll be greeted by the sweet smell of fresh bread.
Why go: The mini baguettes that make Bahn Mi so recognizable are baked on premise by owners Yen and Truc Nyugen. Subs are filled with any meat you ever craved, finished with pickled vegetables, sprigs of cilantro and a slim green chili pepper. The best part? The price tag: $3.50.
Photograph: Courtesy Yelp/Sara M.
22. Chef's Table at the Edgewater Hotel
What is it: Associated with such a long list of awards and commendations, it is hard to believe that Chef's Table at the Edgewater Hotel isn't talked about more. In short, expect an intimate dining experience that showcases fresh, local ingredients in a historic atmosphere.
Why go: The Edgewater Hotel is located in historic Winter Garden, surprisingly close to Disney but undeniably opposite in style and cuisine to the buffet dining you'll find in the theme parks. Disney goers looking for an upscale meal at the end of the day should flock here in droves.
What it is: It's award-winning chef José Andrés doing what he does best: tapas. Except this time, it's within a 22,0000-square-foot avant-garde building in the heart of Disney Springs.
Why go: Paella? Check. Tableside carved Iberian ham? Check. Sangria? Check. It has everything you need to experience the taste of España without leaving Orlando. Jaleo, which means revelry, is a fitting name, too, given the vibrant red and gold décor and jovial atmosphere.
Photograph: Courtesy Yelp/Jess H.
What is it: Meet the late night Pan-Asian, Mexican fusion joint with a food truck feel.
Why go: Tako Cheena is for adventurous eaters or slightly intoxicated ones wandering in from the cluster of bars next door. Flavors hail from all over Asia but they're served in the form of hot dogs, burritos and tacos. For example: have you ever seen an Indian butter chicken burrito on a menu before? The "JapaDog" is another must-eat featuring Chinese sweet sausage, avocado-wasabi, fumi, cabbage mix and scallion, but remember: you won't find any yellow mustard here.
What it is: Higher-end Mexican cuisine in trendy urban digs with plenty of mezcal and tequila to go around.
Why go: This isn't your average chips and salsa joint (although you'll find those, too). Chef Wendy Lopez was born in Michoacán, Mexico, so her ethos is all about highlighting regional dishes from her native country such a chicken mole from Oaxaca and duck enchiladas from her hometown.
What it is: Located within Mount Dora's Modernism museum complex, this converted home that's decorated with loaned artwork from next door fittingly serves contemporary Florida fare.
Why go: Yes, it's a little bit of a hike from Orlando proper, but since head chef Josh Oakley (known for his work at places like the Ravenous Pig and Smiling Bison) took the reins, it's well-worth the drive to try his famed charcuterie creations and more.
Discover Time Out Market: the best of the city under one roof
More of the best of Orlando